Arsenii Karmatckii Wins the 2017 partypoker LIVE German Poker Championship (€185,000)

Level 33 : 2,500,000-5,000,000, 5,000,000 ante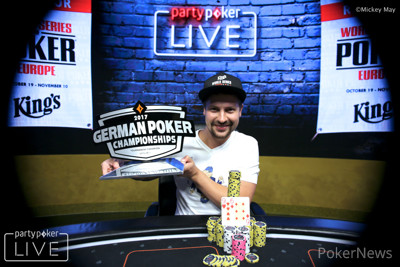 The 2017 partypoker LIVE German Poker Championship €2,200 Main Event has come to a conclusion at the King's Casino in Rozvadov, and it was Arsenii Karmatckii that lifted the trophy after defeating fellow Russian Albert Skobelev. Both players cut a deal when heads-up was reached and left €10,000 and the trophy up for grabs. It took all but one hand, and Karmatckii came out on top to secure a payday of €185,000 while Skobelev had to settle for €135,000.
Karmatckii, a 26 year old chemist from Ekaterinburg / Russia has been playing poker for 4-5 years and the victory in Europe's biggest poker arena marks the biggest payday of his career so far. He qualified online via partypoker for this event and will be heading to Russia for the upcoming partypoker MILLIONS Russia in Sochi next month.
"I feel happy. Heads up was pretty short between two Russians, three max was very long as this young guy from Slovakia was a very tough player," Karmatckii said in the winner interview. "I started the final table with maybe ten big blinds and I was a bit lucky to win some spots to get a big stack, and I tried to get the first place without too many tough decisions," he added.
Fellow countryman Skobelev, hails from Moscow and the 46-year-old has been playing poker for five years. Skobelev qualified for the event through a phase satellite and skyrocket his previous winnings.
Dominik Desset, the 19-year-old younger brother of back-to-back partypoker Grand Prix champion Andrej Desset, was the young tough player that eventual-champion Karmatckii referred to. Desset was cheered on by his brother and friends on the rail throughout the final table and scored a payday of €83,500, eclipsing his previous best result of €20,502 at the Banco Casino Masters in Bratislava.
Final Result
| Place | Winner | Country | Prize (EUR) | Prize (USD) |
| --- | --- | --- | --- | --- |
| 1 | Arsenii Karmatckii | Russia | 185,000* | 217,921 |
| 2 | Albert Kobelev | Russia | 135,000* | 159,035 |
| 3 | Dominik Desset | Slovakia | 83,500 | 98,700 |
| 4 | Grzegorz Idziak | Poland | 60,000 | 70,922 |
| 5 | Ngoc Minh Hoang | Czech Republic | 42,500 | 50,236 |
| 6 | Philipp Zukernik | Canada | 30,000 | 35,461 |
| 7 | Aleksandar Tomovic | Serbia | 21,500 | 25,414 |
| 8 | Sina Alamzad | Romania | 15,000 | 17,731 |
*includes deal of the last two players
Among those to cash in the Main Event prior to the final day were Vojtech Ruzicka (98th for €2,000), Andreas Eiler and Hossein Ensan (86th respectively 85th for €2,000 each), partypoker sponsored pro Natalia Breviglieri (61st for €3,500), Matthias De Meulder (57th for €3,500), Vytautas Semaska (46th for €4,000), Maxi Lehmanski (42nd for €4,500), partypoker Million Germany runner-up Sandro Pitzanti (39th for €4,500), partypoker sponsored pro and €5,300 High Roller champion Anatoly Filatov (29th for €5,000), Martin Staszko (28th for €5,000), Philipp Gruissem (25th for €6,000), and Marek Blasko (19th for €6,000).
Action of the Final Day
Robin Hegele, who finished 27th in the 2017 World Series of Poker Main Event in Las Vegas just a few weeks ago, was the first casualty of the day. The German was all in and at risk with pocket jacks and Josef Snejberg looked him up with pocket queens, there was no surprise on a king-high board.
Gerald Karlic was the next to follow. The Austrian started as one of the short stacks and lost all but a single chip in a clash with Aleksandar Tomovic before surviving his next two all ins. Ultimately, he pushed with queen-deuce suited for two big blinds and Albert Skobelev three-bet with pocket aces to isolate successfully and win after a ten-high board.
The run of Josef Snejberg ended in 12th place after he lost a flip with pocket eights against the ace-jack of Dominik Desset and Marc Döring lost several showdown hands until he was all in and at risk himself. Döring flipped with ace-queen suited against Sonay Kehya's pocket fives and found no help. Jonathan Wong was moved to the feature table as a result, and the Brit made a move by three-bet shoving king-five suited and start-of-the-day chip leader Ngoc Minh "Milan" Hoang in the big blind called with ace-queen suited to reduce the field to the last nine.
Redraw of the Unofficial Final Table
| Seat | Player | Country | Chip Count | Big Blinds |
| --- | --- | --- | --- | --- |
| 1 | Dominik Desset | Slovakia | 90,900,000 | 76 |
| 2 | Philipp Zukernik | Canada | 26,300,000 | 22 |
| 3 | Albert Skobelev | Russia | 49,100,000 | 41 |
| 4 | Sonay Kehya | Netherlands | 18,600,000 | 16 |
| 5 | Arsenii Karmatckii | Russia | 16,800,000 | 14 |
| 6 | Sina Alamzad | Romania | 60,800,000 | 51 |
| 7 | Grzegorz Idziak | Poland | 30,200,000 | 25 |
| 8 | Ngoc Minh Hoang | Czech Republic | 130,300,000 | 109 |
| 9 | Aleksandar Tomovic | Serbia | 15,400,000 | 13 |
Sonay Kehya finished 7th in the partypoker Million Germany Main Event here in Rozvadov back in June this year, and reached the last table once more. However, this time the Dutchman had to settle for 9th place and a payday of €11,000. Kehya's open-shove with ace-six came at an unfortunate time, as Aleksandar Tomovic in the big blind snap-called with pocket aces to leave Kehya drawing dead on the turn. A short-stacked Sina Alamzad got the rest of it in with jack-ten off suit and Ngoc Minh Hoang called with queen-eight in the big blind. A jack on the turn was followed by a queen on the river and that left Alamzad empty-handed.
What followed was the rush hour of Arsenii Karmatckii, who first doubled through Aleksandar Tomovic, then doubled once more before dispatching Tomovic in cruel fashion. Karmatckii called a raise by the Serbian and check-called on a king-high flop before turning a set with pocket fives. Tomovic shoved with pocket aces and a blank on the river spelled the end, vaulting Karmatckii from shortest stack to one of the chip leaders in a matter of half an hour.
Philipp Zukernik racked up several final tables in the King's Casino before and the Canadian had to settle for 6th place this time. Zukernik three-bet shoved with king-ten and Dominik Desset quickly called with ace-king. The last two kings in the deck appeared on the board and the kicker played to eliminate Zukernik. After that, deal discussions broke out and came to no conclusion.
Ngoc Minh Hoang and Grzegorz Idziak were the two short stacks five-handed and would be the next two to fall. Hoang three-bet shoved into a raise by Dominik Desset and a call by Albert Skobelev with ace-five suited. While Desset folded ace-four, Skobelev wasted no time before calling with ace-king. Hoang's hopes of a comeback with a five on the flop were shattered when a king followed on the turn.
What followed was the biggest pot of the tournament to date. Dominik Desset three-bet a raise by Arsenii Karmatckii with queen-nine and bet all further streets with just a pair of nines before shoving the river. Karmatckii flopped top pair and turned two pair with ace-deuce suited to tank-call the river and gain a massive chip lead, which he never surrendered after. As a matter of fact, the lead got even bigger when the Russian shoved the small blind with seven-six suited and Grzegorz Idziak called in the big blind with king-jack suited. Karmatckii flopped the eight-high straight and that was it for Idziak.
After that, both Dominik Desset and Albert Skobelev doubled up several times while Arsenii Karmatckii stayed in the top spot. It was Desset that had to settle for third place after disagreeing with another proposed deal. The Slovakian defended his small blind with jack-ten and flopped top pair before check-raising against Karmatckii. He called the shove of Karmatckii and faced ace-ten, an ace on the turn left Desset drawing dead. Skobelev and Karmatckii cut a deal to play for the tophy and €10,000, and heads-up lasted all but one hand. Skobelev flopped a ten-high flush draw and Karmatckii had nine-six for a pair of nines, running aces changed nothing and the winner was crowned.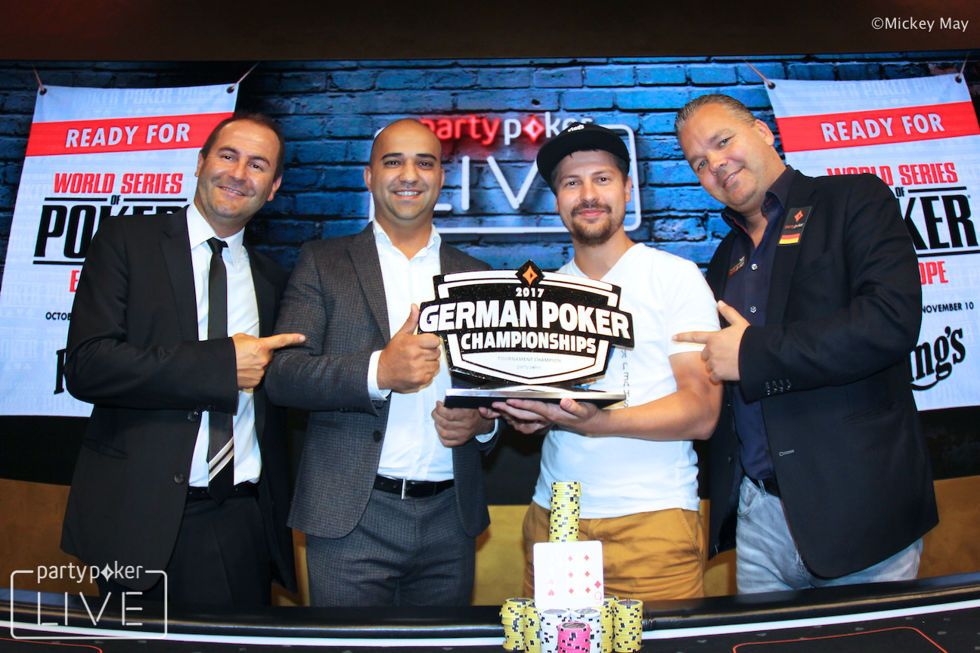 That marks the end of the PokerNews live reporting from the partypoker LIVE German Poker Championship, while the PokerNews Cup festival kicks off right away. Online satellites for the big partypoker MILLIONS Russia are still ongoing and players can qualify for as little as €2.20.