Main Event
Day 1a Completed

Level 8 : 8,000/16,000, 16,000 ante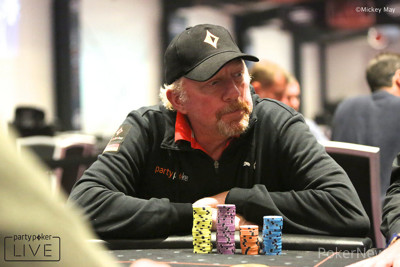 It is advantage Friedrich Raz at the German Poker Championship as he bagged up 3,180,000 chips on Day 1a, but tennis legend and partypoker ambassador Boris Becker is close behind with 2,839,000 after eight levels of intense poker at King's Casino.
After numerous online feeder satellites and Phase 1s, the live Day 1a finally got underway for the €1,000,000 Gtd German Poker Championship Main Event in Rozvadov with 38 players who earned their seat that way, eventually joined by another 26 who bought in directly or decided to fire another bullet to make a total of 64 entries.
In the end it was a good day all round for Team partypoker. Becker arrived late into the fifth level having made a glamorous entrance, arriving by helicopter and being followed by his own camera crew. Becker played his usual solid game but it was a spectacular hand late in the penultimate level of the day that propelled him to the top of the leaderboard. Becker flopped a set of sixes against the ace-high flush draw of his opponent Peter Zolnai. All the chips went in the middle in one of the biggest pots of the tournament and when the turn and river bricked out Becker had the lead.
Canadian partypoker pro Kristen Bicknell perhaps has mixed feelings about the day. Bicknell was in the Day 2 High Roller but busted short of the money and immediately entered the Main Event. In one of her very first hands though she defended from the big blind holding
and with a final board reading
she led river then called a shove from Benjamin Schroder who held the
superior flush. Bicknell got straight back in the saddle with the allowed single re-buy, indeed the same horse as she was allocated the exact same seat. Her persistence was rewarded though and she eventually finished on 1,449,000.
partypoker pro Natalia Breviglieri from the U.K. bought in directly at the start of the second level of the day, fashionably late you might say, and was seated at the same table as Raul Cuc. Both Breviglieri and Cuc final tabled the Millions event here back in June. Breviglieri started strong but eventually fell away a little to finish on 958,000. She pronounced herself happy enough with the result though, surviving on a single bullet despite being down to as low as 250,000 at one point.
There seemed to be a large percentage of extremely tough poker players in the field including a number who entered after busting the High Roller. Some of those names you will see returning for Day 2 include Martin Staszko (2,658,000), Vojtech Ruzicka (1,545,000), Kenny Hallaert (1,048,000), Jeff Lisandro (1,236,000) and Elena Litvinyuk (1,858,000).
Some of the players who failed to make it through on this opening Day 1 include Milan Sasek, Peter Zolnai, Vojtich Kratochvil, Raul Cuc and local celebrity and businessman 'chiKKita banAAna.' They can fire a couple more bullets tomorrow if they so wish.
Of the 64 entries, 36 made it through to Day 2 which starts on Saturday, August 12 at 3 p.m. Before that though there is a Day 1b on Friday at 12 p.m. and a Turbo Day 1c on the 12th again at 12 p.m.
The PokerNews live reporting team will bring you all the action from the felt as the partypoker German Poker Championship continues, so be sure not to miss a moment.

Level 8 : 8,000/16,000, 16,000 ante
Stay tuned for a recap of the day's play with a full chip count of the survivors to follow.
Player
Chips
Progress

Friedrich Raz

3,180,000

680,000

Boris Becker

2,839,000

339,000

Martin Staszko

2,658,000

1,258,000

Petr Targa

2,381,000

1,381,000

Benjamin Schroder

2,145,000

-55,000

Horst Riedlingen

1,952,000

Martin Lenoch

1,950,000

Elena Litvinyuk

1,858,000

258,000

eMKey

1,815,000

Artur Rudziankov

1,746,000

646,000

Laurent Manderlier

1,720,000

720,000

Vojtech Ruzicka

1,545,000

595,000

Michael Brandau

1,526,000

Kristen Bicknell

1,449,000

449,000

The Talk

1,436,000

436,000

Erich Kollmann

1,384,000

Fabian Wahlers

1,375,000

Jeff Lisandro

1,236,000

336,000

Ezequiel Lebed

1,210,000

Martin Joseph Kus

1,178,000

Philipp Zukernik

1,152,000

FREEAIR

1,136,000

Lukas Klima

1,118,000

Wladimir Gerner

1,088,000

Kenny Hallaert

1,048,000

48,000

Level 8 : 8,000/16,000, 16,000 ante
The Tournament Director has paused the clock and after a random draw has announced there will be three more hands before the remaining players bag up for the night.

Level 8 : 8,000/16,000, 16,000 ante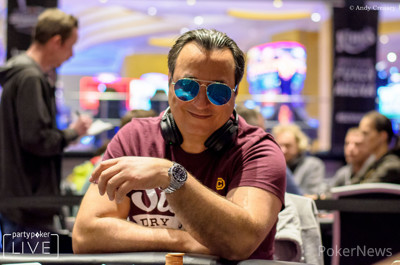 The last level of many tournaments is often called the "Beer level" as players are close to bagging up for the day and can afford to relax a little but after close to eight hours of intense concentration and competition.
While one or two are sipping a beer The Talk is suggesting a drinking game whereby players at his table must take a shot of vodka or show there cards
The other players were laughing along at this and fond it even funnier when he pointed to Elena Litvinyuk and said of the Russian player, "Except her, she will show AND drink!"

Level 8 : 8,000/16,000, 16,000 ante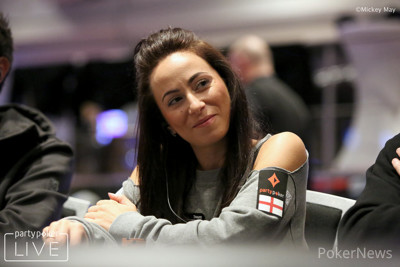 Having seen the majority of his stack head the way of partypoker ambassador Boris Becker not that long ago, Peter Zolnai found himself in a tricky situation against partypoker pro Natalia Breviglieri just now.
The board on the river read
.
Breviglieri moved all in and had Zolani covered so he had nothing else to do but squirm in his seat and try to fish for some information on whether his hand was good. His chat to Breviglieri initially met with no response but she relented and they chatted through some possible combinations that he could beat.
Breviglieri suggested that ace ten was in there and Zolani said that would indeed be a good bluff.
Zolani found the fold to keep his tournament alive and Breviglieri showed him the
to twist the knife a little bit.
Level: 8
Blinds: 8,000/16,000
Ante: 16,000

Level 7 : 6,000/12,000, 12,000 ante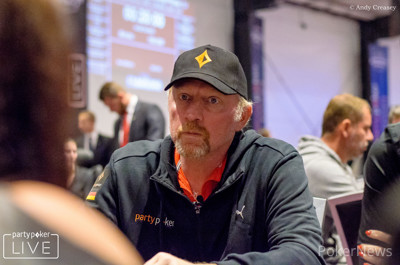 partypoker Ambassador Boris Becker has just grabbed the chip lead in a dramatic hand.
The hand was related shortly after the action went down late in level seven.
Becker faced off against Peter Zolnai on a flop of
.
Neither player was willing to back down and a series of raises saw Zolani shove and Becker make the call.
Becker had flopped a set with his
while Zolnai held
for the flush draw.
The turn and river bricked out. Zolnai was left with chips but it was Necker who was left the happy man having won the biggest pot of the tournament so far.

Level 7 : 6,000/12,000, 12,000 ante
Friedrich Raz had led out on the turn of a board reading
and got some action from Raul Cuc.
The river was the
and Cuc ended up getting all the chips in the middle.
Cuc showed two pair
but the
of Raz had him beat and he was bust just before the final level of the night.

Level 7 : 6,000/12,000, 12,000 ante
Kenny Hallaert has jumped straight into the Main Event having bust the High Roller where there are 15 left with the final 6 getting paid.
As well as another Day 1 to enter, registration is opened for the first four levels of Day 2.