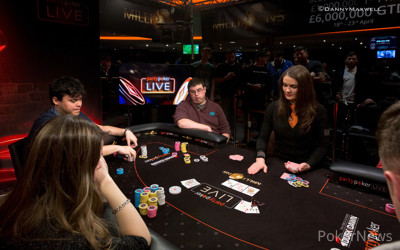 Jon Spinks cast the figure of a man not knowing whether to laugh or cry when we caught up with him after his kings were toppled by a call from Jeremy Pantin with ace-high. We spoke to Spinks about his tournament and return to live poker.
"The way the bust-outs happened, I had no hands at all. I was always squeezing fairly wide in that spot because I'd found out that Maria [Lampropoulou] was opening way too wide from the button. It was always a really good squeeze spot but I couldn't believe it when I actually looked down and had it."
Jon was all-in with pocket kings and Jeremy Pantin called with Ace-seven off-suit to eliminate him after an ace hit the flop.
"He literally call within a minute. Both his pre-flop call and then his call on mine are not very good, what can you do?"
Two cards from being out of the tournament on Day 3, Spinks caught running cards to split a pot with Broadway. His chances have been singing ever since until the last hand. He's perfectly happy with his result, however.
"I'm absolutely fine; I can't believe whats happened. I don't play tournaments any more, and this happens. I don't mind playing, but I have other commitments these days, it's a lot of travel and hard work - i'm exhausted. It was an amazing week, you dream of this kind of stuff. I've been waiting ten years for this kind of result. I've never final tabled a major tournament like this. I've made two WSOP finals, but one was really small and the other one came a week after it, so I didn't appreciate it The final tables on both occasions were on the same day as when we played down to it, so it didn't feel quite the same in terms of prestige. When the next day is the final table, it feels a bit more real."
Now he's been at the first, can Spinks see the partypokerLIVE MILLIONS becoming a fixture on the European poker circuit?
"To make the [£6 million] guarantee was an amazing achievement. To do it a second time would take a lot. Its been an amazing success, is it sustainable? We'll have to wait and see. You certainly can't complain about the event. People generally go with it if it's a good tournament. This has probably been the best one ever in the UK and its just before other tournaments so i t makes sense that everyone was over for it. They timed it perfectly - it's weird seeing this many big names coming over for an event in the UK!"
Jon Spinks departs without the win he and his vociferous rail desperately wanted. But after a tremendous performance throughout the week, maybe we've seen the relaunch of a live circuit player who always gives as much entertainment at the table as anyone in Britain.