Day 3 of the partypoker LIVE MILLIONS Russia Main Event has come to an end with 58 players coming back to the Sochi Casino at Noon Sunday, August, 12.
Two-hundred players sat down at the start of the day, with the first aim being to make the top 119 places and a spot in the money. It wasn't until midway through the fifth level of the day that Konstantin Puchkov was confirmed as the bubble boy.
Gor Kazaryan will come back as the chip leader after he bagged 45,250,000 with Luke Thursfield (41,575,000), Maxim Panyak (37,875,000), Konstantin Uspenskii (35,250,000), Viacheslav Zhukov (30,800,000), and Aleksandr Chernikov (30,500,000) all coming back with big stacks.
Russian partypoker ambassador Anatoly Filatov playing in his home MILLIONS event will also be back for Day 4 with a stack worth 30,000,000.
He is joined by further notablöes such as Chin Wei Lim (19,825,000), 2017 partypoker LIVE MILLIONS Russia Main Event finalist Vadim Lipovka (18,075,000), Niall Farrell (14,150,000), Denis Pisarev (11,000,000), Timothy Adams (9,925,000), Artem Metalidi (4,325,000), and Vladimir Troyanovskiy (9,450,000) will also return.
Day 3 Action
When the action got underway, there were several high profile exits in the early levels including Day 1d chip leader Dmitry Yurasov, the U.K.'s Jack Sinclair and former partypoker MILLIONS champion Maria Lampropulos. Yurasov came into the day with just over four million chips but was unable to spin it up, and Sinclair had the same fate after he ran pocket kings into pocket aces in the second level of the day.
Defending partypoker LIVE MILLIONS Russia champion Aleksandr Gofman was also on the receiving end of a bad beat with pocket kings after he saw his opponent's ace-queen hit top pair on the board to leave Gofman very short and just a few hands later his dream of back-to-back titles was over.
Dirk Bueker, the online qualifier turned Golden Chip winner, was unable to turn his free entry in the Main Event into a profit after he ran pocket queens into pocket kings to exit before the money bubble had burst.
When the final 123 players remained, the action in the Sochi Casino Poker Room went hand-for-hand with four eliminations needed before the final 119 were in the money.
A triple elimination in a single round of hands saw well-known players Igor Yaroshevskyy, Koray Aldemir and Manig Loeser depart after they all lost their respective all ins across three tables, which meant it was the stone cold bubble time. Short stack Aleksandr Babich put his tournament life on the line and hit on the river to survive, but Puchkov didn't have such luck just a few hands later when his ace-king all in was called by Oleksii Kravchuk with pocket queens. Puchkov found no help on the board, and he was confirmed as the bubble boy.
As expected a flurry of exits occurred after the bubble burst including partypoker ambassador Philipp Gruissem, Jessica Pilkington, and Day 1C chip leader Hadi Khordbin, who saw his pocket aces cracked by the pocket sixes of Kazaryan.
PokerNews will be back with all the Day 4 action as the players aim to make the final day, so be sure to tune back in from Noon.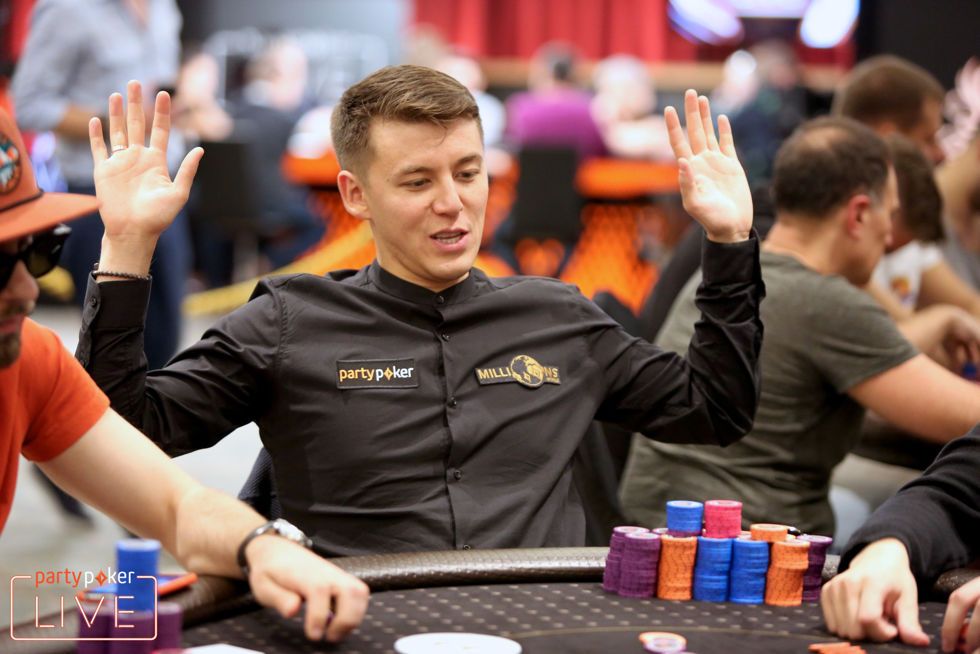 Main Event Day 4 Seat Draw
| Table | Seat | Proper | Country | Chips | Big Blinds |
| --- | --- | --- | --- | --- | --- |
| 38 | 1 | Shukhrat Salikhov | Uzbekistan | 9,000,000 | 26 |
| 38 | 2 | Vyacheslav Nikulin | Russia | 12,950,000 | 37 |
| 38 | 3 | Robbie Robinson | United Kingdom | 3,150,000 | 9 |
| 38 | 4 | Gleb Tremzin | Russia | 8,425,000 | 24 |
| 38 | 5 | Andrey Ivlev | Russia | 12,850,000 | 37 |
| 38 | 6 | Aleksandr Denisov | Russia | 9,350,000 | 27 |
| 38 | 7 | Timothy Adams | Canada | 9,925,000 | 28 |
| 38 | 8 | Niall Farrell | Scotland | 14,150,000 | 40 |
| | | | | | |
| 39 | 1 | Mikhail Galitskiy | Russia | 29,400,000 | 84 |
| 39 | 2 | Anton Sazonau | Belarus | 20,000,000 | 57 |
| 39 | 3 | Oleg Netaliev | Russia | 19,800,000 | 57 |
| 39 | 4 | Gor Kazaryan | Russia | 45,250,000 | 129 |
| 39 | 5 | Artem Metalidi | Ukraine | 4,325,000 | 12 |
| 39 | 6 | Oleksii Kravchuk | Ukraine | 9,725,000 | 28 |
| 39 | 7 | Anton Pronin | Russia | 15,950,000 | 46 |
| 39 | 8 | Aben Zholgaliev | Kazakhstan | 4,250,000 | 12 |
| | | | | | |
| 40 | 1 | Igor Ovcharenko | Russia | 14,750,000 | 42 |
| 40 | 2 | Mikhail Surin | Russia | 5,900,000 | 17 |
| 40 | 3 | Denis Pisarev | Russia | 11,000,000 | 31 |
| 40 | 4 | Vadim Lipovka | Belarus | 18,075,000 | 52 |
| 40 | 5 | Viktor Khodorenko | Belarus | 13,350,000 | 38 |
| 40 | 7 | Andrey Kotelnikov | Russia | 6,800,000 | 19 |
| 40 | 8 | Andrii Novak | Ukraine | 11,100,000 | 32 |
| | | | | | |
| 41 | 1 | Maksim Pak | Russia | 12,975,000 | 37 |
| 41 | 2 | Aleksandr Levashov | Russia | 15,800,000 | 45 |
| 41 | 4 | Andrey Malyshev | Russia | 10,975,000 | 31 |
| 41 | 5 | Viacheslav Zhukov | Russia | 30,800,000 | 88 |
| 41 | 6 | Vlada Stojanovic | Serbia | 5,300,000 | 15 |
| 41 | 7 | Maksin Misura | Russia | 8,850,000 | 25 |
| 41 | 8 | Saar Wilf | Israel | 14,480,000 | 41 |
| | | | | | |
| 42 | 1 | Aleksei Istomin | Russia | 21,975,000 | 63 |
| 42 | 2 | Ekaterina Fedyaeva | Russia | 14,750,000 | 42 |
| 42 | 3 | Anatoly Filatov | Russia | 30,000,000 | 86 |
| 42 | 4 | Alexsandr Gukov | Russia | 8,875,000 | 25 |
| 42 | 6 | Said Butba | Russia | 24,125,000 | 69 |
| 42 | 7 | Vahe Martirosyan | Armenia | 11,800,000 | 34 |
| 42 | 8 | Viktor Mukhin | Russia | 3,200,000 | 9 |
| | | | | | |
| 43 | 1 | Colin Mctaggart | United Kingdom | 6,100,000 | 17 |
| 43 | 3 | Aleksandr Chernikov | Russia | 30,500,000 | 87 |
| 43 | 4 | Roman Zhuravlev | Russia | 14,450,000 | 41 |
| 43 | 5 | Ramin Boyazitov | Russia | 17,550,000 | 50 |
| 43 | 6 | Aleksey Shaburov | Russia | 6,100,000 | 17 |
| 43 | 7 | Pavel Gavrish | Russia | 7,850,000 | 22 |
| 43 | 8 | Rinat Enkov | Russia | 13,000,000 | 37 |
| | | | | | |
| 44 | 1 | Vladimir Troyanovskiy | Russia | 9,450,000 | 27 |
| 44 | 2 | Gytis Lazauninkas | Lithuania | 20,750,000 | 59 |
| 44 | 3 | Andrey Pateychuk | Russia | 18,250,000 | 52 |
| 44 | 4 | Pavel Zuev | Russia | 28,425,000 | 81 |
| 44 | 5 | Sergey Pichugin | Russia | 4,875,000 | 14 |
| 44 | 6 | Alexey Melnikov | Russia | 28,325,000 | 81 |
| 44 | 7 | Dmitriy Agafonov | Russia | 16,000,000 | 46 |
| | | | | | |
| 45 | 2 | Konstantin Uspenskii | Russia | 35,250,000 | 101 |
| 45 | 3 | Maxim Panyak | Russia | 37,875,000 | 108 |
| 45 | 4 | Oleg Semenov | Russia | 9,050,000 | 26 |
| 45 | 5 | Aibek Lekerov | Kazakhstan | 5,300,000 | 15 |
| 45 | 6 | Luke Thursfield | United Kingdom | 41,575,000 | 119 |
| 45 | 7 | Chin Wei Lim | Malaysia | 19,825,000 | 57 |
| 45 | 8 | Shyngis Satubayev | Kazakhstan | 20,100,000 | 57 |