₽3,000,000 Triton Poker High Roller
Day: 2
₽3,000,000 Triton Poker High Roller
Day 2 Completed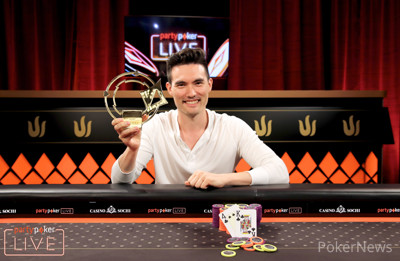 A champion has been crowned in the second-most expensive tournament of the 2018 partypoker LIVE MILLIONS Russia poker festival at the Sochi Casino and Resort in the Krasnaya Polyana region. In cooperation with the Triton Super High Roller series, a RUB3,000,000 buy-in (~$50,000) attracted some of the biggest names of the international high stakes poker circuit and it was Aymon Hata who emerged victoriously in heads-up after defeating Vladimir Troyanovskiy.
Hata appeared on the live poker scene within the last two years and comes fresh off a third place in the $100,000 High Roller at the 49th World Series of Poker, which came with a payday of almost $1.25 Million. Hata has a British and Japanese passport, his father is from Japan and his mother is from Scotland, but he was raised in Germany and speaks the language fluently. Hata currently lives in London with German poker pro Tobias Ziegler as a flatmate and is friends with many of the German High Rollers.
"I started playing poker when I studied and built my bankroll online. Once I was finished with the studying, I decided to continue playing poker, for now, to see how that goes. I continued to build my bankroll and started playing in High Roller events through some contacts in the poker scene."
When asked whether or not the recent results will have an influence on the number of events he will play, Hata had the following to say.
"I don't think a lot will change. I am going to continue playing in High Rollers but won't play every single one of them for the sake of it. I will make sure that the fields are interesting and look for spots." Hata also confirmed that he will take advantage of the late registration in the RUB6,000,000 Super High Roller and join the action in the first three levels on Day 2 of the Triton Poker Super High Roller as of 1 p.m. local time.
The Brit had to overcome a tough final table that also included Patrik Antonius, Triton Poker founder Paul Phua, Philipp Gruissem and Timothy Adams, among others.
"It was definitely tough, and I had some tough spots. I got lucky once with ace-jack against kings and from there on things went really well." Said hand saw Hata at risk before the money bubble against Ivan Leow, who was the dominating chip leader with eight players remaining. However, Leow went from hero to zero and ended up as the bubble boy instead of basking in glory.
Heads-up opponent Troyanovskiy had to overcome even bigger obstacles after grinding a short stack or most of the early stages. On the last two tables, Troyanovskiy was all in for fewer than 10 big blinds with jack-trey versus king-jack and got there thanks to a miracle trey on the river. Two further double-ups in quick succession later, Troyanovskiy was suddenly in the middle of the pack and narrowly missed out on the victory on home soil.
Registration for the event remained open for the first three levels of Day 2 and the field grew from 37 to 47 entries. Among those to join were partypoker ambassador and birthday boy Anatoly Filatov, as well as superstar Phil Ivey, but both busted well before the money.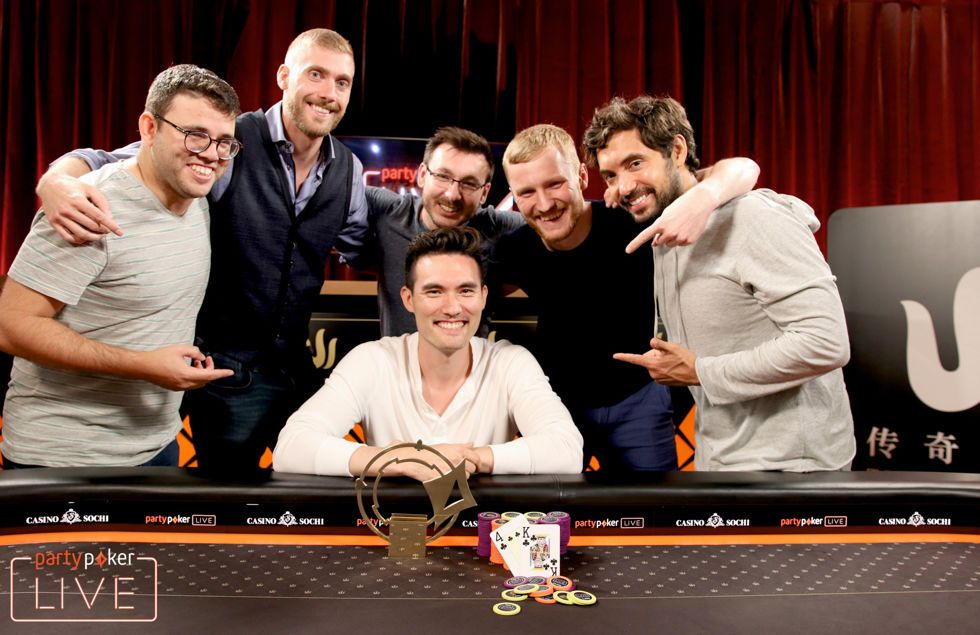 Final Result 2018 Triton Poker High Roller Sochi
| Place | Winner | Country | Prize (in RUB) | Prize (~ in USD) |
| --- | --- | --- | --- | --- |
| 1 | Aymon Hata | United Kingdom | 48,000,000 | 756,000 |
| 2 | Vladimir Troyanovskiy | Russia | 31,860,000 | 501,795 |
| 3 | Konstantin Uspenskii | Russia | 22,500,000 | 354,375 |
| 4 | Patrik Antonius | Finland | 15,000,000 | 236,250 |
| 5 | Paul Phua | Malaysia | 10,500,000 | 165,375 |
| 6 | Philipp Gruissem | Germany | 7,500,000 | 118,125 |
Action of the Day
Among those to bust early on were Andrey Pateychuk, Abraham Passet and Andrey Pateychuk, and Chin Wei Lim's late entry lasted all but five minutes before his flopped top pair and gutshot ran into the bottom set of Aymon Hata only minutes after the registration had closed. Other notables such as Dietrich Fast, Manig Loeser and Oleksii Khoroshenin also joined the rail without anything to show for.
In a battle of Triton founders, Richard Yong ended up second-best with ace-king against the ace-queen suited of Paul Phua and Jack Sinclair couldn't get there with pocket tens against the pocket jacks of Vladimir Troyanovskiy. Koray Aldemir and Aleksandr Gofman busted soon after the two table redraw and they were joined by Johannes Becker, Igor Yaroshevskyy and Wai Kin Yong. Yaroshevskyy saw his hopes destroyed when he called the shove of Ivan Leow with pocket aces only to get shown a turned set of sixes by Leow in a three-bet pot.
Bartlomiej Machon and Timothy Adams were unable to run up their shrinking stacks and Leow then went from chip leader to bubble boy in one hour. After losing two all ins, Leow three-bet shoved with ace-ten and Patrik Antonius reshoved with pocket queens. Initial raiser Paul Phua called with jacks, but Antonius nearly tripled to let the bubble burst.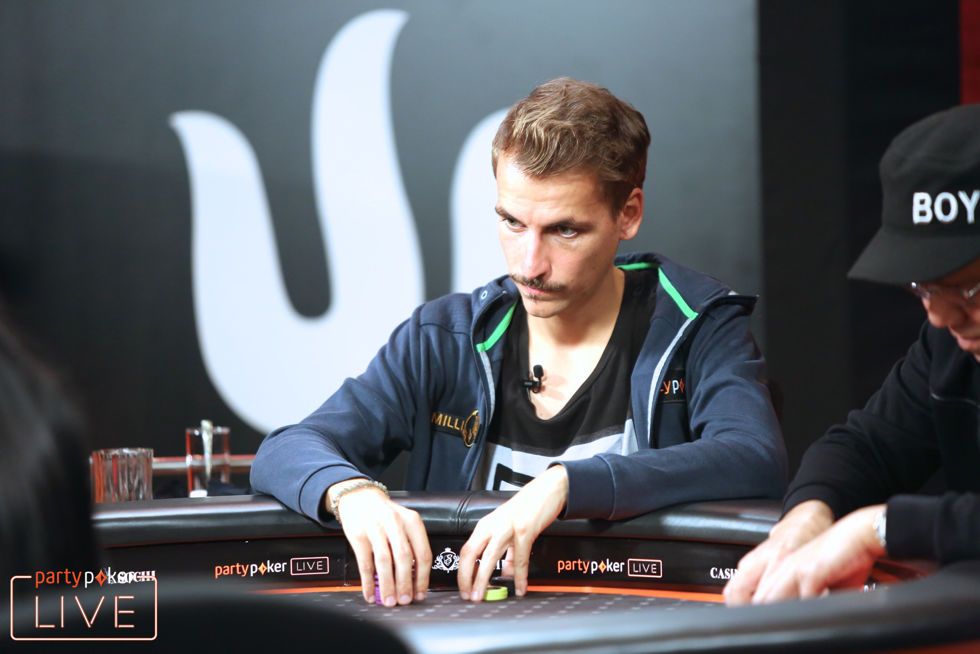 The next player to go from top spot to payout desk was partypoker's Philipp Gruissem, who also lost two all ins before failing to survive when he was at risk with ace-nine against the ace-jack of Patrik Antonius. The Finn took over the lead and same fate, though. Phua sent his stack over to Antonius with nines versus kings and the run good stopped right there, as 20 minutes later the Finn became the next casualty in the money.
First Antonius three-bet shoved with pocket fives in the big blind and Troyanovskiy snap-called with pocket queens to halve the stack of Antonius. The biggest pot of the tournament then followed and it was Aymon Hata that had the best of it. On a ten-high paired flop with two hearts, Antonius check-raised all in with seven-six suited and Hata looked through it and reshoved with ace-four suited for the nut flush. Another heart on the turn left Antonius with just one out and the miracle never happened.
Heads-up would be set up soon after. Konstantin Uspenskii lost most of his chips with a seven-high bluff against Hata's full house and the Brit finished the job he had started soon after with queens against the king-eight suited of Uspenskii. Another local was left over to claim the trophy and Hata never lost a comfortable lead against Troyanovskiy to deal the final blow with king-four suited versus jack-seven at close to 2 a.m. local time.
While the RUB3,000,000 High Roller may be wrapped up, the high stakes action continues right away at lunchtime with the final day of the RUB6,000,000 Super High Roller. The PokerNews live reporting team will be back on the floor to bring you all the action until the next champion is crowned.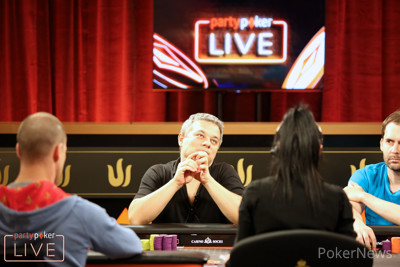 Vladimir Troyanovskiy shoved for 364,000 and Aymon Hata asked for a count in the big blind, gave it some consideration and tossed in a chip for the call.
Vladimir Troyanovskiy:

Aymon Hata:
Troyanovskiy was dominated and both players stood up from their chair to witness the showdown. The
flop gave Troyanovskiy back door spades, but the
turn and the
river failed to improve and Hata picked up handshakes of the German High Rollers and Timothy Adams on the rail right after.
Troyanovskiy was eliminated in second place and takes home RUB31,860,000, while Hata wins his first major title, the partypoker LIVE MILLIONS trophy and top prize of RUB48,000,000.
A recap of today's action is to follow.
Barely any hands created action as of lately and limped pots followed. Aymon Hata limped in with the
and Vladimir Troyanovskiy checked with the
, his big blinds were reduced even further after the blinds went up.
The flop came
and Troyanovskiy check-folded to a bet.
Troyanovskiy limped the
and Hata checked the
. The
flop and
turn kept Troyanovskiy's hand best while both checked. Hata then paired up on the
turn and bet, Troyanovskiy folded with a very frustrated expression on the face.
Level: 25
Blinds: 20,000/40,000
Ante: 40,000
Vladimir Troyanovskiy limped in with the
and Aymon Hata checked his option with the
. On the
flop, Hata checked and called a bet of 30,000 by Troyanovskiy.
The
turn was checked through and Hata bet the
river for 75,000 with the bottom end of the straight. Troyanovskiy folded and
Level: 24
Blinds: 15,000/30,000
Ante: 30,000
Vladimir Troyanovskiy opened to 55,000 with
and Aymon Hata three-bet to 190,000 with
. Troyanovskiy glanced at his cards again and folded.
A limped pot brought the
flop, which Hata with
and Troyanovskiy with
checked. On the
turn, Hata checked and folded to a bet of 40,000 by Troyanovskiy.
Troyanovskiy raised to 65,000 with
and Hata defended
. The
flop was checked by Hata, Troyanovskiy checked back and the
appeared on the turn. Again both players opted to check and the
river brought a check of Hata and a bet of 65,000 by Troyanovskiy.
Hata cut out a check-raise to 250,000 and Troyanovskiy folded.
Vladimir Troyanovskiy opened to 55,000 with
and Aymon Hata came along with the
. The flop came
and Hata checked, called a bet of 50,000 with his top pair.
After the
turn, Hata checked again and Troyanovskiy bet 155,000. After brief consideration, Hata called and that created the biggest pot of the heads up so far. The
killed the action and they checked it through, Troyanovskiy won the pot.
Level: 23
Blinds: 12,000/24,000
Ante: 24,000