Level Info
| | |
| --- | --- |
| Level | 34 |
| Blinds | 200,000 / 400,000 |
| Ante | 50,000 |
Players Info
Main Event
Day 3 Completed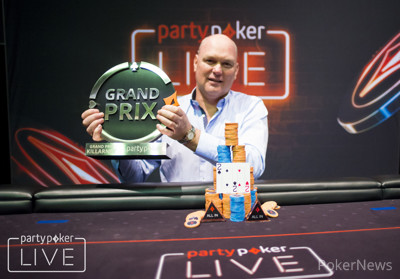 Ireland's Thomas Gallagher outlasted a field of 906 entrants to win the 2017 partypoker LIVE Grand Prix Killarney €340 Main Event at Ireland's National Event Centre (INEC) and Gleneagle Hotel for €35,878 as part of a three-way final table deal.
Gallagher entered the third and final day in the chip lead among the 26 hopefuls remaining in contention and he was consistently on top or near the top of the chip lead.
The day began with eliminations taking place at lightning speed. The exception to the rule was for the players holding a Golden Chip. Players that qualified to Day 2 online at partypoker all earned a Golden Chip. Any player that made the final table holding one of those Golden Chips would not only score a good payday but also be awarded a Caribbean Poker Party (CPP) package worth $10,000.
Amazingly, six players were still in contention for a CPP package with 17 players remaining including Irish online and live poker legend Mick Graydon, Michael O'Sullivan, Colin Quarry, Mike Quirke, Ronan Sweeney and Ronan Gilligan. However, only three of the group managed to win a package after O'Sullivan (16th - €3,250), Graydon (12th - €4,750) and Gilligan (10th - €4,750) bowed out of the tournament before the official final table.
After Gilligan hit the showers, players took a break before the unofficial nine-handed final table began.
Unofficial Final Table Seating Chart
| Table | Seat | Player | Country | Chips |
| --- | --- | --- | --- | --- |
| 1 | 1 | Alan Kelleher | Ireland | 1,410,000 |
| 1 | 2 | Colin Quarry | Ireland | 1,610,000 |
| 1 | 3 | Ciaran Gillmartin | Ireland | 2,495,000 |
| 1 | 4 | Pat Dowling | Ireland | 2,790,000 |
| 1 | 5 | Gerald Keenan | Ireland | 1,015,000 |
| 1 | 6 | Ronan Sweeney | Ireland | 2,780,000 |
| 1 | 7 | Thomas Gallagher | Ireland | 4,950,000 |
| 1 | 8 | Mike Quirke | Ireland | 2,610,000 |
| 1 | 9 | Gerald Keenan | Ireland | 1,015,000 |
The final table was an all-Irish affair. Gallagher entered the final table with the chip lead with more than two million chips more than that of his nearest opponent Pat Dowling.
Dowling, whose son Chris Dowling also played in the event, was unable to stay near the top of the leaderboard and eventually was eliminated in ninth place for €6,000. He couldn't improve his hand after going all in preflop with king-queen against the pocket queens held by Sweeney. After the elimination, the official eight-handed final table began.
About half an hour later, the remaining eight players took a break for dinner. Shortly after play resumed, Quarry, who was one of the four $10,000 CPP package winners, was the next player to be eliminated in eighth place for €7,500 after his king-nine suited jam was unable to get there against the ace-nine suited held by Ciaran Gillmartin.
Shortly afterward, Gerald Keenan bowed out of the tournament in seventh place for €9,000 when his ace-ten proved to be no good against the ace-king held by Alan Kelleher.
Not too much more time passed before Sweeney took the chip lead after he eliminated Gillmartin in sixth place for €10,500 when his ace-king held against his Gillmartin's ace-jack.
Quirke, another Golden Chip winner, was the next to go at the hands of Yue Wang. The hand was limped to a flop with Wang flopping two pair holding jack-seven suited while Quirke held six-two suited for a flush draw. All the money went in the middle but Quirke's hand didn't improve and he collected €12,000 for fifth place.
Kelleher was the next to hit the showers in fourth place for €15,000 after he went all in with bottom pair and a flush draw on a queen-nine-eight suited flop and was called by Sweeney. Sweeney held queen-nine for top two pair and Kelleher was eliminated when he did not improve on the turn or river.
The remaining three players then took a break to discuss a deal. Eventually, the trio agreed to a deal based on chip counts and not ICM. Sweeney, with the chip lead, was guaranteed to bank €38,393. Wang was guaranteed €30,878 and Gallagher €28,329. In addition to the guaranteed payouts, the three players left another $5,000 up top to be played for.
The trio then agreed to take a quick pint break to celebrate before getting back down to business. Shortly after players came back from their liquid break, Wang jammed ace-five into Gallagher's ace-ten and exited the tournament in third place with his agreed upon €30,878 after his hand didn't get there.
Gallagher then went on a roll and retook the chip lead. He eventually extended his lead to a more than 4:1 chip advantage before Sweeney was able to even up the stacks after winning a flip with pocket tens against ace-king and flopping quad tens.
About 15 minutes later, the duo got it all in again for another flip. Gallagher took round two when his pocket twos held against Sweeney's ace-king. Thanks to having the chip lead before the deal was made, Sweeney with a €38,393 prize collected the most money in the tournament. He was also the final player to win a $10,000 CPP package in the Golden Chip promo.
Meanwhile, it was Thomas Gallagher lifting the trophy and walking away with a handsome prize of €35,878 to go with the title.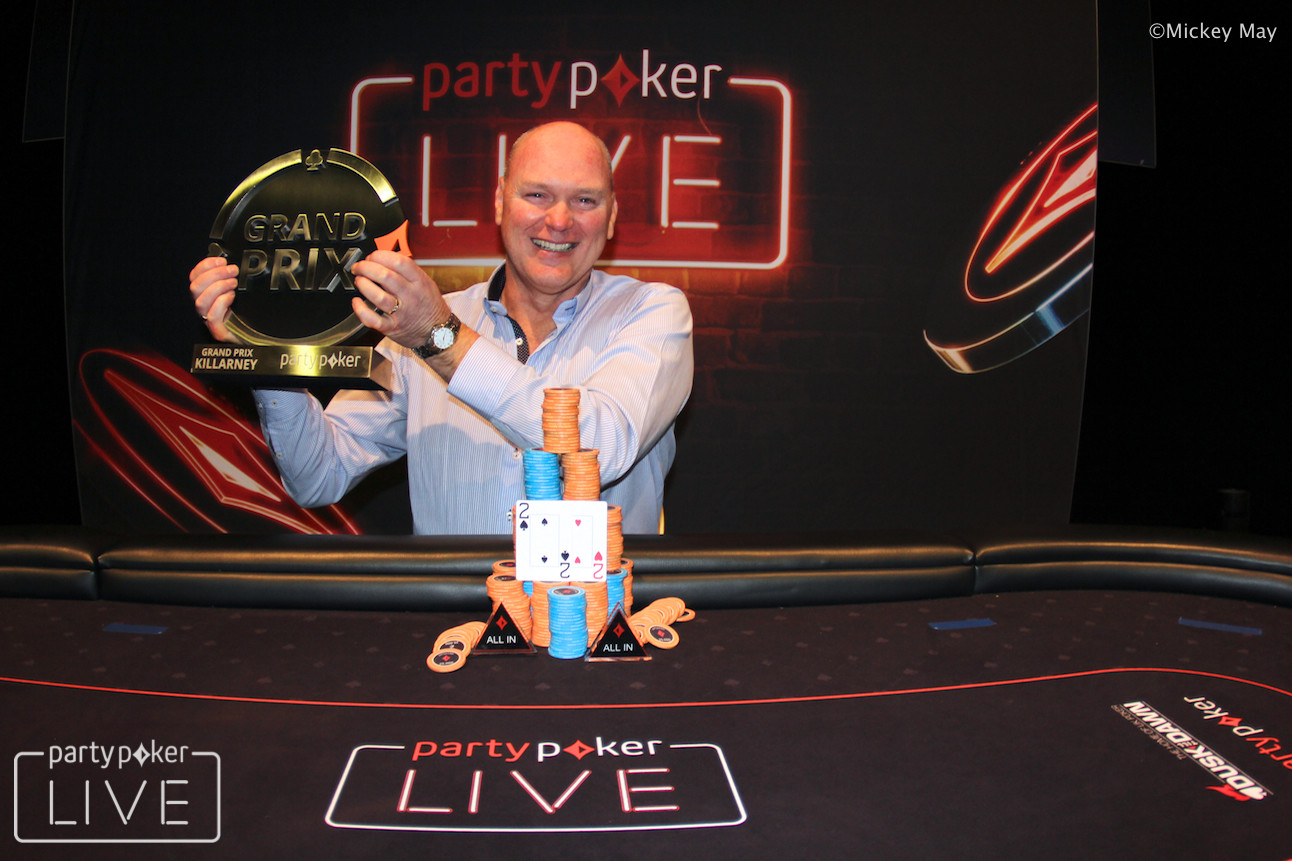 Final result of the €340 Main Event
| Place | Name | Country | Prize |
| --- | --- | --- | --- |
| 1 | Thomas Gallagher | Ireland | €35,878* |
| 2 | Ronan Sweeney | Ireland | €38,393* |
| 3 | Yue Wang | Ireland | €30,878* |
| 4 | Alan Kelleher | Ireland | €15,000 |
| 5 | Mike Quirke | Ireland | €12,000 |
| 6 | Ciaran Gillmartin | Ireland | €10,500 |
| 7 | Gerald Keenan | Ireland | €9,000 |
| 8 | Colin Quarry | Ireland | €7,500 |
*Prize determined as part of three-way final table deal
Here is Gallagher's reaction directly after his victory.
That marks the end of the PokerNews live reporting of the 2017 partypoker LIVE Grand Prix Killarney Main Event at the INEC, but make sure to check back in regularly for updates from tournaments all over the world.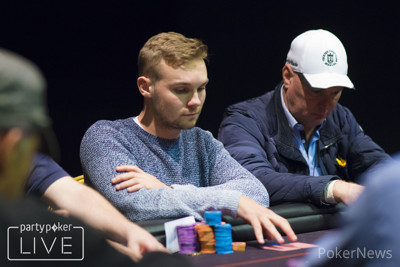 With stacks fairly even but Thomas Gallagher with the slight lead and on the button holding
he raised to 800,000.
Ronan Sweeney three-bet to 2,100,000 with
and Gallagher responded with a four-bet to 4,800,000. Sweeney five-bet jammed and Gallagher called.
The board ran out
.
It was all over, Sweeney couldn't win the flip and after a highly competitive heads-up match he was left with the biggest pay-out and a Caribbean Poker Package worth an additional $10,000.
Level:

34
Blinds:

200,000/400,000
Ante:

50,000
Thomas Gallagher opened for 750,000 and Ronan Sweeney raised. Gallagher moved all in and Sweeney called.
Gallagher:

Sweeney:
The board ran out
.
An emphatic flop of quads for Sweeney gave him the double up to get the stacks even after taking a pounding from Gallagher recently.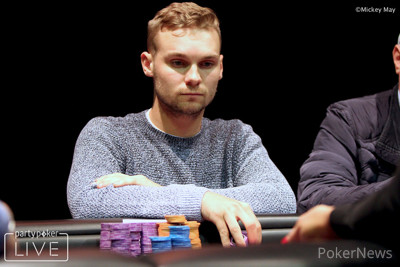 In a limped pot, Sweeney with
bet 300,000 on a
flop. Gallagher with
raised to 900,000 and Sweeney called.
Sweeney then moved all in for 3,300,000 million after the
appeared on the turn and Gallagher, who didn't look happy about it, called with a pair of eights and an open-ended straight draw.
The
appeared on the river, and Sweeney won the pot with two pair to double up.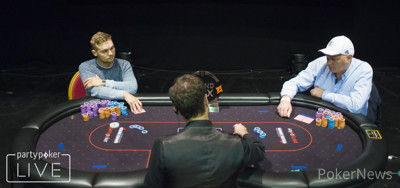 On a flop of
, Ronan Sweeney bet 700,000 and Thomas Gallagher raised to 1,500,000. Sweeney called.
The turn was the
and Sweeney called a 2,000,000 bet from Gallagher.
The river was the
and a 2,400,000 bet from Gallagher gave Sweeney a lot to think about. Sweeney decided to fold.
Level:

33
Blinds:

150,000/300,000
Ante:

40,000
Thomas Gallagher has been taking charge over the last few hands, picking up a few pots without showdown to go into a narrow lead.
They are now on a short break.