€25K Super High Roller
Day: 2
€25K Super High Roller
Day 2 Completed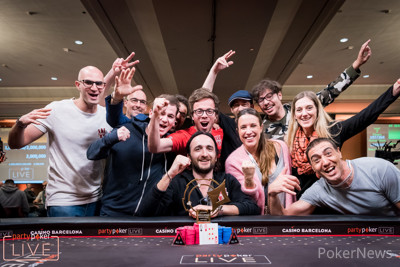 Only eight players returned to the feature table at Casino Barcelona for the final day of the 2018 partypoker LIVE MILLIONS Grand Final €25,500 Super High Roller II and Juan Pardo Dominguez was in the lead, coming fresh off a final table appearance in the first edition of the festival. Pardo ended up in heads-up against Belgian Triple Crown champion and three-time WSOP bracelet winner Davidi Kitai.
Kitai, who is well known for his crazy comeback stories, was down 1-7 when the battle for the title got underway, and two double ups later the Belgian was suddenly in the lead. Pardo was grinded down before his final flip with queen-jack suited versus pocket sixes denied the Spaniard the trophy on home soil.
The victory was special for Kitai, who despite all his previous titles, never won a High Roller title with such a high buy-in and the Belgian was well pleased. Initially, he almost skipped the event after attending a friend's wedding and arriving in the early morning hours, but Kitai had a good feeling about the tournament and the decision turned out to be golden.
Further motivation was waiting on the rail, including a special lucky charm. "Every time I was all in, I kept thinking about the baby and rubbed the belly," Kitai said with a big smile on the face. After getting married last summer, Kitai and his wife are now also expecting a baby and the victory feels even sweeter.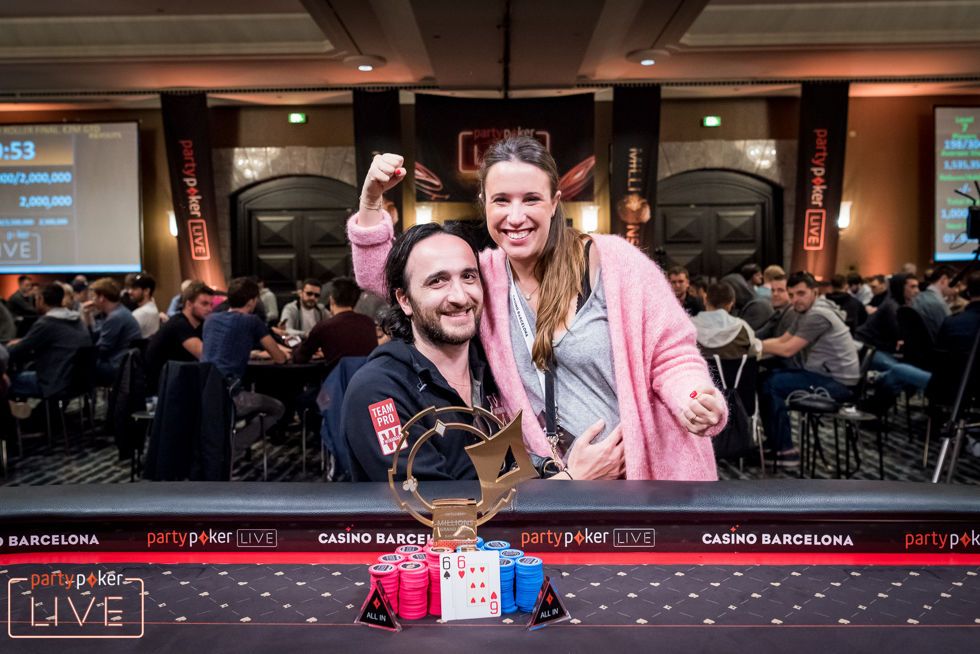 As for Pardo, the 25-year old may not be a familiar name on the High Roller circuit. He goes by the nickname "Malakastyle", and the Spaniard was sporting a shirt of his local football club FC Malaga. Pardo is a professional poker player and hasn't been playing live much, online however is another story. After moving to Cardiff around two years ago, he racked up several big scores and is a force to be reckoned on the virtual realm.
Final Result €25,500 Super High Roller II:
| Place | Player | Country | Prize (in EUR) |
| --- | --- | --- | --- |
| 1 | Davidi Kitai | Belgium | 700,000 |
| 2 | Juan Pardo Dominguez | Spain | 450,000 |
| 3 | Kamal Bejjani | Lebanon | 325,000 |
| 4 | Adrian Mateos | Spain | 215,000 |
| 5 | Manig Loeser | Germany | 162,500 |
| 6 | Ryan Riess | United States | 120,000 |
| 7 | Jake Schindler | United States | 90,000 |
| 8 | Justin Bonomo | United States | 60,000 |
| 9 | Steve O'Dwyer | Ireland | 60,000 |
The tournament finished just before the €51,000 Super High Roller was sent on the second break and the Spanish colleagues from Casino Barcelona interviewed Pardo right away. When asked if he was going to play in the upcoming €101,000 Super High Roller, Pardo just shook his head with a smile on the face and said "next year I will," then confirmed to fully focus on the €10,300 Main Event.
A total of 90 entries to create a prize pool of €2,182,500 and a host of well-known names cashed such as Steve O'Dwyer, Justin Bonomo, Ryan Riess and Manig Loeser. Adrian Mateos scored back-to-back 4th place finishes and jumped right after into the €50,000 Super High Roller.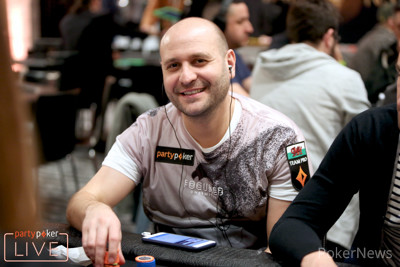 "I have always played live and I loved it, as massive part of my game is getting live reads and I think that's what has given me some good results over the years." That may be quite an understatement, though, as partypoker sponsored pro Roberto Romanello from Swansea has already racked up more than $3.45 million in cashes.
After signing up with partypoker, Romanello has discovered his love for online poker. "Since joining up with partypoker, I have started playing online. They are really fun tournaments, not as long as back in the day and the tournaments finish a lot faster during the week. That's a lot of fun for me and I enjoy it."
The "Welsh Wizard" made two final tables on the opening Sunday of the most recent Powerfest series, and claimed the title in the $530 Event 16-H: $25K Gtd FL 7CS. Fifty players fancied some stud action and put up the $530 buy-in, with Romanello outlasting them all, beating I-eat-rats heads-up to claim the title and $8,750.
"I get to do both, I slowed down with the live circuit and don't travel as much as I used to, but that works for me as well as now I got married and we are expecting twins on July the 27th. I gonna be a dad and that is very exciting for me."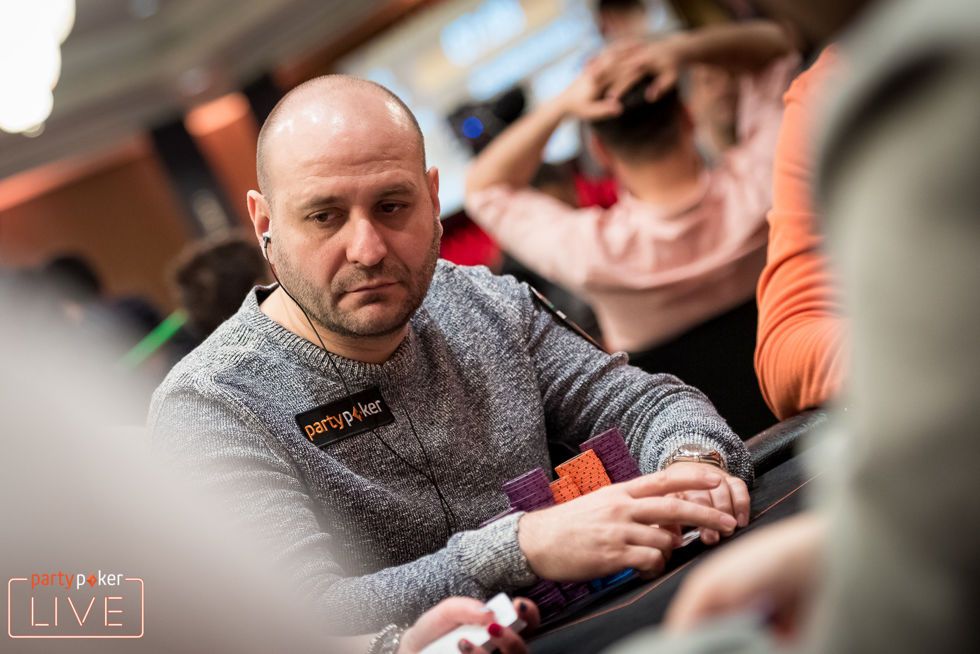 His father Frank and his brothers Nicky, Anthony and Francesco play poker as well. If one or more were to show up at your table in a big live event, would that cause any family trouble or lots of friendly banter? Roberto definitely has one preference for a dream final table.
"I think I prefer my dad, if it was up to me for a WSOP Main Event final table to have my dad on the table with me would be incredible because I know he loves playing. He loves it more than me, he loves being around his boys, he loves traveling when I take him away with me and it's nice to give something back. We are a very close family and he has done so much for us when growing up, we are what has been taught to us. And I know how much he would love that. The other fact is, every time we play he comes after me every time, so I know it would be exciting because he always loves to take me out of a tournament.
The sudden rise of his employer doesn't come as much of a surprise for the Welshman. "It's incredible what partypoker is doing, they are just doing stuff that is amazing for the players, what the players need. The players need the competition in the market which they haven't had for a long time since the demise of Full Tilt. It keeps the competition healthy. And as we all know, they have taken heaps and bounds with the poker.
Among those behind the scenes, one particular name in the UK live poker scene he deems vital for that development.
"What they are doing is gutsy, and they have come a long way in a short time. The first events here in Barcelona have all hit the guarantee and it's nice to see the players supporting them, they deserve it. There is not many people in poker that do what they are doing. With the team at Dusk Till Dawn and Rob Yong, the experience he has is what's making this work.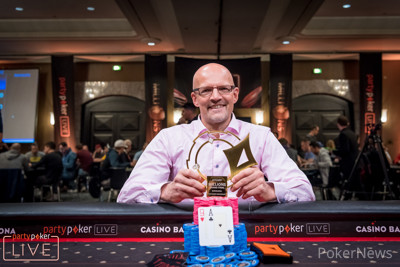 The first of two €25,500 Super High Rollers at the 2018 partypoker LIVE MILLIONS Grand Final Barcelona surpassed it's guarantee of €2 million thanks to 88 entries in total, creating a prize pool of €2,134,000. Only the top nine spots were paid and it was Andreas Eiler that ended up victorious and took home €700,000 for his efforts after defeating Rainer Kempe in heads-up.
It was a field filled with a lot of pros that filled the Casino Barcelona and David Peters was the last of them to leave empty-handed after a three-way clash with Eiler and Juan Pardo Dominguez. Peters' ace-ning stood no chance against the pocket aces of Eiler and the pocket queens of Pardo Dominguez. That hand lifted Eiler into the top spot and the chips were bagged up right after.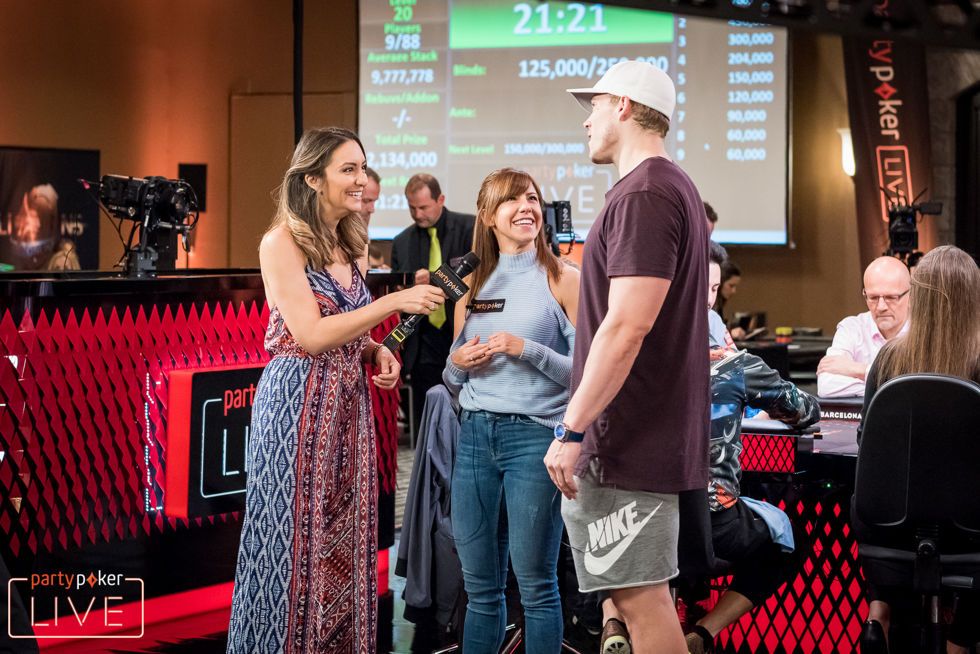 Kristen Bicknell and Alex Foxen, poker's current power couple, both reached the final table and bowed out in 7th and 8th place respectively. Bicknell got unlucky when her pocket jacks were cracked by the pocket tens of Kempe. The casualties after that kept coming at a quick pace and Spanish superstar Adrian Mateos, who already won three WSOP bracelets despite his young age, had to settle for fourth place.
Erik Seidel was the short stack when play was down to the last three and his ace-ten wouldn't hold up against the nine-seven of Eiler, who got there with a four card flush. He entered heads-up with a distinctive lead over Kempe and dispatched his countryman within half an hour when holding up with ace-nine versus ace-six.
Final Result €25,500 Super High Roller I
| Place | Player | Country | Prize (in EUR) |
| --- | --- | --- | --- |
| 1 | Andreas Eiler | Germany | 700,000 |
| 2 | Rainer Kempe | Germany | 450,000 |
| 3 | Erik Seidel | United States | 300,000 |
| 4 | Adrian Mateos | Spain | 204,000 |
| 5 | Juan Pardo Dominguez | Spain | 150,000 |
| 6 | Byron Kaverman | United States | 120,000 |
| 7 | Alex Foxen | United States | 90,000 |
| 8 | Kristen Bicknell | Canada | 60,000 |
| 9 | Orpen Kisacikoglu | Turkey | 60,000 |
The second edition of the very same event is currently down to the last four players with Pardo Dominguez as commanding chip leader, fellow countryman Adrian Mateos, Kamal Bejjani and Davidi Kitai remain in contention for the €700,000 top prize.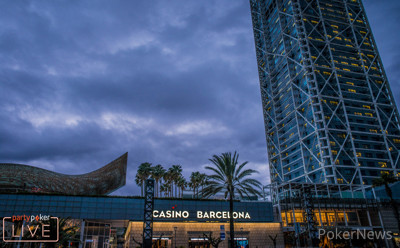 The partypoker LIVE MILLIONS Grand Final at the Casino Barcelona is the most ambitious festival of the newly founded global poker tour yet with guaranteed prize pools of €23,000,000 in total over ten days of non stop poker action. Other international festivals may have a few tournaments where the poker enthusiast can expect seven-figure prize pool up for grabs, however, the grand spectacle at the end of Season 1 has that set in stone for nine events from the get-go.
| Event Number | Tournament | Buy-In | Event Dates | Guaranteed Prize Pool |
| --- | --- | --- | --- | --- |
| #1 | Open | April 7-10 2018 | €1,000+100 | €1,000,000 |
| #2 | Super High Roller | April 7-8 2018 | €25,000+500 | €2,000,000 |
| #3 | Super High Roller | April 8-9 2018 | €25,000+500 | €2,000,000 |
| #4 | Super High Roller | April 7-8 2018 | €50,000+1,000 | €2,000,000 |
| #5 | Warm Up | April 9-11 2018 | €2,500+200 | €1,000,000 |
| #6 | Super High Roller | April 10-11 2018 | €100,000+1,000 | €2,000,000 |
| #7 | Main Event | April 11-15 2018 | €10,000+300 | €10,000,000 |
| #8 | High Roller | April 13-15 2018 | €10,000+300 | €2,000,000 |
| #9 | Finale | April 13-15 2018 | €1,000+100 | €1,000,000 |
Reason 1: The sun always shines on TV … and in Barcelona
Hundreds of beachfront restaurants, bars and clubs are right around the corner of Casino Barcelona at Port Olimpic, making tournament exits less painful. And a walk in the sun or quick jump into the ocean at Barcelona Beach, the most distinguished and well-known beach in the city, is the perfect start into the day before joining the action at the poker tables.
And for those few days when the sun doesn't shine, there is always something to do in the city that never sleeps. Even at 3 a.m. the small corner shops are still open to grab a drink, snack or ice cream, just in case.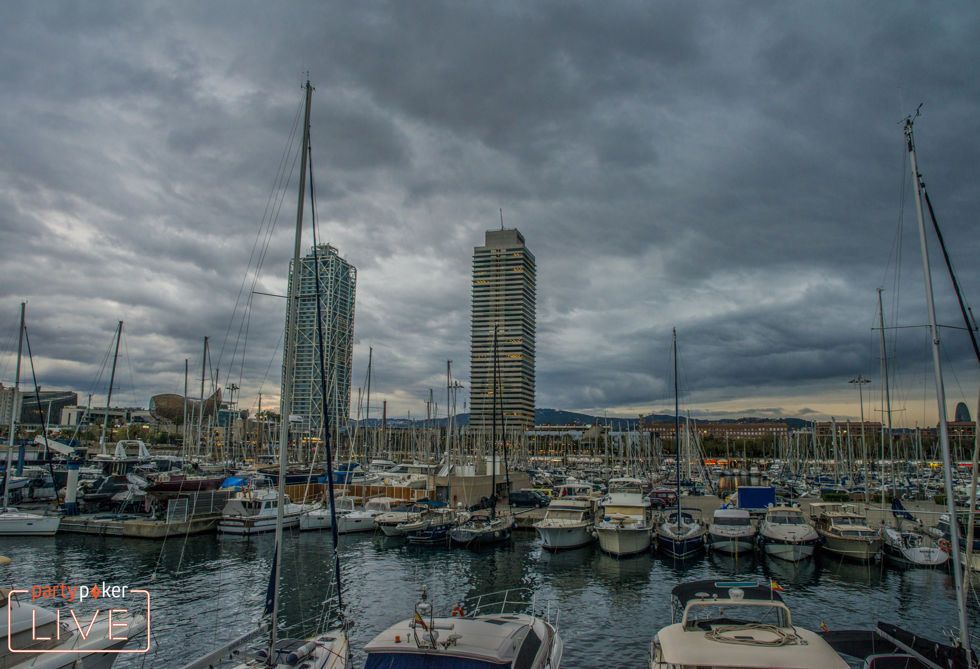 Reason 2: Popular Tourist Destination
Barcelona is one of the most popular tourist destinations in Europe and world wide, and has plenty of sightseeing potential to offer. Antoni Gaudí is the most famous architect of the Catalan Modernism movement and more than 20 sites can be visited including the Sagrada Familia, Park Güell and Casa Milà, amongst others.
The cosmopolitan capital of the Catalan region also features the Museu Picasso and the Fundació Joan Miró, which showcase the art of the world renown artists.. It is also a city with a lot of parks that invite to relax for a while, or just sip a cup of coffee at one of the many shops around every corner. Be careful at La Rambla, pickpockets tend to get busy on the famous boulevard.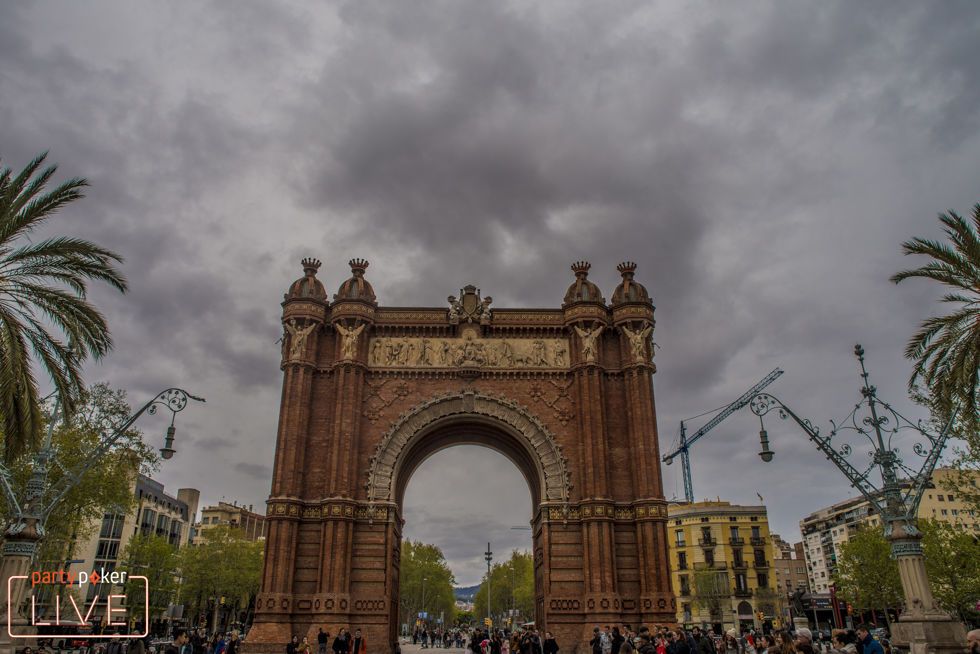 Reason 3: A Rich and Thorough Food Variety
The Catalan capital is a melting pot of different cultures, and that brings a rich variety of spices and flavors along with it. Given it's location near the coast, it comes as no surprise that Barcelona has many fish specialties to offer – head over to the Mercat de la Barceloneta to get the finest local fish and seafood.
For an authentic taste of Spain's most vibrant city, you should also check out the local bakeries and markets. Fresh fruits, sausages and cheese are just some of the things to look for. The largest and most well-known market is La Boqueria next to La Rambla, followed by Mercat de Santa Caterina.
Reason 4: Watch One of the Best Football Clubs in the World
The Futbol Club Barcelona, or simply known as "Barça", was founded in 1899 and has been playing in the Primera División since 1929. More than two dozen international titles are followed by countless national titles and their home stadium, the Camp Nou, offers more than 99,000 seats. A huge rivalry exists with Real Madrid and their current squad is an impressive selection of international superstars, along with talents developed in their youth academy "La Masia."
Neymar Jr. has been infected with the poker bug when playing for Barcelona and also received lessons from close friend Felipe Ramos. Another well known professional football player to enjoy a game of cards is Gerard Pique, and the central defender can be spotted at the cash game and tournament tables of Casino Barcelona when time allows.
Reason 5: Pick Up a New Language
This may sound rather trivial, but just the basics of Spanish will help a lot when going shopping and looking for groceries. Speaking proper Catalan will require a much bigger effort, though, but Spanish is just fine around the city. Understanding the language also helps with French and Italian, as they share a lot of very similar words.
It may not only come in handy when ordering dinner, but also at the poker tables. Imagine to play against six Spaniards and they speak in their native language when they are not involved in the hands anymore. Wouldn't you want to roughly know what thy chat about and use that to your advantage?
Below are pictures of the record-setting partypoker LIVE MILLIONS Grand Final at the Casino Barcelona thus far including shots of the €1,100 Open, the city and both €25,500 Super High Rollers.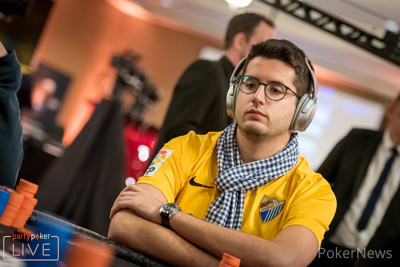 The second €25,500 Super High Roller attracted a field of 90 entries total to create a prize pool of €2,182,500 and the top nine spots were paid with Steve O'Dwyer being the first casualty in the money. Action was wrapped up right after that with blinds of 150,000/300,000 and a button ante of 300,000, and the eight finalists will return to the feature table of Casino Barcelona at 12 p.m. noon local time.
Below is the seating chart of the final table:
| Seat | Player | Country | Chip Count | Big Blinds |
| --- | --- | --- | --- | --- |
| 1 | Adrian Mateos | Spain | 12,300,000 | 41 |
| 2 | Justin Bonomo | United States | 7,300,000 | 24 |
| 3 | Manig Loeser | Germany | 13,325,000 | 44 |
| 4 | Jake Schindler | United States | 9,375,000 | 31 |
| 5 | Kamal Bejjani | Lebanon | 7,600,000 | 25 |
| 6 | Ryan Riess | United States | 7,275,000 | 24 |
| 7 | Davidi Kitai | Belgium | 10,225,000 | 34 |
| 8 | Juan Pardo Dominguez | Spain | 25,000,000 | 83 |
It is the second €25,500 Super High Roller final table appearance for both Adrian Mateos and Juan Pardo Dominquez and a recap of that event will be published later today.
You can follow all the action over on the My partypoker LIVE (MPPL) website and the live stream runs on a security delay of 30 minutes, while PokerNews will provide feature stories throughout the day.
€25K Super High Roller
Day 2 Started