Big Stax 1100
Day 3 Completed
Level 29 : 50,000/100,000, 100,000 ante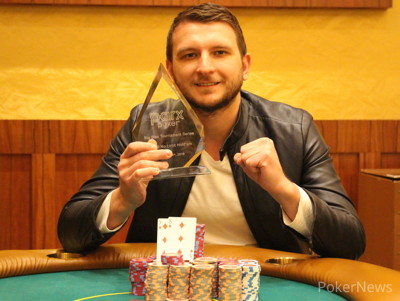 Three players were left in Parx Big Stax 1100 and with the slow, deep-stacked structure, it looked like it could be awhile before the tournament ended.
Grigoriy Shvarts had other ideas though, and his final two opponents walked right into traps, bluffing off all of their chips to him in huge pots when he had monster hands. The win, worth $82,549 for topping a field of 370, was Shvarts' fourth in the five-figure range and ended some recent final table frustration for him.
"It feels really good, finally," said an elated and a little relieved Shvarts. "It's been a lot of bad beats, stuff like that. Finally came my way."
Official Final Table Results
| Place | Player | Hometown | Prize |
| --- | --- | --- | --- |
| 1 | Grigoriy Shvarts | New York, New York | $82,549 |
| 2 | AJ Jamil | Glen Cove, New York | $57,793 |
| 3 | Thomas Parkes | Alburtis, Pennsylvania | $37,154 |
| 4 | Hal Rotholz | New York, New York | $24,402 |
| 5 | Rafael Yaraliyev | Brooklyn, New York | $18,792 |
| 6 | Peter Ippolito | East Meadow, New York | $15,547 |
| 7 | Rafal Kordys | New Hyde Park, New York | $13,028 |
| 8 | David Whitnah | Jersey City, New Jersey | $10,651 |
Shvarts' dominance wasn't looking so certain back on Day 1. Although he had a pile of chips, Shvarts got caught up in a hand and realized in the middle of it he was not OK, asking the tournament director if he could get an EMT on the horn.
Shvarts managed to finish off the hand — he turned a boat and rivered quads so winning the pot was never going to be an issue — and bust his opponent, and he stepped away from the tournament for a bit to try to shake it off.
The 29-year-old admitted the illness stemmed from a drinking bender that had bled right into the tournament, and when he returned to bag up his chips, he knew he had to get some rest and get right for Day 2.
"I woke up feeling better and it just went my way from there," he said.
Indeed, Shvarts really got rolling on Day 2. That's when he ran up a sizable chip lead heading into the final table, entering the final day of play with about 30% of the total chips. He rarely was challenged as he spent nearly the entire time leading, with only Thomas Parkes resting the top spot from him briefly.
Three-handed with Parkes and AJ Jamil, Shvarts closed things out in a hurry. First, Parkes turned flopped top pair into a bluff in a three-bet pot when he three-barreled off on an ace-high board with king-queen, good for queens and sevens on the river when the board paired. Unfortunately for him, Shvarts was lying in wait with sevens full of aces after flopping second pair.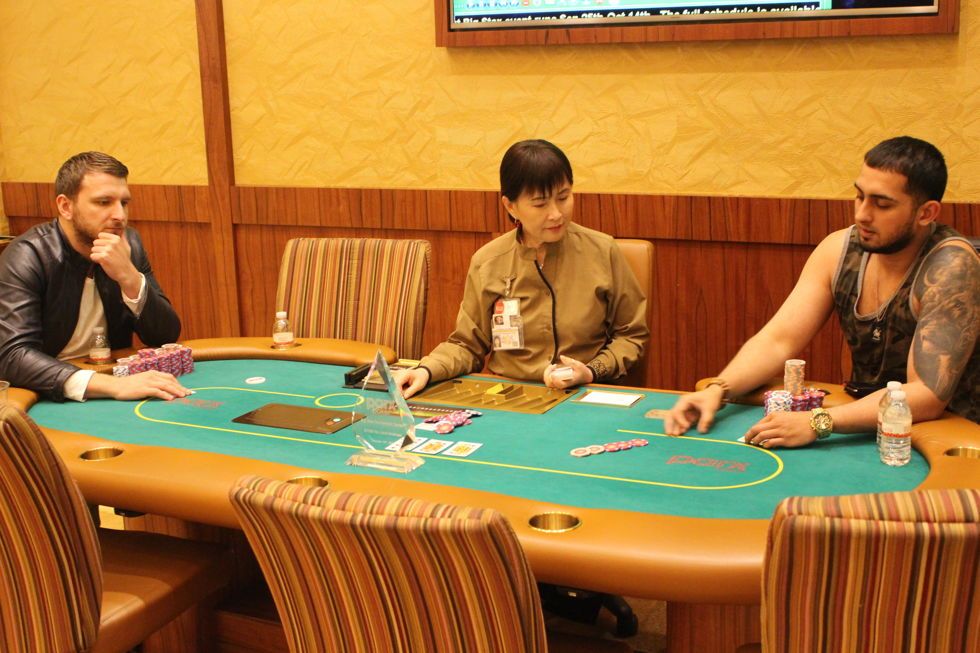 Then, he battled Jamil a bit heads up before the two discussed a possible chop with Shvarts holding a 2-to-1 lead. Jamil wanted to leave some dough to play for, but Shvarts was still tired from the long tournament grind and wasn't having it.
They decided to play, and a few hands later, Shvarts called a three-bet and flopped a straight with seven-three, Joe Hachem-style. Jamil overbet shoved into him with just ace-high, and Shvarts stood up and shouted in triumph.
"GAME. OVER." he yelled.
Afterward, he admitted the cards fell his way but he was also happy with how he played.
"I didn't really see nobody outplaying me," he said. "I felt really confident."
The 29-year-old Russian-born Shvarts, who said he's been living stateside since he was 10, secured his second-biggest cash after a fifth-place run in WPT Maryland Live! back in 2017 that netted him over $92K. He said he's walked away from every tournament a better player since that run, and he knows what lesson he took from this one.
"This tournament actually told me that I have to stop doing that," he said of his partying. "In order to play tournaments, you have to be in good shape. You cannot not sleep, go out, drink and expect to be on the same game as everybody else."
Level 29 : 50,000/100,000, 100,000 ante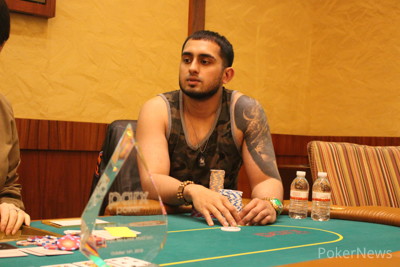 Grigoriy Shvarts raised on the button and called a three-bet to 750,000 from AJ Jamil. On the
flop, Jamil announced he was all in for what looked like around 4 million, and Shvarts shouted a call, slapping down
for the flopped straight.
Jamil was all but cooked with
, needing a miracle chop, but the
turn assured that wouldn't be the case.
Level 29 : 50,000/100,000, 100,000 ante
Grigoriy Shvarts raised on the button and AJ Jamil shoved in the big blind for just under 3 million. Shvarts said he only looked at one and it was a good. If the other card was nine or better, he declared, he was in there. He peeked and announced a call.
Grigoriy Shvarts:

AJ Jamil:
Jamil was in a dominating spot and held up on the
runout.
Level 29 : 50,000/100,000, 100,000 ante
AJ Jamil made it 225,000 on the button and Grigoriy Shvarts called in the big blind. Shvarts check-called 325,000 on
and both checked the
. Shvarts bet 800,000 on the
river and Jamil paid it off but couldn't beat
.
Level 29 : 50,000/100,000, 100,000 ante
Grigoriy Shvarts has used some aggression to hammer AJ Jamil down under 40 big blinds. He got a pair of check-raises through on the turn and is now up about 4-to-1.
Level 29 : 50,000/100,000, 100,000 ante
Grigoriy Shvarts raised on the button and AJ Jamil called. On the
flop, Jamil checked, Shvarts bet 350,000, and Jamil made it 950,000. Shvarts peeled but folded quickly on the
turn to a bet of 1.5 million.
Level 29 : 50,000/100,000, 100,000 ante
AJ Jamil and Grigoriy Shvarts followed the same pattern as last posted hand, with Jamil check-calling the flop and betting 675,000 on the river after turn action checked through on
. This time, when Shvarts flicked in a calling chip, Jamil showed
for the small straight.
Level 29 : 50,000/100,000, 100,000 ante
AJ Jamil defended the big blind and check-called 375,000 on
. Both checked the
and Jamil bet 675,000 on the
river. Grigoriy Shvarts thought briefly and tossed a chip in. Jamil sighed and showed
for a busted flush draw and Shvarts took it with
.
Level: 29
Blinds: 50,000/100,000
Ante: 100,000