Level:

2
Blinds:

150/300
Ante:

25
Team PokerStars Pro (Canada) Greg Debora raised to 500 from middle positon only to have Eric Ladny reraise it to 1,300 from the cutoff. Michael Binger smooth-called from the button and both blinds got out of the way. When action was back on Debora, he opted for a reraise to 4,200.
Ladny didn't take long to fold while Binger thought for a coupld of minutes before making the call. Debora immediately led out for 5,600 on the
flop, which sent Binger into the tank for an eternity. Well, it was actually around six minutes, but either way he folded.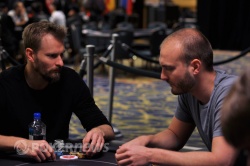 With Michael and Nick Binger seated right next to each other, it was only a matter of time before the two squared off in a pot. In the hand, Nick raised to 500 under the gun and Michael came along from the big blind. The flop came down
and Michael check-called a bet of 700 from his brother.
The dealer burned and turned the
, which both players proceeded to check. They did the same on the
river and Michael flipped
, which was good enough to win the hand. Nick is sitting even with 25,000 while Michael is up to 30,000.
With a board reading
and about 13,000 already in the pot, Andrew Chen checked from the small blind and his sole opponent, Brandon Adams, checked behind from the cutoff.
Both players didn't want to reveal their cards, but finally Chen turned over
. It was good enough as Adams silently muck. Chen is up to 31,000 while Adams is down to just 8,000.
With about 2,500 in the pot and a board reading
, Matt Waxman
checked to Brandon Adams, who bet 2,200. Waxman made the call and then checked the
river. Adams bet again, this time to the tune of 5,300, and Waxman snap-called. Adams was hesitant to turn over his hand, signaling he'd been caught bluffing, so Waxman flipped his
full house.
Adams lost over 8,000 on the hand that Waxman happily collected.
"I could have been an ass and made you show first," Waxman said to Adams after the hand.
Action folded to Greg Debora on the button and raised to 500. Eric Ladny responded by reraising to 1,800 from the small blind only to have Michael Binger make it 5,000 from the big. Debora quickly folded, obviously having been caught trying to steal the blinds, but Ladny was not so quick to give up. He tanked for a solid three minutes before conceeding the hand. With that, Binger add a couple thousand chips to his stack and showed he isn't afraid to mix it up here in the early levels.
The blinds are only 100/200 with a 25 ante here in the first level. Players started with 25,000 so they're playing fairly deep; as such, they seem content with playing small pots and feeling one another out.
For example, in a recent hand action folded to Shaun Deeb in the small blind and he raised to 525. David Cairns called from the big blind and the two watched the flop come down
. Both players checked while the dealer burned and turned the
. Deeb led out for 725 and Cairns simply mucked.
Level:

1
Blinds:

100/200
Ante:

25
The 2011 PokerStars Caribbean Adventure kicked off the $5,000 + $250 Bounty Shootout yesterday with 216 players spread out among 36 tables. By the end of the day, only 36 players remained. Those players will return today for Round 2, which consists of six, six-handed tables that'll play down to a single winner. The six tables will be broke down into two heats. The first heat will begin at 12 P.M. EST and will feature Tables 1-3:
Table 1
Seat 1: Matt Waxman
Seat 2: Dane Canelas-Miller
Seat 3: Jeff Madsen
Seat 4: Brandon Adams
Seat 5: Travis Carson
Seat 6: Andrew Chen
Table 2
Seat 1: Shaun Deeb
Seat 2: David Cairns
Seat 3: Alex Wice
Seat 4: Faraz Jaka
Seat 5: Dean Lyall
Seat 6: Toby Lewis
Table 3
Seat 1: Marton Czuczor
Seat 2: Johannes Van Til
Seat 3: Greg Debora
Seat 4: Eric Ladny
Seat 5: Michael Binger
Seat 6: Nick Binger
The first heat has perhaps the most compelling storyline in the Binger brothers, Michael and Nick, who are both seated together at Table 3. Tournament Director Mike Ward has already said they have no plans of seperating the siblings, which makes sense considering the tournament is a shootout. However, it also means that no matter what happens, at least one Binger will be sent home today.
After the completion of the first heat, Tables 4-6 will return at 7 P.M. EST for their turn.
Table 4
Seat 1: Amnon Filippi
Seat 2: David "ODB" Baker
Seat 3: Marko Neumann
Seat 4: Dario Minieri
Seat 5: Rob Tepper
Seat 6: Chris Klodnicki
Table 5
Seat 1: Andrew Seidman
Seat 2: Barry Greenstein
Seat 3: Scott Baumstein
Seat 4: Jude Ainsworth
Seat 5: Amichai Tzvi Barer
Seat 6: Daniel Colman
Table 6
Seat 1: William Pilossop
Seat 2: Darren Elias
Seat 3: Samuel Chartier
Seat 4: Ville Wahlbeck
Seat 5: Jesse Martin
Seat 6: George Lind III
By the end of today, only six players will remain and we will have our final table to the PokerStars Caribbean Adventure Bounty Shootout. Be sure to stay with us as the PokerNews Live Reporting Team brings you all the action and eliminations from the Bahamas.
NAPT Bounty Shootout
Day 2 Started