Yau Gets a Shove Through; Spragg Enjoying His "Vacation"

Level 14 : Blinds 1,500/3,000, 3,000 ante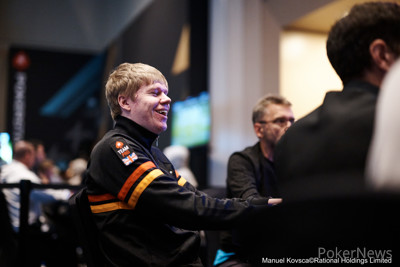 "Why don't you set something up like that for streaming live poker?" Ethan "Rampage" Yau asked Benjamin "Spraggy" Spragg in reference to one of the few stationary cameras that have been set up by players to film the live action.
"I can't be bothered. I tried it, but it's too much hassle," Spragg, the popular Twitch streamer, replied. "Live poker is my vacation. I'm hoping that I can just appear on the five or six other poker vlogs that are here right now."
Meanwhile, Justas Semaska raised to 6,000 from the cutoff before Martin Johnstone made it 16,000 from the button. Not to be outdone, Yau shoved from the small blind for around 105,000. Both players tossed their hands in the muck and Yau took the pot.
Despite getting away from this one, Johnstone has gone on a tear in recent levels and he's making his way towards the 400,000 mark.