Raymond Takes and Gives

Level 24 : Blinds 15,000/30,000, 30,000 ante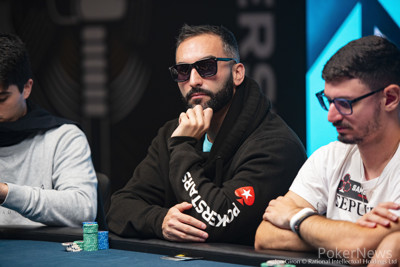 Taylor Paur raised to 60,000 from the cutoff before Alexandre Raymond and Allan Mello came along from the blinds. The flop was
and both Raymond and Mello checked to Paur for a bet of 55,000. Both players called and the turn was
. Raymond bet 150,000 on the turn and Mello folded before Paur tossed in the chips to call and the river was
. Raymond shoved the river and Paur gave it up.
On the next hand, Raymond raised to 60,000 from under the gun and Pedro Neves was the lone caller from the big blind. The flop was
and Neves check-called a 65,000 bet from Raymond. After a
turn, Neves bet 95,000 and Raymond called to see
on the river. Neves made it 165,000, and that was a right amount for Raymond to give it up.
Player
Chips
Progress

Alexandre Raymond

3,640,000

340,000

Pedro Neves

2,370,000

340,000

Taylor Paur

1,105,000

-325,000

Allan Mello

475,000

-160,000