Seat 2: Sebastian Sorensson, 27, Lund/Sweden, PokerStars qualifier - 6,125,000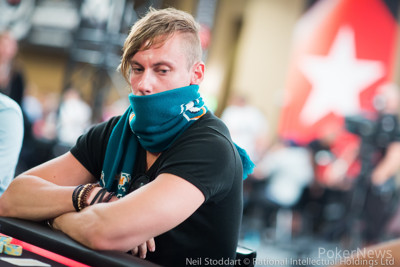 Sweden has been constantly recruiting well-known poker superstars who thrive on both live and online scene. But only a little was known about Sebastian Sorensson before he arrived for the PokerStars Championship Barcelona Main Event.
The 27-year-old from Lund, a town near Malmö, became the latest Swedish export to the PokerStars TV final table broadcast. After his last week's debut on the live felt at a tournament back home, Sorensson is now playing his second-ever live tournament.
"This is a completely different experience," Sorensson said. "You have to be focused for many days and a lot of hours. It costs a lot of energy," he learned from his long stretch in the Main Event.
Sorensson calls himself a semi-professional player for the last year. His other source of income comes from his a job in a warehouse. Sorensson likes producing music but there's not much time left for his passion these days with his poker. Sorensson is a huge Mixed Martial Arts and Conor McGregor fan.
Sorensson's Main Event run:
| Entering | Chips | Position |
| --- | --- | --- |
| Day 2 | 53,100 | 407 / 865 |
| Day 3 | 150,000 | 151 / 287 |
| Day 4 | 269,000 | 58 / 70 |
| Day 5 | 2,555,000 | 11 / 16 |
| Day 6 | 6,125,000 | 5 / 6 |