Finger Loses Lots

Level 6 : 300/600, 100 ante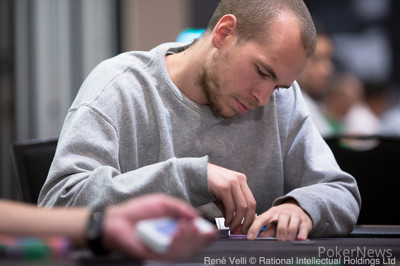 Sergio Aido was the one first in the pot, raising to 1,500 from the cutoff. Both small blind Martin Finger and big blind Dylan Linde called.
The two blinds checked to the initial raiser on
. Aido answered with a bet of 2,500 and was soon facing a check-raise to 8,000 by Finger. Linde got out of the way, tossing his cards into the muck just about instantly. Aido called.
As the
hit the turn, Finger cut out 12,000 from his stack and moved them to the middle. Aido thought about it for just a bit before he called.
The
completed the board and Finger bet 25,000. Aido raised to put Finger all in and the action was back on the German. Finger didn't seem to have too big a decision and folded right away, complementing Aido on the hand afterwards.