In just four-and-a-half hours time, Ben Tollerene single-handedly cleared the PokerStars Championship Panama Super High Roller final table. All five of the players that started the day, directly handed their chips to the high stakes online player as he knocked out each and every single one of them.
"Yeah, I can't really imagine a smoother final table than that," Tollerene admitted when asked if this is as easy a high-stakes live tournament win can get. "I think I lost one all in against [Daniel Dvoress] for like 10 blinds and won every other one. I can't remember actually even losing a significant pot, which is pretty rare."
Tollerene, who had already cashed for $422,114 this year and really seemed more focused on playing live as of late, took home well over half a million, the richest poker tournament ever on Panamanian soil.
| Position | Player | Country | Prize |
| --- | --- | --- | --- |
| 1 | Ben Tollerene | United States | $538,715 |
| 2 | Daniel Dvoress | Canada | $372,360 |
| 3 | Justin Bonomo | United States | $237,680 |
| 4 | Steve O'Dwyer | Ireland | $182,220 |
| 5 | Orpen Kisacikoglu | Turkey | $142,600 |
| 6 | Timothy Adams | United States | $110,920 |
Timothy Adams started out as the shortest stack but doubled early on with pocket threes to Orpen Kisacikoglu's ace-ten. In the end, it wouldn't be enough as he was still first to bust. Adams got it in with ace-queen to Tollerene's kings and the latter made a full house to send the former packing.
Just before sending Adams to the rail, Tollerene had also won a big pot off O'Dwyer. Still, it was Orpen Kisacikoglu to go out first. In a battle of the blinds, Tollerene pushed from the small with queen-nine. Kisacikoglu called with ace-deuce but saw his neighbor hit a nine.
Next up with his head on Tollerene's chopping block was Steve O'Dwyer, whom he had crippled shortly before. O'Dwyer shoved for eight big blinds with jack-nine off suit and big blind Tollerene called with king-six. The board paired both but Tollerene's turned king was sufficient to get the tournament down to three players.
Three minutes later, Justin Bonomo hit the rail. The former online superstar, who started out as the second to shortest stack, signed for a payday of $237,680 as he didn't manage to dodge a six. He had gotten it in good with king-jack to Tollerene's jack-six, but the six on the river got him.
Tollerene had knocked everyone out and started heads up with a 10-1 lead over Daniel Dvoress. Dvoress, though, wasn't just going to roll over. The infamous "Oxota" doubled early on with king-nine to Tollerene's jack-deuce suited. A small comeback followed but after an hour or so, he dipped under the ten big blind mark again as he had to muck to a nine-high flush shown by Tollerene in a sizable pot.
Five minutes later, Tollerene finished the job. A pre-flop all in with king-five (Tollerene) to ace-nine (Dvoress) didn't end well for the player favorite going in. The flop and turn were all blanks but the king on the river sealed the deal for Tollerene.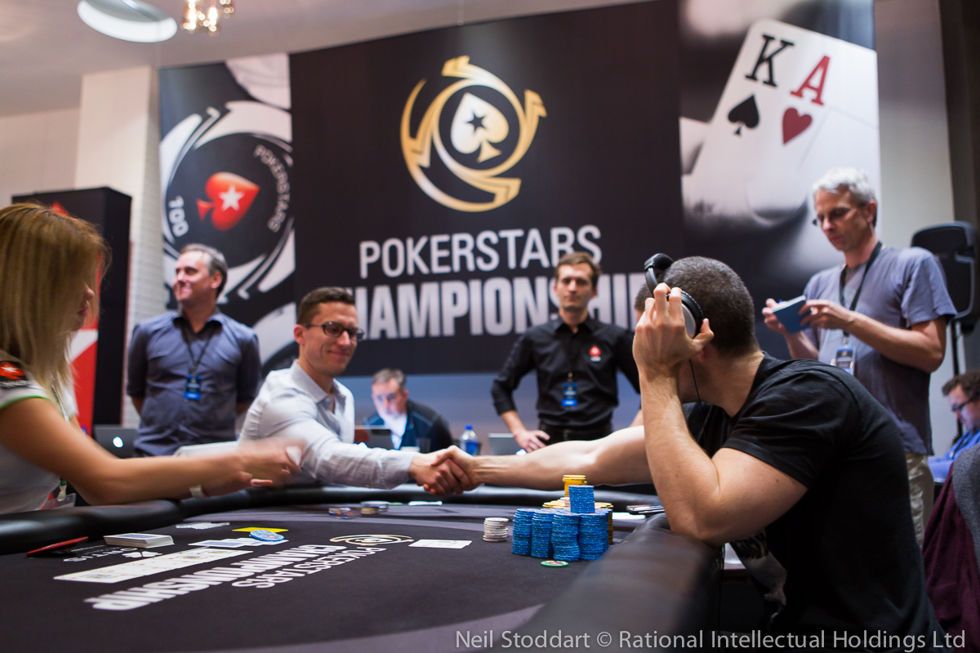 Coming from an online cash background, where he built one of the most titanic reputations in the game, Tollerene's forte falls in far deeper-stacked play than he experienced here at PokerStars Championship Panama.
A growing list of tournament accomplishments indicates he's gaining more familiarity with the nuances of the tournament game, something Tollerene confirmed. He admitted he still runs into some spots where he's unsure how to play optimally against opponents hovering around 10 big blinds, but it was all smooth sailing in this one.
"Some of it I feel really good about, and sometimes I'm kind of racking my brain figuring out what to do," he said. "Today, luckily, I ended up in spots where I knew what to do and didn't have as many of the hard ones.
"It seemed like all of them were committed to being pretty tight and laddering up the pay jumps. That allows me to really put the pressure on, make them show up with a good hand and go all in a lot. Also, I just had good cards a lot. I kept looking down at a suited ace or a small pocket pair, so it's really easy."
Tollerene expects the transition to more live tournament play to continue in the near future. Much of his online cash action has dried up — folks are understandably wary of giving action to a man with north of $11 million in tracked online profits — so Tollerene expects to play a fairly busy upcoming tournament schedule.
"I'd probably be happier with online cash action, but I think that game's changing and perhaps dying a little bit," he said. "So, I'm gonna play all of the ARIA stuff in Vegas and play the World Series and keep doing this."
Shortly after the last card had been placed on the felt to secure Tollerene's win, he walked over to the rail and embraced good friend Jason Koon. Koon took down the $100,000 Super High Roller at PokerStars Championship Bahamas and graciously paused his heater so Tollerene could win this one.
Tollerene joked that he would do the same for Koon in the next event they play.
"I guess it's his turn, now," Tollerene said with a smile. "He can get the next one, then it'll be my turn again."