Level Info
| | |
| --- | --- |
| Level | 33 |
| Blinds | 125,000 / 250,000 |
| Ante | 25,000 |
Players Info
| | |
| --- | --- |
| Entries | 699 |
| Prize Pool | 30,000,000 RUB |
Main Event
Day 3 Completed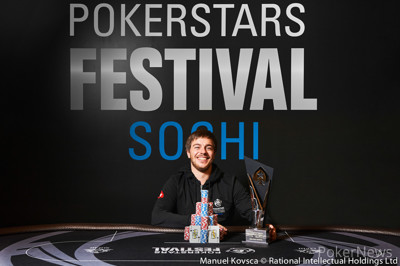 Aleksandr Merzhvinskiy came out on top of 699 entries to be crowned the 2017 PokerStars Festival Sochi Main Event Champion, taking the trophy and first place prize money of 7,700,000 RUB (US$133,951).
The third and final day of the Main Event saw 27 players return to play to a winner and Merzhvinskiy began the day with a commanding chip lead, holding 2,599,000 compared to his nearest rival Serafim Kovalevskiy who had 1,293,000.
Merzhvinskiy was on the front foot all day, constantly driving the action and pressurising his opponents. It was far from an easy ride though, and at one point his small blind shove with
ran into the
of Kirill Denisenko in the big blind and he had to set about rebuilding his stack.
There was no let-up in the pace of eliminations all day until they reached the unofficial final table of nine where the action did slow down as ranges tightened up as the remaining players desperately tried to make it into the annals of PokerStars history.
Eventually though Vadim Lipovka shoved from late position with
and couldn't improve against the
of Valentin Zolotilov.
The elimination from eight to heads-up were again fairly quick with average stacks hovering around the 30 to 40 big blinds and most bust outs were fairly standard flips.
Once Alexsandr Denisov and Merzhvinskiy had reached heads-up they paused the clock to look at ICM numbers but quickly decided they didn't want to deal.
It didn't take long for Denisov to equal up the stacks though and it looked like they were settling in for a marathon heads-up battle as at one point Denisov limp-folded to a raise preflop and showed the
which had Merzhvinskiy shaking his head.
The small ball looked set to continue until Merzhvinskiy set the trap by limping with
and calling the shove from Denisov holding
. It was all over by 12:30 a.m and Merzhvinskiy was the champ.
2017 PokerStars Festival Sochi Final Result
| Position | Name | Country | Prize in RUB | Prize in $ |
| --- | --- | --- | --- | --- |
| 1 | Aleksandr Merzhvinskiy | Russian Federation | 7,700,000 RUB | $133,951 |
| 2 | Alexsandr Denisov | Russian Federation | 4,700,000 RUB | $81,762 |
| 3 | Nikita Myshkin | Russian Federation | 3,350,000 RUB | $58,277 |
| 4 | Alexander Shlyakhov | Russian Federation | 2,600,000 RUB | $45,230 |
| 5 | Valentin Zolotilov | Russian Federation | 2,000,000 RUB | $34,792 |
| 6 | Andrey Kotelnikov | Russian Federation | 1,560,000 RUB | $27,138 |
| 7 | Mikhail Zamyatin | Russian Federation | 1,101,800 RUB | $19,167 |
| 8 | Kirill Denisenko | Belarus | 770,000 RUB | $13,395 |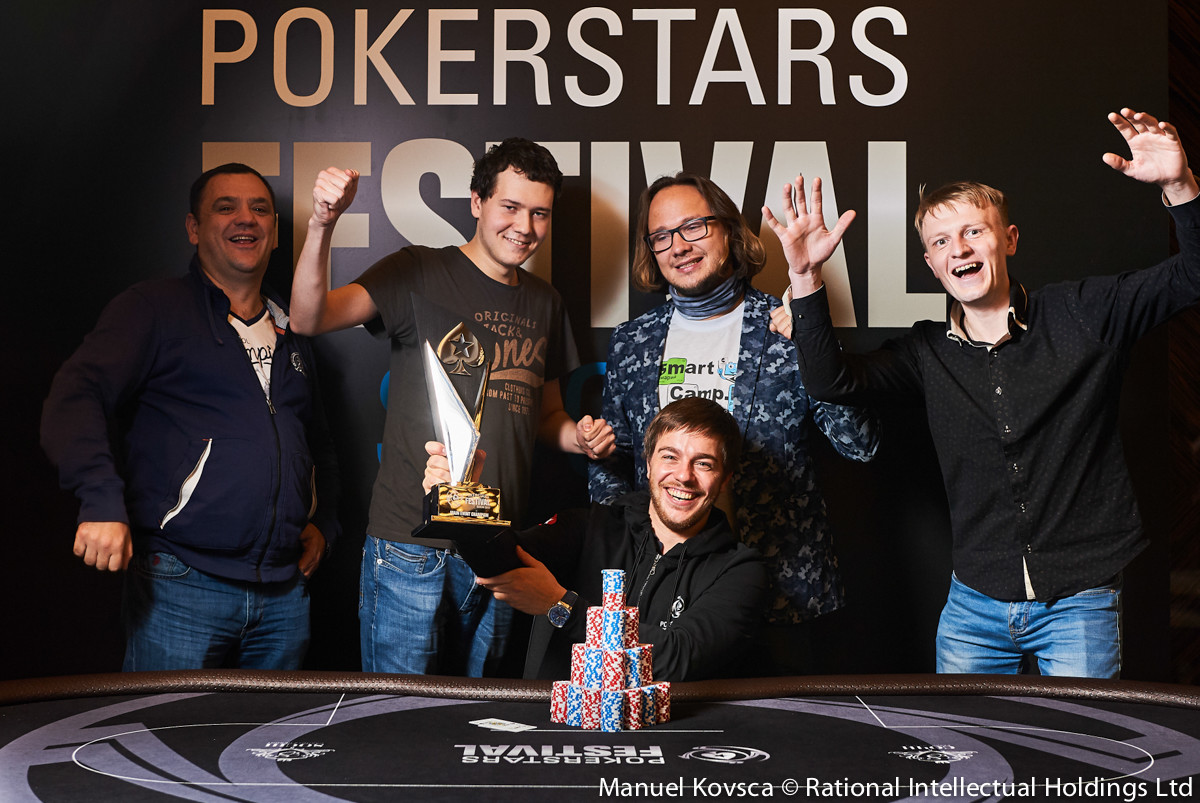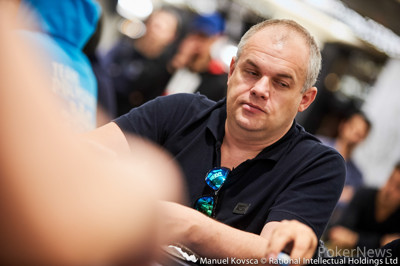 Aleksandr Merzhvinskiy limped as has been happening most hands and Alexsandr Denisov made only the second shove of the heads-up match. Merzhvinskiy nearly beat him to the pot and called.
Denisov:

Merzhvinskiy:
The board ran out
It was all over. Denisov looked like he was settling in for a long grind, showing Merzhvinskiy that he would play it tight for as long as it takes but Merzhvinskiy was patient and was lucky enough to be able to set a trap and have the patience to execute the limp with a monster.
Alexsandr Denisov limped the button and then folded to a Aleksandr Merzhvinskiy raise.
Denisov sighed and showed the
which had Merzhvinskiy shaking his head.
The players are back and this will be a 30 minute level.
Level:

33
Blinds:

125,000/250,000
Ante:

25,000
A few pots were swapped back and forth in the last few hands and the stacks have evened out again.
It looks like both players are desperate to claim the title in what looks like an intense match.
The players are having a scheduled 15-minute break.
Alexsandr Denisov limped from the button and Aleksandr Merzhvinskiy checked.
The flop was
and Merzhvinskiy check-called a 200,000 bet.
The turn was the
and Merzhvinskiy check-called a 400,000 bet.
The river was the
and a check from Merzhvinskiy saw Denisov bet 800,000 and Merzhvinskiy check-raise to 2,000,000 which Denisov called.
Merzhvinskiy:
for bare ace high.
Denisov finished counting out the call and then rolled over the winning
.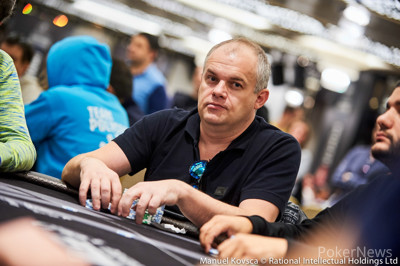 Alexsandr Denisov with the shorter stack is limping a lot of buttons and checking down to the river early in the heads up match apart from one pot where Aleksandr Merzhvinskiy raised to 500,000 and folded to a Denisov shove.