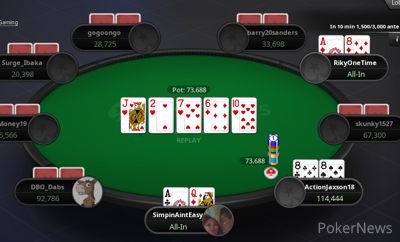 On blinds of 1,000/2,000, Riky "RikyOneTime" Lara raised to 4,000 and "ActionJaxson18" called on the button. "SimpinAintEasy" shoved 21,000 in the small blind and pushed in his 24,219. "ActionJaxson18" called both as the three tabled their cards.
"SimpinAintEasy":

Riky "RikyOneTime" Lara:

"ActionJaxson18":
The board came down
and the snowmen of "ActionJaxson18" secured the pot, taking down to players.