Event Info
Level Info
| | |
| --- | --- |
| Level | 38 |
| Blinds | 50,000 / 100,000 |
| Ante | 12,500 |
Players Info - Day 2
| | |
| --- | --- |
| Players Left | 1 |
| Entries | 158 |
PASCOOP $300 Main Event
Day 2 Completed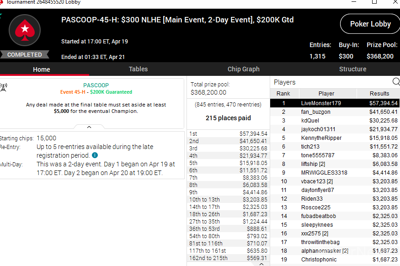 Monday evening saw Day 2 of the PokerStars Spring Championship of Online Poker (PASCOOP) officially crown its $300 Main Event champion as "LiveMonster179" turned into an online monster as they ran through the final table and defeated "fan_buzgon" in heads-up play to take home a $57,395 first-place prize.
"LiveMonster179" went on an absolute tear at the final table as they eliminated six of the nine players and held a 4:1 chip advantage to both their opponent's heading into the three-way battle.
The match looked promising at first as both "fan_buzgon" and "kdQuel" doubled up early on leveling the playing field. Unfortunately for both "kdQuel" and"fan_buzgon," their momentum wouldn't last longer than one full level before "LiveMonster179" eliminated both players in short succession to claim the title.
PASCOOP Main Event Final Table Results
| Position | Player | Prize |
| --- | --- | --- |
| 1st | "LiveMonster179 | $57,394.54 |
| 2nd | "fan_buzgon" | $41,650.41 |
| 3rd | "kdQuel" | $30,225.68 |
| 4th | "jaykoch01311" | $21,934.77 |
| 5th | "KennytheRipper" | $15,918.05 |
| 6th | "tich213" | $11,551.72 |
| 7th | "tone5555787" | $8,383.06 |
| 8th | liftship" | $6,083.58 |
| 9th | "MRWIGGLES3318" | $4,414.86 |
Final Day Action
Day 2 started already in the money with 158 players from the 1,315-entry field returning for the final day extravaganza. The action started off like rapid fire losing players at a speedy rate until the final two tables were reached.
From there, blinds started eating at the shorter stacks as "throwitinthebag" took their exit in 17th place ($2,325.03) and "xxx2575" fell shortly after in 16th place ($2,325.03).
Action slowed down once play was ten-handed, as it took over one full level of hand-for-hand play before the final table was set.
Final Table Action
Once the final table was reached, the first two virtual bodies dropped after "MRWIGGLES3318" fell in ninth place due to a bad river and "liftship" had an all-in family pot which saw them fall in eighth place.
The very next level would see most players at the final table take their exit in one full level and it started with "tone5555787" losing with Big Slick suited to the king-jack offsuit of "fan_buzgon."
Falling shortly after was "tich213" after they got wheeled-out on the turn by soon-to-be-champ "LiveMonster179".
Next up was "KennytheRipper" as they got their chips in the middle holding a made hand of sevens but it was completely crushed by "fan_buzgon's" rockets.
After "LiveMonster179" took care of "jaykoch01311" in fourth place ($21,934.77), they made short work of "kdQuel" and "fan_buzgon" eliminating them both in the same level.
In the final hand of the tournament, "fan_buzgon" got it in with ace-king against the ace-queen of "LiveMonster179." An ace on the flop paired both players, but it was a queen on the river that put an end to the tournament.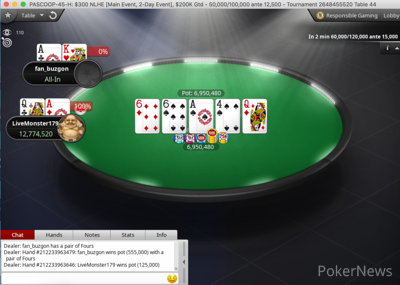 In what would be the final hand of the tournament, "LiveMonster179" raised the button to 265,000 and "fan_buzgon" three-bet to 700,000. "LiveMonster179" four-bet all in and "fan_buzgon" called off for 3,462,740.
"LiveMonster179":

"fan_buzgon":
"fan_buzgon" was in a dominating position and his superior kicker came into play when the
flop delivered both players two pair.
The
turn was of no consequence but the
river was as "LiveMonster179" made aces and queens to claim the pot.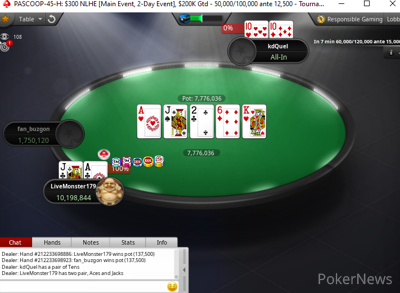 "LiveMonster179 open-jammed on the button and "kdQuel" called for less from the big blind.
"kdQuel":

"LiveMonster179":
"kdQuel" was ahead with their made hand of tens until the
flop appeared giving "LiveMonster179" top two-pair.
The
turn was no help to "kdQuel" nor was the
river ending their tournament in third place.
Level:

38
Blinds:

50,000/100,000
Ante:

12,500
Three-handed play began with "fan_buzgon" and "LiveMonster179" neck and neck in chips while "kdQuel" sat with just over a million. Now, "kdQuel" has battled back while "LiveMonster179" has pulled out a nice lead.
| | | | | | |
| --- | --- | --- | --- | --- | --- |
| LiveMonster179 | | | | 12,737,806 | 5,737,806 |
| fan_buzgon | | | | 3,542,560 | -7,269,561 |
| kdQuel | | | | 3,432,134 | 2,405,497 |
Level:

37
Blinds:

40,000/80,000
Ante:

10,000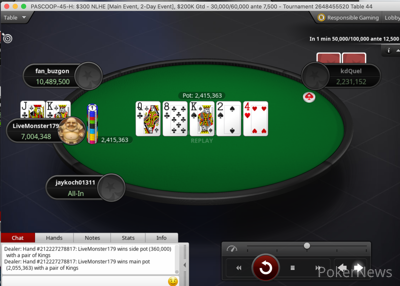 "fan_buzgon" raised to 120,000 under the gun and "jaykoch01311" responded by three-betting all in for 675,121 from the small blind. "LiveMonster179" called out of the big, "fan_buzgon" called the additional chips, and then both active players checked the
flop.
When the
appeared on the turn, "LiveMonster179" check-called a bet of 180,000 and then both active players returned to checking on the
river.
"LiveMonster179" tabled the
and it was good as the other two players mucked.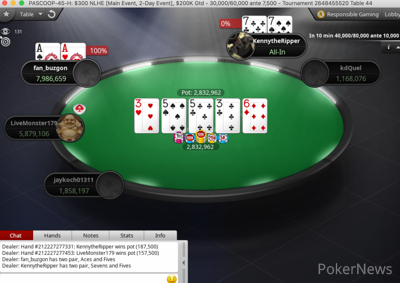 "KennytheRipper" got his last million chips or so all in preflop and found himself in a bad spot against "fan_buzgon."
"KennytheRipper":

"fan_buzgon":
"KennytheRipper" was looking for a seven from heaven, but he was left wanting as the board ran out
to send him out the door in fifth place.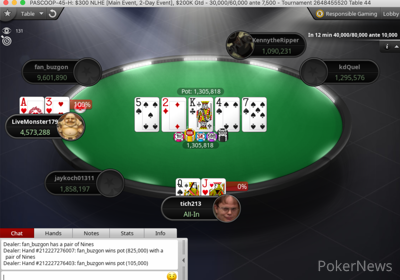 "tich213" moved all in for 585,409 from early position and "LiveMonster179" called from the button.
"tich213":

"LiveMonster179":
"tich213" was looking for some help but failed to get any as the
runout gave "LiveMonster179" a winning wheel.