Chilaud Leads Last Nine in the Stadium Series Freezeout Grand Final - High $5,200 NLHE

Level 37 : 250,000/500,000, 62,500 ante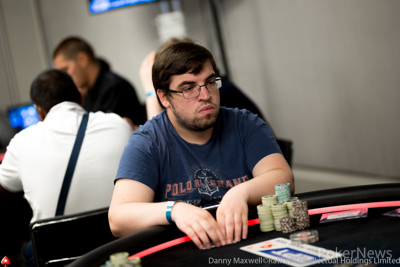 An incredibly fast-paced penultimate day in the 2020 PokerStars Stadium Series Freezeout Grand Final - High: $5,200 NLHE has whittled down the 119 survivors of the previous day to the nine-handed final table in just over five hours.
When the dust had settled, five players from Russia and one Belorussian made the cut but it is Maxime "Daghemuneguu" Chilaud who stormed into the top spot and claimed 84,304,234 to his name. Like many French poker players, Chilaud has moved to the UK and is in prime shape to earn the top prize of $821,988.50 which is reserved for the eventual champion.
Four Russian players follow next on the overnight leaderboard with "serggorelyi" holding the position as a very comfortable second big stack on 59,856,991, as a big gap to the remaining contenders has emerged. "LeslieGroves" (21,767,098), Day 1 chip leader "Goallinfishara" (19,246,362) and "MarinkaHT" (14,660,696) are next in line.
Many Brazilians had made the cut to earn a portion of the $5,000,000 prize pool but just one of them remains in contention for the biggest slice of it as Fernando "fviana" Viana ended Day 2 with 12,711,171. The remaining three finalists are Sergei "Futti18" Koliakov (12,124,738), Vlada "Vlada2108" Stojanovic (11,003,175) and "isscreamo" (7,075,535).
The nine finalists at a Glance
| Position | Player | Country | Chip Count | Big Blinds |
| --- | --- | --- | --- | --- |
| 1 | Maxime "Daghemuneguu" Chilaud | France | 84,304,234 | 169 |
| 2 | serggorelyi7 | Russia | 59,856,991 | 120 |
| 3 | LeslieGroves | Russia | 21,767,098 | 44 |
| 4 | Goallinfishara | Russia | 19,246,362 | 38 |
| 5 | MarinkaHT | Russia | 14,660,696 | 29 |
| 6 | Fernando "fviana" Viana | Brazil | 12,711,171 | 25 |
| 7 | Sergei "Futti18" Koliakov | Russia | 12124738 | 24 |
| 8 | Vlada "Vlada2108" Stojanovic | Serbia | 11,003,175 | 22 |
| 9 | isscreamo | Belarus | 7,075,535 | 14 |
Frantic Early Stage Cuts the Field in Half
Right out of the gate, the short stacks ran out of chips every other minute but the sheer magnitude of the early carnage was still quite surprising. Until the first break, 5 players had been eliminated in as many minutes and Michael "imluckbox" Addamo greeted from the top of the leaderboard.
Big names such as Ognyan "cocojamb0" Dimov, Ognyan "cocojamb0" Dimov, Jorge "jorginho88" Abreu, Jon "apestyles" Van Fleet, Mike "SirWatts" Watson, Marty "TheLipoFund" Mathis, Stadium Series Sunday Final High tier winner Alisson "heyalisson" Piekazewicz and Joao "IneedMassari" Simao were all gone in the very early stages.
Right before the break, Pascal "Päffchen" Hartmann and Sadan "the_snail03" Turker also showed up in the payouts despite holding top 10 stacks fewer than an hour prior to that. Hartmann never got much going and eventually jammed ace-four suited into ace-king suited. Turker lost almost his entire stack in a remarkable hand against Addamo and was unable to spin up the last few blinds.
Fast forward one hour there were just 48 players remaining and they were right on a pay jump as former chip leader Addamo was suddenly the bottom stack with one big blind. Addamo managed to ladder but exited in 44th place, soon followed by Mike "gorodski" Gorodinsky in 41st.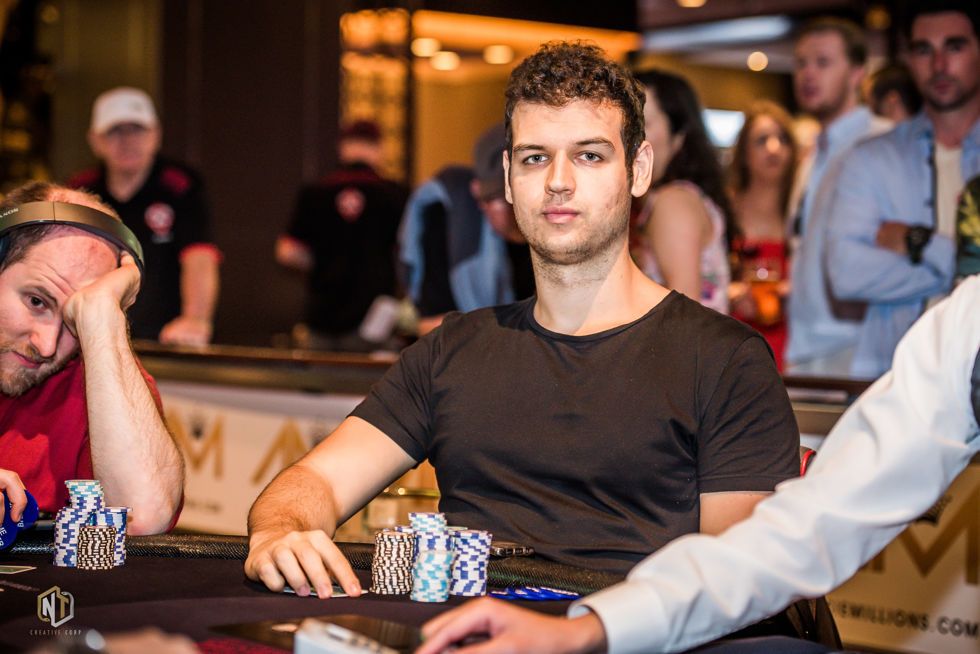 Big Names Fall; Chilaud Storms Into Commanding Lead
On the next pay jump with four tables remaining, Talal "raidalot" Shakerchi saw his pocket queens cracked by the ace-nine suited of Fernando "fviana" Viana and Dimitar "KuuL" Danchev followed moments later when his sixes fell to sevens. Several players took over the lead for a while including Jerry "Perrymejsen" Odeen, "zerodeda", "serggorelyi7", and "Goallinfishara".
That's when the enormous run of Maxime "Daghemuneguu" Chilaud kicked off. He chipped up without showdown and then knocked out Guilherme "teruliro" Orrico when fives flopped a set against pocket tens. Up next, Henrik "hhecklen" Hecklen and "klem90" bowed out to Chilaud in the same hand as the Frenchman rivered the nut flush with ace-jack suited and "klem90" fired three barrels with just ace-king high to steal the far bigger sidepot.
It was a rush from three to two tables and 2020 SCOOP Player of the Series Rui "RuiNF" Ferreira managed to ladder all the way up to 15th place with a short stack. While all the other short stacks fought for their tournament life, Chilaud applied a lot of pressure to further cement his status as chip leader.
Viana scored a fortunate double with ace-queen suited versus ace-king and a mere half an hour later, the final table was already set as several short stacks bowed out in a matter of minutes. "serggorelyi" then knocked out Carlos "cyphellus" Chang and Jerry "Perrymejsen" Odeen with queens versus ace-eight and ace-jack to reduce the field to the final nine and wrap things up for the night.
After a good night's sleep, the nine finalists will return to blinds of 250,000/500,000 with a running ante of 62,500 and the action resumes on August 4th, 2020, as of 1.05 p.m. EST. Find out then who goes all the way until the end right here on PokerNews.
The final table of the Stadium Series Freezeout Grand Final - High $5,200 NLHE will be streamed on the PokerStars Twitch Channel with cards-up coverage and commentary on a delay of 30 minutes. All PokerNews live updates will be published according to the delay until a champion has been crowned.
Remaining Payouts
| Place | Prize (in USD) |
| --- | --- |
| 1 | $821,988.50 |
| 2 | $594,062.00 |
| 3 | $429,336.00 |
| 4 | $310,287.00 |
| 5 | $224,248.50 |
| 6 | $162,067.50 |
| 7 | $117,128.00 |
| 8 | $84,650.00 |
| 9 | $67,991.50 |