Paiva Finishes Second in the Counts Behind "BublleFactor" in the PokerStars Stadium Series Freezeout Grand Final- Medium

Level 24 : 17,500-35,000, 4,500 ante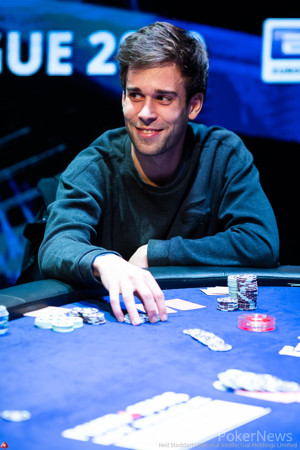 After almost nine hours of play, Day 1 of the 2020 PokerStars Stadium Series Freezeout Grand Final - Medium: $530 NLHE has come to an end with 343 players out of 4,234 entries making it through to Day 2. All those entries created a prize pool of $,2117,000 with 511 cashing for at least $1,154.
"BublleFactor" from the Netherlands grabbed the chip lead in one of the final hands of the night where they eliminated Vitor "vitoradiron" Adiron on the river when they hit a set of queens to crack the aces of Adiron. "BublleFactor" finished the day with 3,893,109 in chips. Tomas "T 54 T 97s" Paiva added a big chunk to his stack just before when he took out both Diego "CHIQUIDEALER" Sobrino and Leo "KAizenStyle" Toshio with pocket jacks while the others held ace-king and pocket sixes.
"BernardoC6", "extasyman", and "AnFiieLD." complete the top five. Other notable players and names to keep an eye on for Day 2 include Dan "NukeTheFish!" Wilson, Marcelo "marceloaziz" Aziz, Rodrigo "digopapel" Semeghini, Joseph "Joe Santana" Santana, Tyler "Wonderboy222" Goatcher, Sean "MonkeyBudg" Prendiville, Mike "gorodski" Gorodinsky, Sebastian "p0cket00" Sikorski, Stevan "random_chu" Chew, Joao "Naza114" Vieira, and Rachid "SkaiWalkurrr" Ben Cherif who all finished in the top 100 of the counts.
But not everyone was that fortunate, once the registration was closed. Several familiar players hit the rail. Adrian "Amadi_17" Mateos clashed with "KingGr" when he got his pocket fives in on the river and saw he was behind against the set of kings "KingGr" had flopped. Ben "Fabaz" Farrell was another player who didn't make the money. He check-shoved with a turned pair of sevens but was called by Vieira who held the overpair of aces to send the Brit out of the tournament.
By the time the last break rolled around, the tournament was only 21 players away from the money. Twenty minutes later, the bubble would burst with Francisco "chicalltreta" Correia being the unlucky player. He shoved with ace-jack but Scott "D_DIGGLER99" Hill picked up kings to burst the bubble.
Leo "LeoFernandez" Fernandez, Mike "SirWatts" Watson, Benny "RunGodLike" Glaser, Samuel "€urop€an" Vousden, Andrey "kot_spartac" Kotelnikov, Preben "prebz" Stokkan, Mikita "fish2013" Badziakouski, Christopher "lissi stinkt" Frank and Mike "goleafsgoeh" Leah all busted before the end of the day but all managed to collect a cash for their efforts today.
When the players return for Day 2 on Tuesday, August 3 at 7:05 p.m. CEST, they will finish the remainder of Level 24 which features a small blind of 17,500, a big blind of 35,000, and a running ante of 4,500. Level duration will remain at 20 minutes until Level 31, it will then increase to 30 minutes. Once the final 16 players are left, the level duration will change again according to the tournament lobby and play will continue until there are nine left to continue on to the final table.
PokerNews will be there again from the first open seat until the final table has been reached so make sure to return to see who will jump up the pay ladder.