After just over eight hours of play on Day 2 of the 2020 PokerStars Stadium Series Freezeout Grand Final - Medium: $530 NLHE has come to an end with nine players making it to the final table stage to battle it out for a bigger share of the $2,117,000 prize pool. The tournament attracted 4,234 players to its field and out of all of them, 511 got paid. And even though all nine have secured at least $20,157, they will be eyeing that amazing $302,359 first-place prize that comes with winning the Grand Final.
Romania's Alexandru "JustPray" Marcu claimed the Day 2 chip lead with 76,809,592. Marcu might not be that well-known in the live poker scene with one tournament cash but has earned over $1,000,000 online already with over $800,000 of that on PokerStars alone. He's won The Bigger $163, The Hot $75, and The Big $55 before but they all date back to a few years ago. He's closing in on his biggest cash ever and would need two pay jumps to best his own personal record.
Following Marcu in the counts is "RB Tiger with 67,241,489. Their biggest score on the online seems to be a third-place finish in the 2018 WCOOP PSKO tournament for $39,361 + $2,424 in bounties. In third place in the counts is Estonia's "luckyluck653" with 57,397,341. "luckyluck653" came second once in a tournament during the Winter Series in 2019 for $17,777.
Rodrigo "digopapel" Semeghini leads a pack of four Brazilian players at the final table. He is joined by Caio "pessagno" Pessagno, "ferdahouse", and "KKing James". And then Germany is representing with "The_Senseman" while Canada still has "hanji" battling for them.
This is how the players will be going into the final table on Tuesday, August 4 with a redraw taking place just before the start:
| Player | Country | Chip Count | Big Blinds |
| --- | --- | --- | --- |
| Alexandru "JustPray" Marcu | Romania | 76,809,592 | 64 |
| "RB Tiger" | United Kingdom | 67,241,489 | 56 |
| "luckyluck653" | Estonia | 57,397,341 | 48 |
| Rodrigo "digopapel" Semeghini | Brazil | 49,201,375 | 41 |
| "The_Senseman" | Germany | 46,086,948 | 38 |
| Caio "pessagno" Pessagno | Brazil | 41,519,452 | 35 |
| "hanji" | Canada | 37,717,192 | 31 |
| "ferdahouse" | Brazil | 24,807,451 | 21 |
| "KKing James" | Brazil | 22,619,160 | 19 |
Many Big Names Fall
343 players returned but once it was time for the first break, only 206 survived the first hour. Joao "Naza114" Vieira, Daniel "Oxota" Dvoress, Bryan "bparis" Paris, Thomas "MarToMchat" Boivin, Pablo "pabritz" Brito, and Tatiana "Mysters_Y" Barausova all fell during the early stages of Day 2.
And they kept on falling over the many hurdles today, Rachid "SkaiWalkurrr" Ben Cherif, Stevan "random_chu" Chew, and Scott "D_DIGGLER99" Hill all busted before Tomas "T 54 T 97s" Paiva was taken out by Nuno "nmafra7" Mafra. Four hours into the tournament, only 53 players were left on the road to the final table.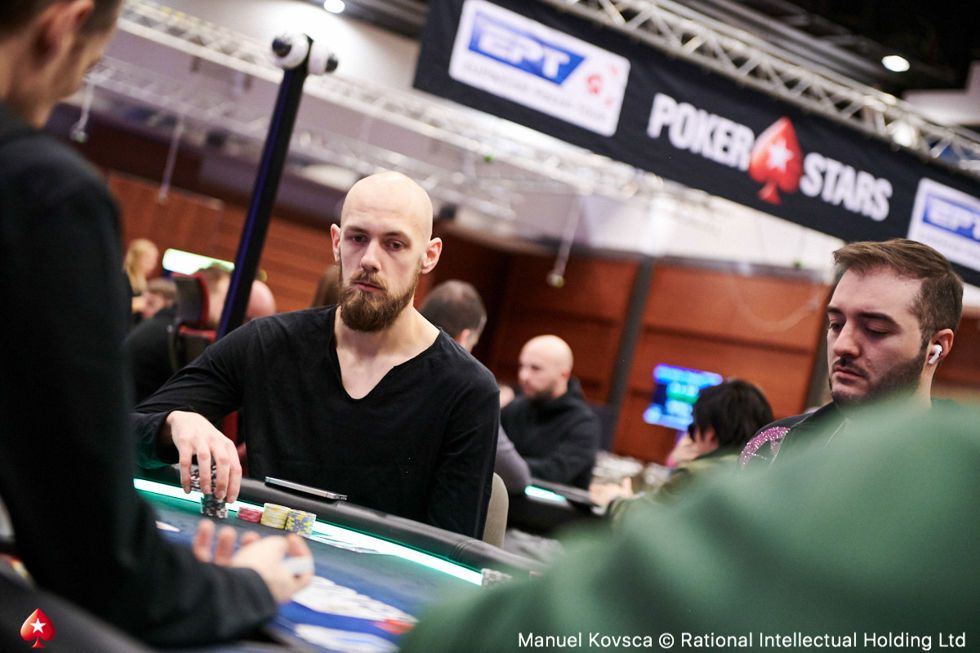 Stephen "stevie444" Chidwick was kicked out by "MitchRobbe!", Ivan "Negriin" Luca was halted by "HuangPetr, Bernardo "Bedias" Dias was busted by "ACH_JKB", Jorma "jobetzu" Nuutinen[/b] was jousted out of the tournament by "clapjkspit", and Patrice "pAtcAsh83" Brandt was downed by "ACH_JKB".
From 16 Players to One Final Table
It would take over an hour for the tournament to lose seven more players before the day would come to an end. "Nacho124441", "zeneto1968", "MitchRobbe!" all busted quite quickly but it would take almost half an hour before "ACH_JKB" was taken out by "ferdahouse".
Popular Twitch streamer Koray "KakiTee" Turker was actually broadcasting his deep run while wearing mirrored sunglasses and enjoying the music while his community was railing him on. But he lost his stack in two hands. In the first hand, he found pocket tens and doubled up "The_Senseman" who had fours and flopped a set. In the final hand, he picked up fours himself and ran into the tens of Marcu.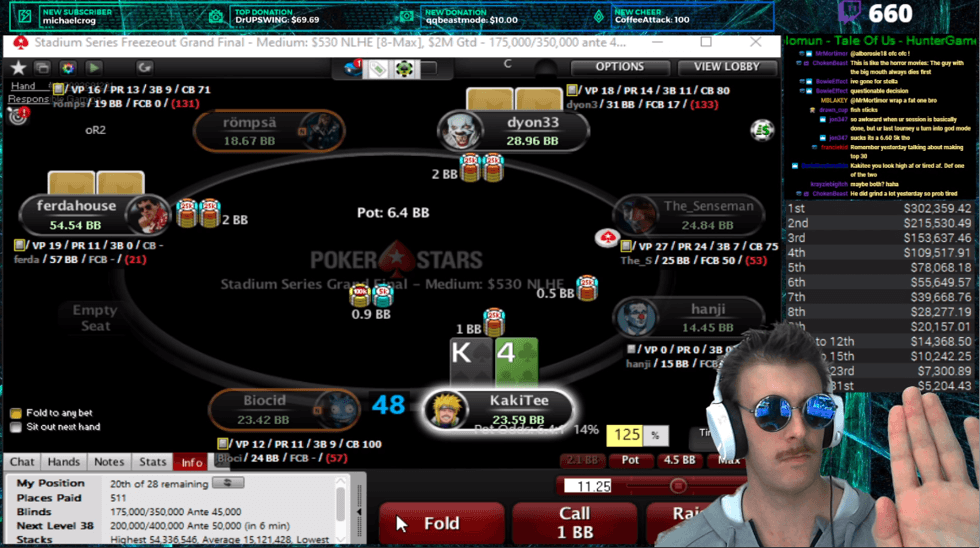 Almost at the same time but a few seconds later, "clapjkspit" was eliminated by "RB Tiger" before the ten remaining players went on break to prepare for the final table bubble. In the end, it only lasted one hand as "dyon33" three-bet shoved with king-queen and was looked up by "The_Senseman" who held ace-jack. The ace on the flop meant the players could go to bed to get some rest before the final table.
Plan for Day 2
When the players return at 7:05 p.m. CEST, they will finish the remaining minutes of Level 44 which features a small blind of 600,000, a big blind of 1,200,000, and a running ante of 150,000. Once this level is over, the level duration will increase to 30 minutes and play will continue until there is one winner left. The PokerStars Twitch stream will be live once again with hole cards showing on a 30-minute delay.
This means that the PokerNews coverage will be following the same delay. Make sure to come back as the final table promises to be an exciting one.