Downward Spiral for "ich_b1n_du"
Level 47 : 1,250,000/2,500,000, 325,000 ante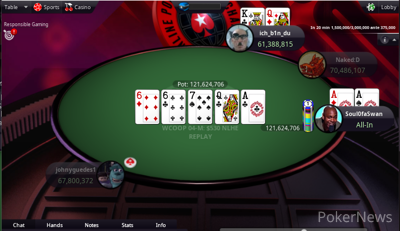 "Soul0faSwan" raised to 5,000,000 from the cutoff and "ich_b1n_du" wasted little time shoving 120,301,168 from the small blind. "Soul0faSwan" instantly called, putting in 58,912,353 and the cards were turned over.
"Soul0faSwan":

"ich_b1n_du":
The board ran out
and "Soul0faSwan" shot up to the top of the food chain after pulling in a monster double with aces.