Congratulations to "Soul0faSwan", Winner of WCOOP-04-M: $530 NLHE [8-Max] for $205,844!
Level 48 : 1,500,000/3,000,000, 375,000 ante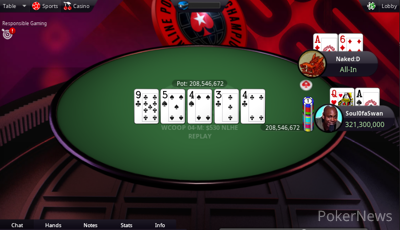 The World Championship of Online Poker just dubbed another champion in "Soul0faSwan", who just bested a 3,213 player field to reign supreme in WCOOP-04-M: $530 NLHE [8-Max], $1.5M Guaranteed, for an impressive $205,844, along with the WCOOP title bragging rights.
The Austrian native began the final day in the top spot, having a commanding lead but quickly fell to the middle of the pack during the final table and had a few hurdles to overcome en route to their victory. This is their first WCOOP title and it came along with their biggest cash to date, with their previous best on PokerStars being just under 30k.
The biggest hurdle for the champ was "Naked:D" who truly ran over the final table, jumping into every pot with pure aggression that really took a toll on the small stacks who were forced to blind off into the abyss. When heads-up started it was "Naked:D" leading the way but it seemed the momentum instantly wore off for the Ukraine native when a deal was struck with "Soul0faSwan".
"Soul0faSwan" took over completely at that point and gave "Naked:D" a taste of the aggressive medicine that was used to run over the final table. The last hand of the night saw "Naked:D" jam the river with ace-high after missing a straight draw and "Soul0faSwan" called, having a higher kicker to end the event. The runner-up finish for "Naked:D" was a personal best on PokerStars, taking home a respectable $190,844 for their efforts.
2021 WCOOP-04-M: $530 NLHE [8-Max], $1.5M Guaranteed Final Table Results
| Place | Player | Country | Prize |
| --- | --- | --- | --- |
| 1 | "Soul0faSwan" | Austria | $205,844* |
| 2 | "Naked:D" | Ukraine | $190,844* |
| 3 | "johnyguedes1" | Brazil | $117,681 |
| 4 | "ich_b1n_du" | United Kingdom | $83,887 |
| 5 | "DTadevosan" | Russia | $59,798 |
| 6 | Tomi "Jabracada" Hall | United Kingdom | $42,626 |
| 7 | Michael "SmallKindB" Sklenicka | Czech Republic | $30,385 |
| 8 | "1426395" | United Kingdom | $21,659 |
| 9 | "umvelt900" | Russia | $15,440 |
*Denotes deal at Final Table
Action of the Event
The tournament saw a total of 3,213 runners jump in on Day 1, creating a guarantee-breaking $1,606,500 prize pool. A total of 383 were then set to get paid at least a min-cash for $1,173, with the eventual winner pulling in a hefty $231,598 for their victory. When late registration ended there were only 900 left in the field and it was not long before the bubble popped. It was none other than PokerStars ambassador Sam "SamSquid" Grafton leading once the money was reached, a spot that he locked up by night's end, finishing atop the field on Day 1.
Grafton led 200 into the second day but a cold run of cards saw him fall to the wayside in 130th place. By the time the last break of Day 2 came around, there were 23 competitors left in action, having "Soul0faSwan" and "Naked:D" both sitting in the top three. "tcavallin" ended the day with a pair of queens, dropping "Rus_us8" who was the final day bubble.
One hour into Day 3 saw the final table of nine set, after "johnyguedes1" sent "Mikee_2308" out just shy of the final table, taking an exit in tenth place. Leading the way at that point was Tomi "Jabracada" Hall who had a surge during the final 16. "umvelt900" was the first casualty when their ace-jack fell to the king-jack of Michael "SmallKindB" Sklenicka who ran pure, flopping the nuts after a preflop shove, and "umvelt900" was eliminated.
"Naked:D" started their terror at that point, and unfortunately for "1426395" they were left out in the cold. "1426395" pushed a pair of sevens over the top of a raise but "Naked:D" slammed down to jacks and "1426395" was etched in as an eighth-place finisher. Sklenicka ran a semi-bluff into "Naked:D" in what was the biggest pot of the day at that point, and shortly after he pushed ace-three into the ace-six of "ich_b1n_du" who held ace-six. A six on the flop finished off the Sklenicka and just six were left at that point with "Naked:D" in a dominating spot.
Tomi "Jabracada" Hall was faced with a button raise by "Naked:D" and he elected to shove over the top with his ace-ten of diamonds. "Naked:D" snapped with ace-jack and the rest is history, dropping Hall from the field. The tide turning hand for "Soul0faSwan" happened when "DTadevosan" ripped their stack in with king-jack, "Naked:D" called and "Soul0faSwan" jammed over the top, resulting in "Naked:D" chucking two eights. "SoulofaSwan" tabled two queens and they held on to ship another player to the rail.
"ich_b1n_du" then dumped half of their stack with king-queen to "Soul0faSwan" who held aces. Shortly after they pushed with ace-jack, into the jacks of "Naked:D" and then just three were left after a clean runout. A solid day for "johnyguedes1" ended with "Soul0faSwan" having the Brazilian one-pipped on a king-high board where each had a cowboy, sending the pot to the eventual champ who had a slightly higher kicker.
"Naked:D" was leading when heads-up starter and then the tournament paused while a deal was made. After it seemed as if "Naked:D" could not win a hand and "SoulofaSwan" exploited it to the maximum, mashing every hand. Once short, "Naked:D" ended up jamming on a wet-looking board with ace-high, but the shove failed to work and "Soul0faSwan" called with ace-queen, taking the last pot with a well-executed read. "Naked:D" was eliminated in second but still managed to secure their best cash on PokerStars thus far and that is a respectable feat.
That wraps it up for the PokerNews coverage of this event, but tune in now for all of the action in the WCOOP-14-H: $10,300 NLHE [8-Max, High Roller], $1M Gtd by clicking here.