The Run It Up Reno IX $600 Main Event is down to the final table. The field trimmed down from 123 runners at the start of Day 2 Sunday, to the nine players that remain. Those nine will return to the Peppermill Resort in Reno, Nevada Monday at noon, and play down to a champion.
Jordan Spurlin will come back as the chip leader at the final table, riding an incredible wave of hands to a massive 6,715,000 stack. Spurlin comes back on Day 3 with more than a third of the chips in play.
Colton Blomberg (5,265,000) is the other big stack at the table, with more than 100 big blinds when play resumes with 10:09 in Level 25 Monday, with the blinds at 25000/50000/50000.
Vincent Newland, who came into Day 2 as the overall chip leader, comes back to the final table third in chips (2,845,000), with Sung Song in fourth (2,400,000).
One of those players will take home the championship and the first-place prize of $66,000. That figure is a record for the Run Up Reno Main Event, which drew an all-time high of 760 entries.
| Name | Table | Seat | Chip Count |
| --- | --- | --- | --- |
| Khoa Tran | Feature | 1 | 875,000 |
| Voislav Ivanovski | Feature | 2 | 1,605,000 |
| Daniel Sisemore | Feature | 3 | 915,000 |
| Sung Song | Feature | 4 | 2,400,000 |
| Bohao Zhu | Feature | 5 | 1,075,000 |
| Jordan Spurlin | Feature | 6 | 6,715,000 |
| Vincent Newland | Feature | 7 | 2,845,000 |
| Colton Blomberg | Feature | 8 | 5,265,000 |
| Jon Swift | Feature | 9 | 1,515,000 |
Early Action in Day 2
The 123 players that made it through Day 1 began the day already in the money, and included notable names like WSOP bracelet winners Alex Epstein (113th - $1,000), Kevin Gerhart (65th - $1,190), Jeremy Pekarek (34th - $1,780) and Loren Klein (28th - $2,220).
Other names in the field included Survivor alum Shirin Oskooi (110th - $1,000), RIU regular Deb Swift (96th - $1,000), partypoker pro Patrick Tardif (69th - $1,190), Matt Stout (68th - $1,190), and Garry Gates (54th - $1,460).
The lively atmosphere that's synonymous with the Run It Up Reno series was in the air in the early levels of Day 2, and the action was fast and entertaining. Playing through 40-minute levels, Day 2 started midway through Level 15, but by Level 18 nearly half the field was eliminated.
As the tournament began to play toward the final three tables, huge stacks started to appear in the field. The biggest of these going into three-table play was Blomberg, who was the first to hit the two million mark in chips.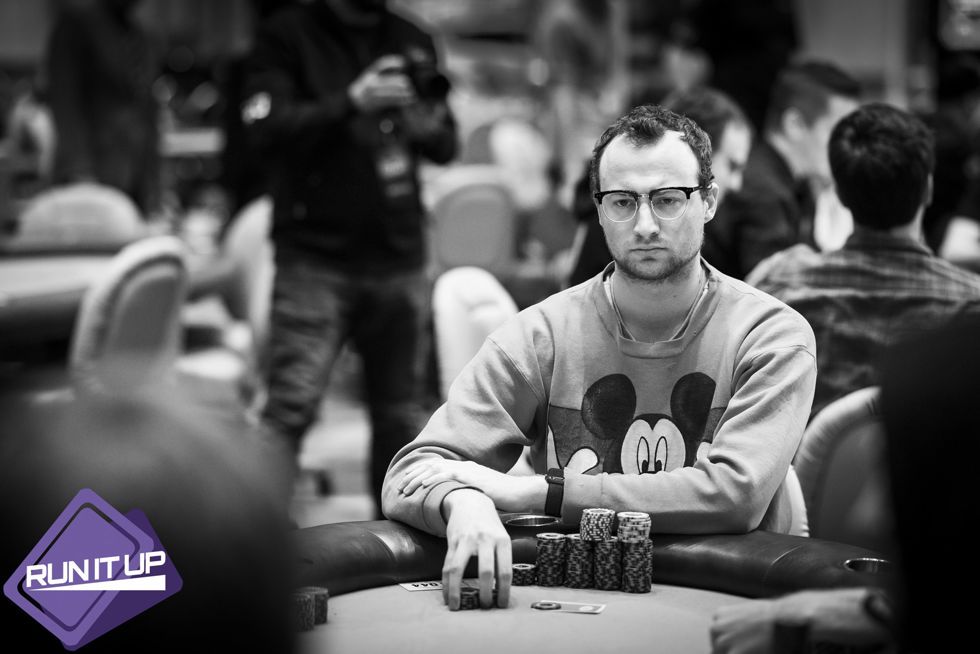 Final Three Tables
Blomberg quickly chipped up to a 2.65 million stack as three-tabled play went on. Vanessa Kade and Day 1b chip leader Newland were also in the upper echelon of the big stacks, and Sung joined them after winning a massive three-way all in that knocked out Max Young (19th - $3,460) and left Alon Eldar short stacked.
Eldar went out in 17th place for $3,460, falling one spot short of the final two tables and a pay jump. Jamie Kerstetter (16th), Michael Macey (15th) and Aaron Knapp (14th) were the beneficiaries of Eldar's elimination, each laddering up to a $4,320 finish.
Spurlin began his incredible run to the chip lead with a double up against Daniel Hughes, in which Hughes tried an all-in bluff but found himself up against fives full of jacks.
The run continued in a huge hand against Kade, in which Kade and Spurlin got all of the chips in on the flop. Kade had trip fours against Spurlin's top pair of tens, but a ten on the turn put Spurlin in the lead and sent Kade out in 12th place ($5,400).
Spurlin capped off the run by eliminating Hughes in 10th place, picking up pocket queens against Hughes three-bet all in with king-five suited.
Day 3 commences at noon Monday, and the final table will be streamed with a dynamic delay on https://www.twitch.tv/runitup, beginning at 3 p.m. Follow along with the PokerNews live reporting team as the RIU IX Main Event champion is crowned.