Welcome to Day 2 of RunGood Horseshoe Council Bluffs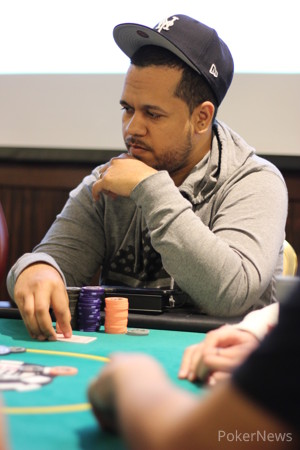 Day 2 has arrived after three fast-structured starting flights at RunGood Horseshoe Council Bluffs, and it's time for things to slow down and the cream to rise to the top for a $31,443 first-place prize along with a $2,000 added World Series of Poker package.
Forty-three players have made it through to Day 2, and they'll be playing 45-minute levels today, though things will start off with the final 12 minutes of Level 13 (1,500/3,000/500). Foremost among them chip-wise is Issac "Rungood" Tucker, proprietor of iNinja poker series, who will open a bag containing 237,000 in chips.
Other notables remaining in contention include RunGood Pros Justin Gardenhire (215,000), Duma Lowery (130,000), Jose Montes (98,000), and Julie Anna Cornelius (63,000). Steve Pham (166,500), Alex Gunhus (115,500), Drew Woodke (70,000), Colin Perry (66,500), Mark Fink (59,500), former RunGood Council Bluffs champ Henry Gingerich (38,000), and Ryan Phan (33,000) also threw chips in bags over the last couple of days.
Action resumes at noon local time, so follow all the updates right here on PokerNews.
Player
Chips
Progress

Issac Tucker

237,000

Mike Fick

236,500

Chris Wicks

221,500

Justin Gardenhire

215,000

Jon Lawson

198,000

Steve Pham

166,500

Tommy Nguyen

158,000

Dylan Meier

155,500

Yinglong Yang

152,500

Jim Devaney

141,000

Duster Ellis

131,000

Duma Lowery

130,000

Dong Nguyen

127,000

Alex Gunhus

115,500

Corky Stott

114,500

David Hengen

107,500

Andre Allen

99,500

Jose Montes

98,000

Corey Williams

94,500

Linn Shoesmith

82,500

Mark Turner

80,000

Jerry Moore

76,500

Kevin O'Donnell

72,000

Drew Woodke

70,000

Thadd Wolff

69,000

Colin Perry

66,500

Troy Sheets

64,500

Andre Pnewski

64,000

Julie Anna Cornelius

63,000

Yash Mudireddy

61,000

Mark Fink

59,500

Greg Jennings

55,500

Eric Polson

50,000

Mike Rieck

43,000

Jon Hartman

41,000

Paul Silverstein

40,000

Kyle McKinney

39,000

Henry Gingerich

38,000

Ryan Phan

33,000

Greg Poor

32,500

David Hershberger

31,000

James Mullin

28,000

Jack Armstrong

21,000