Level:

10
Blinds:

800/1,600
Ante:

1,600
Run Good Ambassador Ray Henson and Papa Karn took turns three-bet shoving on each other. Both times the other one folded.
The first hand, Karn shoved and Henson thought about calling for a moment.
"It's a good hand," Karn said pointing to his cards. Henson mucked.
The next time it was Henson applying the pressure. Karn made it 3,000 and Henson raised to 10,500, putting Karn at risk if he called. Karn thought for a moment then mucked.
| | | | | | |
| --- | --- | --- | --- | --- | --- |
| Ray Henson | | | | 31,000 | |
| Papa Karn | | | | 12,400 | -13,600 |
Level:

9
Blinds:

600/1,200
Ante:

1,200
Players are on to their second break of the day. Registration will close at the start of the next level.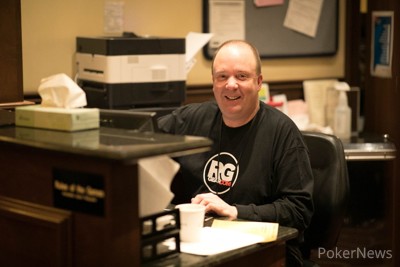 Paul Tuel has worked in Council Bluffs for 20 years. He was never a poker dealer but ended up the poker room supervisor at the Horseshoe thanks to a fellow employee who needed a break.
Tuel was a craps dealer and one day someone in the poker room needed a break. Tuel volunteered but admitted he didn't know much about poker.
"I knew what beat what," he said, "but had to ask the dealers for help."
After several months of joining the break rotation in the poker room, Tuel made the switch and has been here ever since.
Poker in Council Bluffs has had quite a journey. They started with only a six-table room where the dealers had to move out of the box in order for players to take their seats. Thanks to the poker boom and Chris Moneymaker winning the main event the room grew and now the current room has 18 tables and is the home to two Run Good Poker Series stops a year.
Level:

8
Blinds:

500/1,000
Ante:

1,000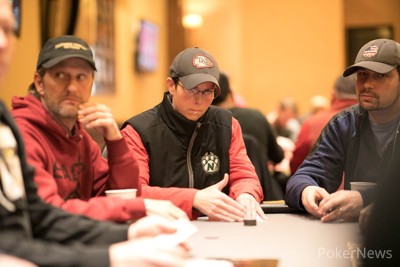 Lacey Osmon, not Osmond, comes from Topeka, KS and has doubled her starting stack since play began today.
She often travels for Run Good Events and when she's not playing poker she's the Director of Operations for Corizon Health.
She's married and has a four-year-old son named Logan. If she gets onto Poker After Dark she says Jennifer Tilly would be her first choice of who to play against.
She's got one career cash for $884 from the Run Good Kansas City Main Event in 2018.
| | | | | | |
| --- | --- | --- | --- | --- | --- |
| Lacey Osmon | | | | 43,000 | 43,000 |
There was a bit of commotion at Mark Treinen and Cody Bartlett's table, as two players were eliminated in a four-way all in pot.
The four players got all in on the flop and, when the dust settled Bartlett won the chips making quads on the river.
Treinen made a flush on the turn, but Bartlett's flopped set of deuces improved when the
hit the river and sent two players to the rail.
| | | | | | |
| --- | --- | --- | --- | --- | --- |
| Cody Bartlett | | | | 68,000 | |
| Mark Treinen | | | | 31,000 | -23,000 |
Level:

7
Blinds:

400/800
Ante:

800
Five players saw the flop after a player in early position made it 1,500.
The flop was all hearts,
and the preflop raiser continued for 3,300. Ray Henson called from the cutoff and Mark Treinen called from the small blind.
The turn was another heart, the
, and Treinen checked again. His opponent bet 4,500 and Treinen asked to see his remaining stack. It was just over 26,000.
Treinen called.
The river kept the board all hearts, bringing the
. Both players checked and Treinen took the pot, showing
.
| | | | | | |
| --- | --- | --- | --- | --- | --- |
| Mark Treinen | | | | 54,000 | |