$800 Main Event
Day 2 Completed

Level 32 : Blinds 250,000/500,000, 500,000 ante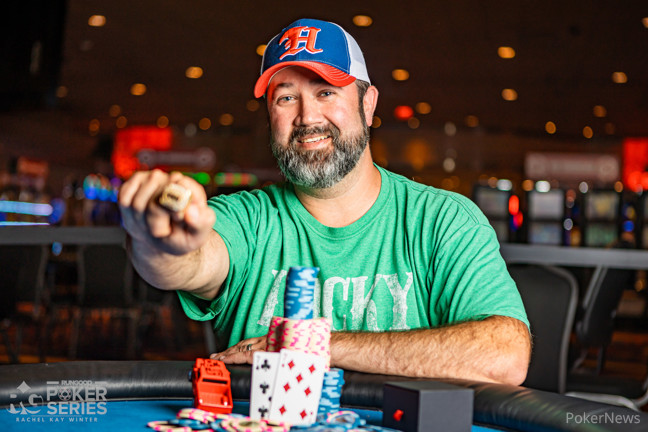 A long day was ahead of the players who made Day 2 of the event, with the total number of entrants for the Inaugural RunGood Poker Series St. Louis Main Event tallied up to 682 creating a massive prize pool of $484,220. With the earliest flight ending significantly earlier than the others, it seemed likely that play would continue into the hours of the morning. At 3:26 am, the returning players of 83 were brought down to just one sole survivor at The Hollywood Casino in St. Louis, MO.
St. Louis poker legend Keith Heine was the champion after the dust settled, taking home a career third best score of $88,506. "I was so out of place with that first win," Heine remarked referring to his best career live score of $100,981 that came to him in 2016 when he won an MSPT "I didn't really know what I was doing. No experience at that stage. But I have been close a lot since then and it has really helped."
"I have been learning and watching videos," the newly crowned champion talked about his preparation into his poker game and how it has changed over the years. "If you don't need to admit that you need to adjust something, your game won't be changing for the better."
Heine came into the final table in the middle of the pack, but bided his time patiently as the clock ticked on. "I'm not out until they take the last chip. That's how I approach every tournament and especially at a final table. Anyone can win. It's whoever has a little more luck and whoever has a little more determination."
A rail of support was built throughout as the family man was supported by his wife and both of his parents throughout the final table. "This is not possible without my wife who tells me sometimes to get off my butt, get in gear and start playing better. My mom and dad, they are tired, but they were here. They told me that poker is something that you can do big things in, and this was years ago."
The St. Louis native now takes home his first RGPS ring as well a hefty sum to celebrate with his parents, wife and five sons.
Final Table Results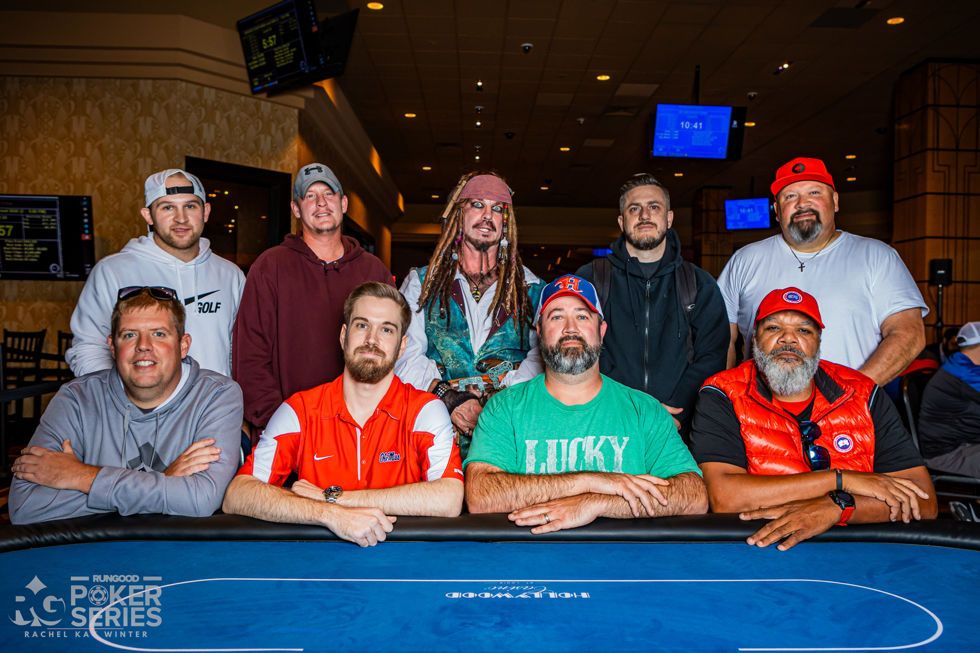 | Place | Player | Hometown | Prize |
| --- | --- | --- | --- |
| 1 | Keith Heine | St. Louis, MO | $88,504 |
| 2 | Shaun Emery | Raymond, IL | $59,006 |
| 3 | Scotter Clark | Marion, IA | $43,514 |
| 4 | Walker Miskelly | Tupelo, MS | $32,444 |
| 5 | Lee Richardson | Wright City, MO | $24,460 |
| 6 | Blake O'Brien | Maryland Heights, MO | $18,648 |
| 7 | David Prociak | Orlando, FL | $14,380 |
| 8 | Mario Webster | O'Fallon, MO | $11,216 |
| 9 | Dan McNeil | St. Louis, MO | $8,851 |
Final Day Action
With blinds returning three levels earlier than most of the flights finished up at, many of the shorter stacks in the tournament were relieved to find that the 10 big blinds that they bagged up were closer to 17 big blinds by the start of play today. This saw a slower start at the beginning of the day as the leaders of each flight made strides and gains to their own chip counts.
Falling throughout the day were Grant Hinkle (74th-$1,346), Angela Jordison (64th-$1,619), Andreas Ioakimides (49th-$1,813), Tim Garles (35th-$2,362), Craig Welko (21st-$3,239), Brett Slezak (19th-$3,865), Cody Stanford (15th-$4,669), Forrest Kollar (14th-$5,710), and WSOP gladiators of poker champion Jason "The Chisler" Simon (12th-$7,067).
Finishing just outside of the final table was RGPS regular Daniel Hamm who moved in his final chips with ace-king, only for David Prociak to wake up with pocket aces. No help was brought to Hamm and he finished just outside of the final table, collecting $8,851 for his tenth place finish.
Final Table Action
It was well over two hours of nine handed play at the beginning of the final table. Walker Miskelly got short initially, then ended up doubling through Blake O'Brien to regain chips. David Prociak came into the final table with the massive chip lead, but ended up doubling both Mario Webster and O'Brien, as well losing multiple pots to Shaun Emery and Keith Heine. This massive shifting around of chips saw the chip lead change multiple times until the top three stacks were mostly even.
A clash between Dan McNeil and Emery became the beginning of the end for nine handed poker at the final table. McNeil opened with pocket aces in early position and Lemery called in the hijack with ace seven suited. Emery flopped a flush draw and called when McNeil moved all in for twice the size of the pot. The turn saw the flush come in for Emery to give him the chip lead, while McNeil fell to the shortest stack left. He was forced all in from the small blind shortly after and O'Brien would take him out after isolating with pocket jacks while McNeil's queen three suited found no improvement. O'Brien would climb back up the chip counts, while McNeil ended his deep run in ninth place for $8,851.
Webster sat as the second biggest stack with eight left, but would see multiple hands not go his way in his final table journey. He first lost a pot to Miskelly when Miskelly held aces, shortly after he doubled up Scotter "Captain Jack" Clark when Webster held queens and Clark held kings, then he doubled up Prociak as Webster held ace two against Prociak's ace-queen. The next hand, Webster would move in his final chips with queen three offsuit from first position and Lee Richardson looked him up from the small blind holding pocket sixes. The sixes made quads as Webster wished his tablemates luck and he exited the tournament in eighth place for $11,216.
Despite the momentum that Prociak gained from his double up against Webster, Prociak's final table journey was wrought with misfortune. He fell to the shortest stack seven handed after coming in as the chip leader. Several pots between him and Emery saw the chips go Emery's way and his final pot was no exception. He moved in his last chips over Emery's open from early position with pocket threes and Emery looked him up with ace queen. The turn brought an ace to leave Prociak with two outs on the river, neither of which came home. The WSOP bracelet winner takes home his deepest RunGood Poker Series finish in seventh place for $14,380.
Miskelly once more fell to the shortest stack and got in his chips against O'Brien for the second time. Miskelly's pocket jacks held up against O'Brien's ace-queen and O'Brien was left with just enough for a small blind. His last chips were forced into the small blind with six four suited and Clark had entered the pot with ace nine and held up to get a boost to his stack while O'Brien collected $18,648 for his sixth place finish.
Richardson would finish in fifth place just a few hands later. He defended his big blind against Emery with queen five suited, which flopped a flush draw while Emery held jack ten and flopped middle pair. Richardson check raised on the flop which saw Emery move all in after that and Richardson called with his flush draw and overcard. Neither of them came home on the river and Emery would take half of the total chips into four handed play, while Richardson collected $24,460 for his efforts.
Miskelly began to gain some traction as he began moving all in multiple times and taking down multiple pots. He would run into resistance when he moved in his chips with king jack, while Clark moved all in with ace nine behind him, folding out all other players. The board ran out in no favor to Miskelly and the RGPS regular found another deep finish, collecting $32,444 for his efforts in fourth place.
Three handed play saw massive changing of the guard as a rhythm seemed to be established of the chips circulating between the three players. Emery held the chip lead initially, but a few pots were taken off of him by Keith Heine, then a massive one by Clark where Clark doubled up holding pocket kings against Emery's ace ten. That pot saw Clark take the lead that Emery held prior, but shortly after the chips shifted over to Heine, who in turn lost pots to Emery to see him retake that lead.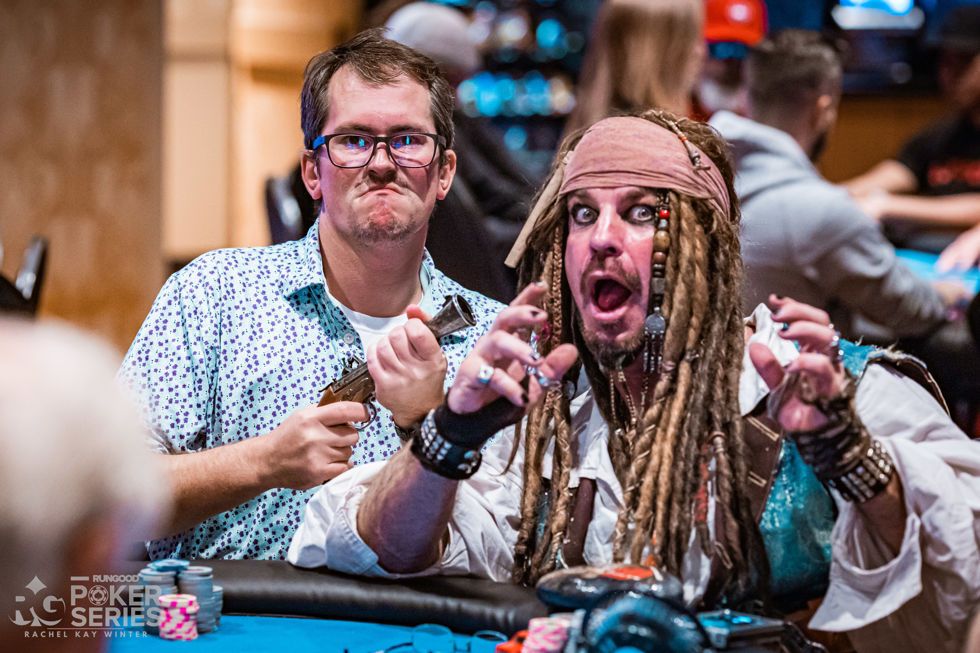 The age of pirates came to an end as the levels drew on and Clark was down to just his last few chips. He moved them into the center with the red toy truck when he was holding nine three offsuit and was looked up by Heine who held king six suited. The flop contained a king and the turned flush draw did not come home for Clark and The Poker Pirate, whose presence and table talk brought about many laughs throughout the day saw his best RunGood Poker finish with third place worth $43,514.
Despite the lengthy three handed battle, heads up was a relatively quick affair. Emery held a slight lead coming into the match, but Heine scored a key double early on when he doubled up holding three eights after Emery had called his shove with a pair of kings. This gave Heine the lead and left Emery with under five big blinds. He moved in his last chips with five two and Heine snap called him with pocket sevens. The sevens had Emery drawing dead on the turn and Heine took the title while Emery finished with a career-high score worth $59,006.
Thank you for reading updates here on PokerNews about the inaugural RunGood Poker Series at The Hollywood Casino in St. Louis, Missouri. Be sure to check back in during October where The RunGood Poker Series Road Trip will run an event in Tulsa, full coverage to be provided here.

Level 32 : Blinds 250,000/500,000, 500,000 ante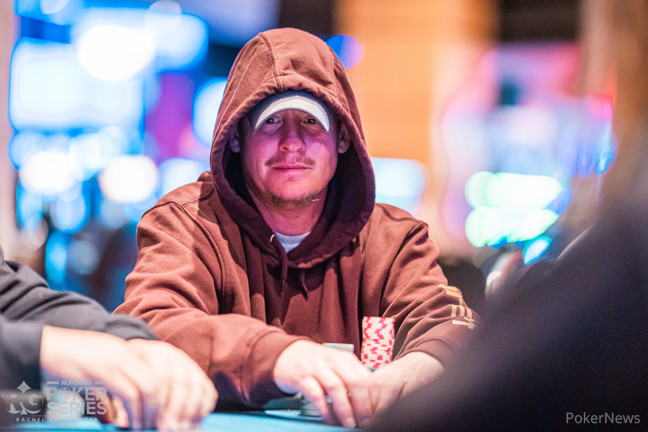 Shaun Emery moved all in for 3,000,000 on the button and in the big blind, Keith Heine called to put him at risk.
Shaun Emery: 5♥2♣
Keith Heine: 7♦7♣
The board ran out A♠6♠6♥Q♥9♦ and Heine had locked up the hand and the title on the turn as he rushed over to his rail of his wife and parents. He then shook hands with Emery as the two had played together nearly all day.

Level 32 : Blinds 250,000/500,000, 500,000 ante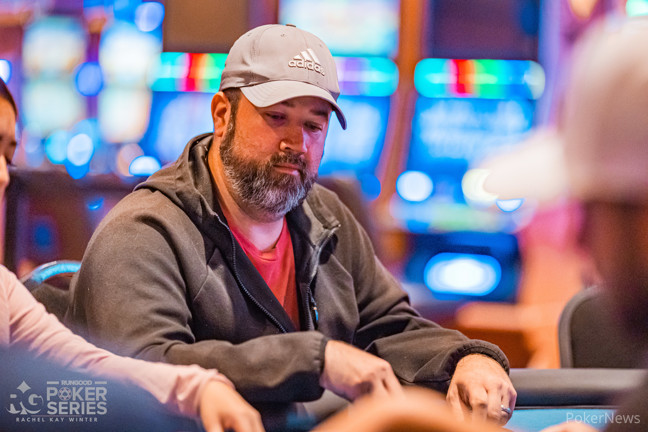 Action was picked up on a flop reading 8♠2♠8♥ after Heine had called on the button and Emery checked in the big blind.
Emery bet 1,200,000 on the flop from the big blind and Heine called.
On the A♦ turn, Emery checked over to Heine who bet 1,000,000 which Emery called.
The river peeled off the K♣ and Emery checked a second time to Heine who moved all in for 5,275,000. Emery asked for a count and then called.
Keith Heine: Q♦8♣
Shaun Emery: K♥7♦
Emery had rivered a pair of kings, but they were rendered second best to Heine who had flopped three queens to take a massive lead early in the heads up match.

Level 32 : Blinds 250,000/500,000, 500,000 ante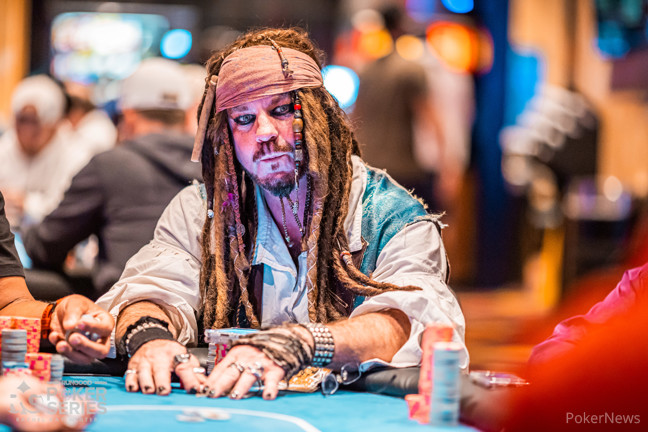 Scotter Clark moved all in for 1,900,000 on the button and in the small blind, Keith Heine called.
Scotter Clark: 9♥3♠
Keith Heine: K♦6♦
The board ran out K♠A♠10♣2♠9♦ and Heine's king paired on the flop and "Jack Sparrow" was eliminated in third place for his best ever RGPS finish.
Players have now begun heads up play.

Level 32 : Blinds 250,000/500,000, 500,000 ante
Keith Heine moved all in from the button and in the small blind, Shaun Emery called to put himself at risk for 2,975,000.
Shaun Emery: Q♣J♥
Keith Heine: 10♦8♦
The board ran out K♣9♣2♣8♣5♠ and Emery secured a double up at the expense of Heine.
Level: 32
Blinds: 250,000/500,000
Ante: 500,000

Level 31 : Blinds 200,000/400,000, 400,000 ante
Heine has pulled into the lead as a few pots have been going in his direction.
Player
Chips
Progress

Keith Heine

11,000,000

3,800,000

Scotter Clark

5,200,000

-5,890,000

Shaun Emery

4,100,000

400,000

Level 31 : Blinds 200,000/400,000, 400,000 ante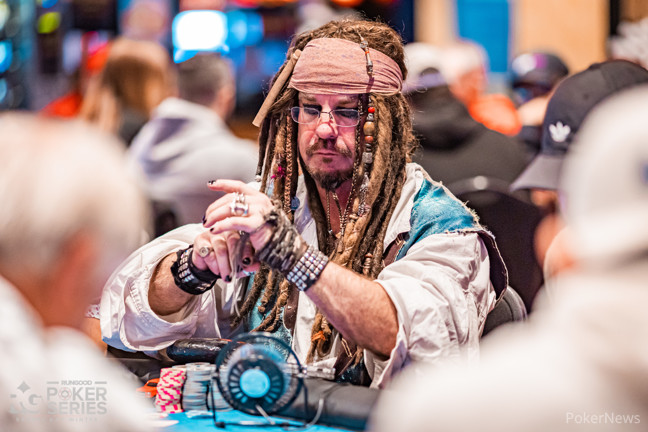 Scotter Clark raised to 800,000 on the button and in the small blind, Keith Heine three bet to 2,000,000. In the big blind, Shaun Emery moved all in and Clark beat him into the pot with his call for 4,525,000. Heine shook his head and tossed his cards into the muck so the other two players put their cards on their backs.
Scotter Clark: K♣K♥
Shaun Emery: A♣10♠
The board ran out J♥5♣7♠Q♦3♣ and Clark's kings held up for him to take the chip lead in this three handed duel.
Level: 31
Blinds: 200,000/400,000
Ante: 400,000