Main Event
Day 3 Completed

Level 34 : Blinds 125,000/250,000, 250,000 ante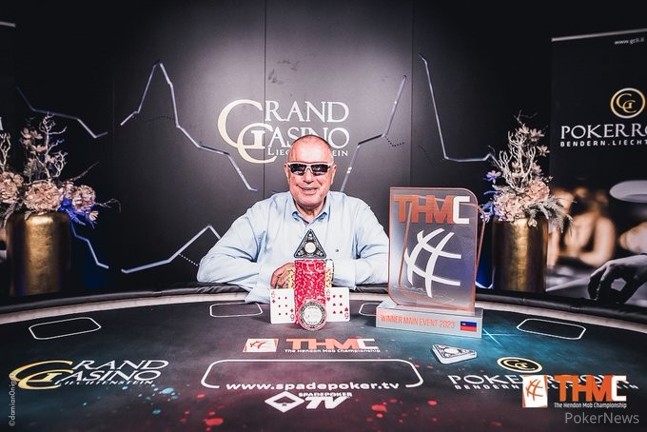 Swiss poker player Anton Heinrich was crowned the champion of the 2023 The Hendon Mob Championship Liechtenstein Main Event. He turned his CHF 300 buy-in into CHF 36,000, over 100 times what he had put up. Heinrich had a massive chip lead throughout the vast majority of the day, and he used it well in order to be the final victor. He bested Liechtenstein's very own Karim Frick during heads up play. Frick had big aspirations to keep the trophy in the European microstate but ultimately failed to do so.
The two players played for a while heads up before they decided to both take CHF 30,000, leaving CHF 6,000 to play for, as well as the trophy. Before that, six other players had been eliminated from the Swiss-dominated final table. The only outsiders who attempted to conquer the trophy from the normally ever-neutral country fell short, as Turkey's "Alladin" would be the first one eliminated in eighth place (CHF 4,430), while David Wintersberger from Germany would fall not much later in sixth (CHF 7,600).
THMC Liechtenstein Final Table Results
| Place | Player | Country | Prize (CHF) | Prize (USD) |
| --- | --- | --- | --- | --- |
| 1 | Anton Heinrich | Switzerland | 36,000* | $39,600 |
| 2 | Karim Frick | Liechtenstein | 30,000* | $33,000 |
| 3 | "Kaspar Schmid" | Switzerland | 17,800 | $19,580 |
| 4 | Daniel Schwitter | Switzerland | 12,800 | $14,080 |
| 5 | Manfred Mueller | Switzerland | 10,000 | $11,000 |
| 6 | David Wintersberger | Germany | 7,600 | $8,360 |
| 7 | "Kairi" | | 5,800 | $6,380 |
| 8 | "Alladin" | Turkey | 4,430 | $4,873 |
* denotes a heads up chop.
Day 3 Action
However, the day started with a total of 14 players returning to Grand Casino Liechtenstein from the entire field of 601. Everyone had high hopes to seize the biggest portion of the CHF 200,000 prize pool, but after about half an hour of play Remini Camel was the first to bow out when his ace-nine could not improve against Manfred Mueller's pocket queens. Alessandro Morales would soon join him at the rail after a clash with Heinrich, and not much later the field saw only ten players still remaining when "83-83" and "DG" were both knocked out in the same hand.
The very short "Braveheart" would then be the next victim before Greek grinder Symeon Alexandridis finally fell in ninth place as the final table bubble, when his inferior ace could not hit against the ace-ten of Wintersberger.
"Alladin" could only enjoy the spotlights of the streamed final table for a few minutes. He led the river all-in as a bluff but would falter when Heinrich comfortably called with trips. Heinrich would consequently also claim the next knock-out, busting "Kairi" in seventh place in a preflop flip. It would take nearly 90 minutes before Wintersberger followed in "Kairi"s footsteps when he jammed his ace-six for less than ten big blinds and could not defeat the ace-jack of "Kaspar Schmid".
Mueller would not much later fall in fifth, being pipped with ace-nine against ace-ten preflop. The four remaining players then discussed a deal for a while, but that ultimately fell through and play went on. Two hours later, it was Daniel Schwitter who would regret that the most. Schwitter had gathered the chip lead all the way back on Day 1a, but with a lost preflop flip against Heinrich, he could not translate it all the way into a victory. Heinrich then went on to add another stack to his tally, when he busted "Kaspar Schmid" with queens against king-jack, preventing a Swiss heads up as the quiet Frick from Liechtenstein had profited from all the bust-outs and made it to the final two.
Frick started off hot in the duel, doubling up the very first hand via a preflop all-in, and even taking the chip lead from Heinrich for the first time all evening. However, that only lasted for one hand, as Heinrich found aces the next hand and won the preflop all-in against Frick's pocket fives.
The pair then decided that they had had enough of the variance that comes with heads up poker, and decided to chop the prize pool evenly. With a small amount of cash and the trophy left to play for, the 30 million chips in play would not much later get all in the middle for the final time. Heinrich had pocket sixes versus the ace-jack of Frick in the final preflop clash, and the latter would see no help arrive on the board. Thus, Heinrich secured his by far largest ever live cash of CHF 36,000 and, maybe more importantly, the grandiose THMC trophy.
That concludes the PokerNews coverage of the 2023 The Hendon Mob Championship Liechtenstein. A successful week of poker has been had in the Alps, and the THMC organization is hopeful to see the same happen at their next stops at Thunder Valley (20-23 July) and Malta (24-30 October).

Level 34 : Blinds 125,000/250,000, 250,000 ante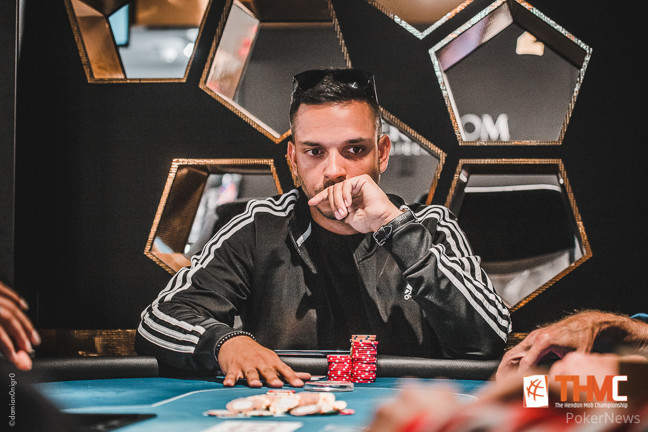 Not long after the deal, Anton Heinrich jammed all in from the button and Karim Frick called from the big blind.
Karim Frick: A♥J♦
Anton Heinrich: 6♥6♦
Frick's ace-jack would receive no help on the 5♥3♣Q♥10♦8♥ runout and Heinrich's sixes would see him the victor of the THMC Liechtenstein Main Event.
Stay tuned for a full recap of the last day.

Level 34 : Blinds 125,000/250,000, 250,000 ante
Anton Heinrich and Karim Frick have agreed to divide the remaining prize pool evenly among them, leaving a small amount to play for in the middle, as well as the trophy.
They will each take at least CHF 30,000 home, with CHF 6,000 left to play for.
Level: 34
Blinds: 125,000/250,000
Ante: 250,000

Level 33 : Blinds 100,000/200,000, 200,000 ante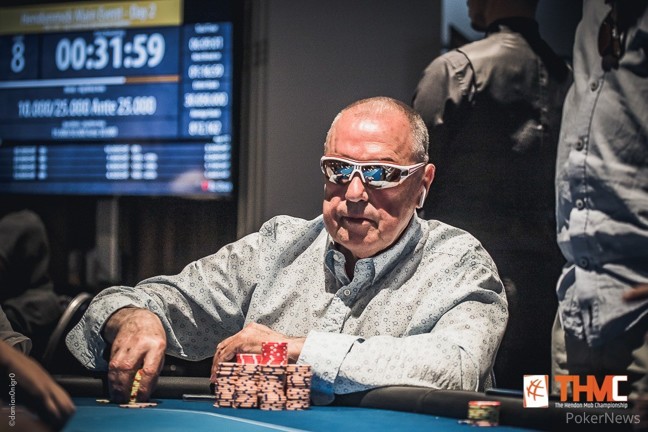 Karim Frick raised to 600,000 from the button and Anton Heinrich made a three-bet to 2,300,000 from the big blind. Frick then jammed all in and Heinrich snap called.
Anton Heinrich: A♦A♣
Karim Frick: 5♠5♣
Heinrich flopped top set on K♣A♥2♣ and Frick had to look for runner-runner outs to put an end to the tournament.
However, the 10♣ instead locked the pot up for Heinrich, who only had to give up his chip lead for a total of one hand.

Level 33 : Blinds 100,000/200,000, 200,000 ante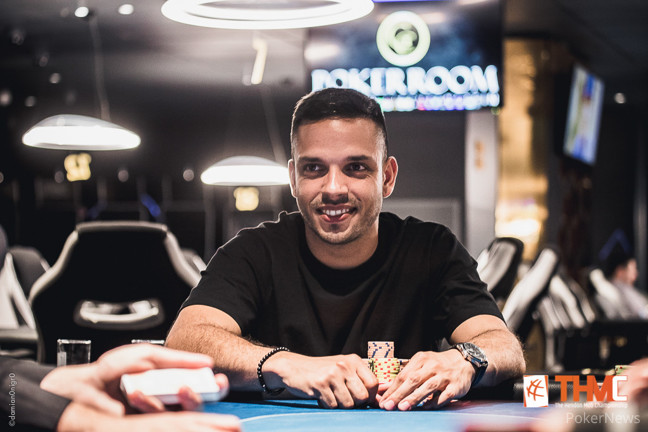 Anton Heinrich limped his button and Karim Frick checked his option in the big blind.
Frick checked to Heinrich on the 6♠5♦3♣ flop, and he put out a bet of 1 million. Frick made the call and the pair saw a turn of 9♦ fall.
Frick checked again, after which Heinrich upped the ante to 2,000,000 chips. Frick then put in the all-in raise to 8,100,000 and Heinrich made the call.
Karim Frick: 9♠7♦
Anton Heinrich: A♥6♦
Frick had turned a higher pair than Heinrich's flopped one, and his hand would remain best on the Q♠ river.
Frick is now in the lead as Heinrich has relinquished his chip lead for the first time today.

Level 33 : Blinds 100,000/200,000, 200,000 ante
Karim Frick raised his button to 700,000 with A♠Q♠ before Anton Heinrich three-bet from the big blind to 2,000,000 with A♣6♠.
Frick then four-bet jammed for nearly eight million chips and Heinrich made a quick fold.

Level 33 : Blinds 100,000/200,000, 200,000 ante
♣️## While the #THMC Main Event is still three-handed, the Closer Event just finished with # Alexander Rydz ## as t… https://t.co/J7XXW46PZK

— The Hendon Mob (@TheHendonMob)

Level 33 : Blinds 100,000/200,000, 200,000 ante
The players had just sitten down when Karim Frick open-jammed his button for 3,900,000 chips. Heinrich made the call from the big blind and the cards went open.
Karim Frick: A♥8♣
Anton Heinrich: Q♣10♦
With Frick at risk, Heinrich had a decent shot at taking down the tournament after one hand of heads up play. However, Frick hit his ace on 6♠A♣2♦. The turn 10♦ brought some hope for Heinrich, but the 8♠ river saw Frick make two pair for the double-up and play continued.