Event #10: $5,000 NLH High Roller
Event Info
| | |
| --- | --- |
| Buy-in | $5,000 |
| Prize Pool | $300,000 |
| Players | 82 |
Level Info
| | |
| --- | --- |
| Level | 22 |
| Blinds | 20,000 / 40,000 |
| Ante | 40,000 |
Players Info - Day 2
| | |
| --- | --- |
| Players Left | 1 |
| Entries | 30 |
Event #10: $5,000 NLH High Roller
Day 2 Completed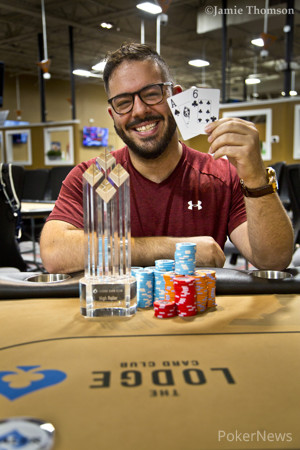 Day 2 of Event #10: $5,000 NLH High Roller has come to its conclusion after almost 17 hours of play that saw a day start with 30 and end with one champion with the last card dealt at 7:37 am.
That high roller champion was Michael Perrone of Chicago who conquered the field and won the $120,704 grand prize as well as the shiny Lodge Championship Series trophy.
Perrone has almost $750,000 in career tournament winnings to his name prior to this victory, including a WSOP Bracelet that he won in October. He noted following his win that this was his first 'high roller' event. He said he has played the WSOP Main Event and some 10k's but he usually sticks to 3k buy-ins or lower, so for him to take down his first 5k event was quite the accomplishment.
Perrone also made sure to give a shout-out and credit to his poker mentor/coach Philip Shing, who finished in ninth place earlier in the day. Perrone said that Shing's coaching has meant a lot to him and appreciates what he has done for his game.
When asked when he felt he had a real chance to win the tournament, Perrone said it was when he took the chip lead three-handed after he collected a big pot with a set of deuces. Prior to that point he had been focusing on laddering up as he had never really been a big stack, rather a middle stack coasting along for most of the day. But he would take the reigns once he got the chip lead and not let go as he impressively finished off his final two opponents to gain the title.
Final Table Results
| Place | Player | Hometown | Prize |
| --- | --- | --- | --- |
| 1 | Michael Perrone | Chicago, IL | $120,704 |
| 2 | Farid Jattin | Colombia/Miami, FL | $74,686 |
| 3 | Alain Bauer | Scotland | $52,054 |
| 4 | Badr Imejjane | Frisco, TX | $38,907 |
| 5 | Brandon Lulov | Brooklyn, NY | $27,391 |
| 6 | Bin Weng | Philadelphia, PA | $21,123 |
| 7 | Ryan Riske | Cambridge, ON, Canada | $16,597 |
| 8 | Jeremy Lyons | Moncton, NB, Canada | $13,956 |
Action of the Day
Play began hot and heavy from the start as players busted fairly quickly despite the deep stacks, as the first level was full of big action and chip swings. That pace continued at a consistent clip as half the field was gone after the first three levels and play got all the way down to eleven before the dinner break.
After dinner things would get much slower as the bubble at ten players took three hours and 60 hands of hand for hand play before Noel Rodriguez finally bowed out as the bubble boy.
Shortly after that, Philip Shing busted after he had grabbed the chip lead halfway through the day thanks to a very fortuitous river card that gave him a full house to break a broadway straight but he would not be able to spin that chip lead up more as he ended up on the short end when the final table began and became the first to go in ninth place.
There was another long gap between eliminations as it took over an hour to lose the next player when Jeremy Lyons fell victim to preflop jacks vs kings. Ryan Riske headed out the door next as his short stack was finally dwindled after securing a pay jump.
The start of day big chip leader Bin Weng was the next to go in sixth place after having a steady day before losing momentum at the final table.
Brandon Lulov was taken out in fifth place after a dramatic day that saw him go from being down to a few blinds on the bubble to spinning it up at the final table to a bombastic last hand where his straight was pipped by the rivered flush that he called off.
At four-handed, play would slow once again, as it took another two hours until Badr Imejjane, who had a day where he found a one-outer to stay alive before the bubble and went runner-runner straight to stay alive early in the final table, was eliminated in fourth place,
Three-Handed play would then last for about an hour and a half without any chop discussion whatsoever, and ended when Alain Bauer eventual hit the rail in third place after he had held a chip lead going into the final table. His fortunes changed when he shoved into a set to lose a lot of his stack and exit soon after.
Heads-up play would not last that long as Farid Jattin, who started the day second in chips, had a large chip disadvantage and was called down by Perrone in several hands, unable to gain any upward momentum and eventually was finished off after about 20 minutes.
That does it for PokerNews's coverage of the high roller here in Round Rock. Coverage of the Main Event will roll on later today, so keep things locked here
Farid Jattin moved all in for 585,000 from the button. Michael Perrone called.
Farid Jattin:

Michael Perrone:
The flop came
, the turn was the
and the river was the
to stay clean for Perrone who clapped his hands as he was the champion.
| | | | | | |
| --- | --- | --- | --- | --- | --- |
| Michael Perrone | | | | 6,120,000 | 620,000 |
| Farid Jattin | | | | Busted | |
Level:

22
Blinds:

20,000/40,000
Ante:

40,000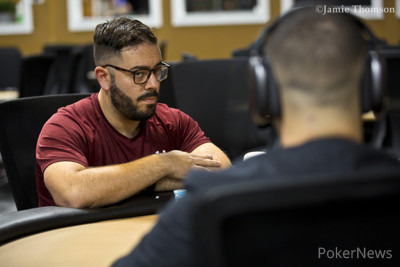 Action was on the turn with the board reading
. Farid Jattin bet 175,000 from the button into a pot that was about 650,000. Michael Perrone called.
The river was the
. Jattin fired a pile of chips into the middle for a bet of around 250,000 which Perrone called after only five seconds.
Jattin tabled the
for nothing and Perrone had the
winner with a pair of nines.
| | | | | | |
| --- | --- | --- | --- | --- | --- |
| Michael Perrone | | | | 5,500,000 | 1,000,000 |
| Farid Jattin | | | | 600,000 | -1,050,000 |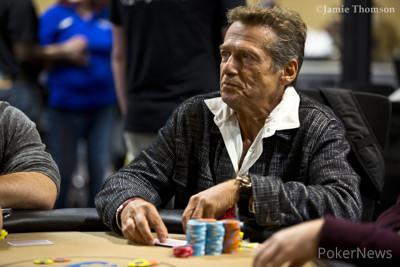 The board read
as action exploded on the flop and Alain Bauer was all in and behind with the
up against the
of Farid Jattin.
The turn was the
and the river was the
and Bauer's run came to an end in third place.
| | | | | | |
| --- | --- | --- | --- | --- | --- |
| Farid Jattin | | | | 1,650,000 | 350,000 |
| Alain Bauer | | | | Busted | |
Michael Perrone continued his momentum as he was on the river with Farid Jattin with the board reading
. Jattin bet 330,000 which Perrone called after a second.
Jattin tabled the
for the airball and Perrone had the
winner.
A couple of hands later, action was picked up on the turn on a board of
. Perrone bet 125,000 from the small blind and Jattin raised to 310,000. Perron three-bet all in and Jattin snap-folded.
| | | | | | |
| --- | --- | --- | --- | --- | --- |
| Michael Perrone | | | | 4,500,000 | 875,000 |
| Farid Jattin | | | | 1,300,000 | -450,000 |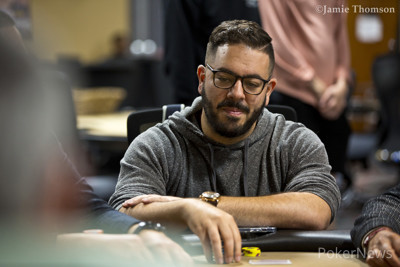 Action came in on the turn as the board read
. From the small blind, Alain Bauer led for 300,000, Michael Perrone called on the button.
The river came the
. Bauer jammed all in having Perrone covered. Perrone took a few moments and called after about 15 seconds.
Bauer said "you win" and casually held his cards while Perrone showed the
for a set of ducks, Bauer flipped over the
as he lost a huge portion of his stack.
| | | | | | |
| --- | --- | --- | --- | --- | --- |
| Michael Perrone | | | | 3,625,000 | 2,025,000 |
| Alain Bauer | | | | 475,000 | -1,445,000 |
Farid Jattin raised to 60,000 preflop from the button, Alain Bauer called in the big blind.
The flop came
. Jattin bet 100,000 and Bauer called. The turn was the
, both players checked.
The river came the
. Jattin tossed in 300,000 and Bauer thought for a while before folding
face up.
-
The next hand on a flop of all nines the
, Jattin bet 40,000, Bauer came along. The turn was a
. Jattin bet 175,000 and Bauer folded to keep momentum on Jattin's side.
| | | | | | |
| --- | --- | --- | --- | --- | --- |
| Alain Bauer | | | | 1,920,000 | -655,000 |
| Farid Jattin | | | | 1,750,000 | -325,000 |
Level:

21
Blinds:

15,000/30,000
Ante:

30,000