Day 2 of the Biggest Ever Buy-In Poker Event: You Play the Game, You Pay the Price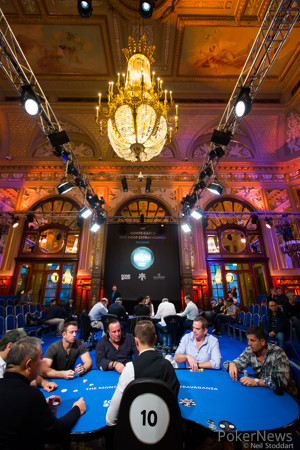 After 10 levels of 45 minutes each on Day 1, still 24 players of 28 entries remain. In two hours time, Day 2 commences of the 2016 Monte-Carlo One Drop Extravaganza €1,000,000 Big One For One Drop. The goal is to play down to a final table of 8.
Players still have the option to buy in, which would grant them a crisp 5,000,000-stack. With blinds starting at 60,000/120,000 with a 20,000-ante, that means a 41 big blind stack awaits players that enter now.
Leading the way is entrepreneur and investor Alfred De Carolis. Originally from Pittsburgh, PA, De Carolis earned a business degree from the College of Santa Fe in the early 1980's; and has, since then, become a respected serial entrepreneur. His latest investment includes the acclaimed 9021PHO. This restaurant, featuring an exquisite fusion of French and Vietnamese cuisines, includes five successful locations in California. His ventures also include the Hollywood movie industry, where Decarolis collaborated as an executive producer with 4-time Oscar-nominated star, Leonardo DiCaprio. Their documentary, "The 11th hour", was released in 2007 and designated a Critics' Pick by the New York Times' film reviewers. At the 2014 WSOP, Decarolis finished an impressive third place in Event #2, No Limit Texas Hold'em - Mixed Max, earning him $290,622.
The shortest stack in the room is Tony Bloom, who's Business Insider profile reads like an exciting adventure novel. Bloom is a successful property investor, sports bettor and the creator of Starlizard, a sports betting consulting firm. Known as "The Lizard", his first major win was in the 2004 Aussie Millions for A$426,500. Over the last few years, he's focused on being the chairman of his beloved Brighton and Hove Albion Football Club.
There's a French-Canadian singer, known for his work in the musical Notre-Dame de Paris playing Quasimodo in both the original French and English casts (Pierre Garand, better known as Garou), a player that gained widespread notoriety after a sex tape with Paris Hilton leaked (Rick Salomon) and a bunch of other larger than life characters. This event is truly unique, so much is clear.
PokerNews will again be on the floor the entire day with live updates from the first flop till the last river. Besides coverage of the €1,000,000 buy-in Big One for One Drop, we'll also sporadically peek at the €25,000-No-Limit Hold'em and €10,000-Mixed Games NLHE/PLO 6-max events that'll run today.
| Table | Seat | Player | Chip Count | Big Blinds |
| --- | --- | --- | --- | --- |
| 9 | 1 | Pau Phua | 6,455,000 | 54 |
| 9 | 2 | Tony Bloom | 1,200,000 | 10 |
| 9 | 3 | Elton Tsang | 7,920,000 | 66 |
| 9 | 4 | Brandon Steven | 8,850,000 | 74 |
| 9 | 5 | Guy Laliberte | 4,000,000 | 33 |
| 9 | 6 | Mark Teltscher | 3,750,000 | 31 |
| 9 | 7 | James Bord | 7,375,000 | 61 |
| 9 | 8 | Patrick Madden | 4,275,000 | 36 |
| | | | | |
| 10 | 1 | Rick Salomon | 2,255,000 | 19 |
| 10 | 2 | Cary Katz | 6,220,000 | 52 |
| 10 | 3 | Alfred De Carolis | 13,825,000 | 115 |
| 10 | 4 | Zuo Wang | 1,840,000 | 15 |
| 10 | 5 | Andrew Pantling | 7,600,000 | 63 |
| 10 | 6 | Paul Newey | 2,805,000 | 23 |
| 10 | 7 | Jason Strasser | 5,585,000 | 47 |
| 10 | 8 | David Einhorn | 8,375,000 | 70 |
| | | | | |
| 11 | 1 | Bob Safai | 4,600,000 | 38 |
| 11 | 2 | Haralabos Voulgaris | 8,765,000 | 73 |
| 11 | 3 | Anatoly Gurtovoy | 4,475,000 | 38 |
| 11 | 4 | Sean Dempsey | 6,380,000 | 53 |
| 11 | 5 | Pierre Garand | 3,585,000 | 30 |
| 11 | 6 | Talal Shakerchi | 6,280,000 | 52 |
| 11 | 7 | Yaqi Sun | 2,645,000 | 22 |
| 11 | 8 | Dan Shak | 10,735,000 | 89 |