Event Info
| | |
| --- | --- |
| Buy-in | $535 |
| Prize Pool | $223,400 |
| Players | 420 |
Level Info
| | |
| --- | --- |
| Level | 27 |
| Blinds | 80,000 / 160,000 |
| Ante | 20,000 |
$200,000 Guaranteed Main Event
Day 2 Completed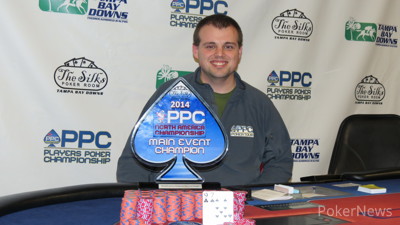 Winning a big poker tournament is every poker player's dream. Adding $44,757 in prize money? That's amazing. But then winning a poker tournament that includes winning a trip to Aruba?
"Simply incredible."
Those were the words out of Nick Mann's mouth moments after he defeated Danny Lobato heads up to win the 2014 PPC North America Championship Main Event at Tampa Downs. Not only did Mann take home $44,757 in first-place prize money and the PPC Main Event trophy, he will also be traveling to Aruba later this year to take part in the PPC Aruba World Championship.
"I texted my fiancé once I found out I had won the Aruba package and she's super excited," Mann told PokerNews. He went to add that he would "be able to pay for a wedding" he is going to have next March. The 29-year-old semi-professional poker player who helps run a family web content production firm said, "This is my first real tournament win. I've been playing a lot of tournaments, but have never won one."
Mann was impressed with everything about the PPC, especially the staff and dealers. "This was a fantastic tournament," he said. "The dealers are without a doubt the best in the area." When asked if he would be playing in future PPC events, Mann said "Absolutely, I'll play them all."
Final Table Results
| Place | Name | Payout |
| --- | --- | --- |
| 1 | Nicholas Mann | $44,757 |
| 2 | Danny Lobato | $27,658 |
| 3 | Michael Baize | $20,210 |
| 4 | Julio Orhuela | $15,006 |
| 5 | Parry Shaw | $11,315 |
| 6 | Stan Trim | $8,660 |
| 7 | Buzz Papalia | $6,726 |
| 8 | Alec Bradlow | $5,298 |
| 9 | Ronald Widman | $4,232 |
To get to the end, Mann had to outlast a tough field of 420 entrants that converged at the Silks Poker Room at Tampa Downs on Friday and Saturday with 64 players surviving to return on Sunday. Play would move swiftly at the beginning of the day, and the money bubble burst early on when Alec Bradlow and his
would send Sunny Moroz and his
home empty-handed.
The action was fast and furious — and at times crazy — over the next several hours. Bobby Dugan flopped a straight and an open-ended straight flush draw, but would still end up hitting the rail when Arri Stone's flopped set turned into a full house.
Stone would end up finishing in 12th place for $3,426.
Kelvin Foster would find himself the beneficiary of a crazy hand that saw him start with the worst hand in a three-way all-in pot and come out on top when his
would hit a diamond flush to best
and
.
Like Stone, Foster would come up short of the final table, finishing in 14th place for $2,812.
One of the constants throughout the day was Lobato and his presence at the top of the chip counts. Lobato would surge ahead of the rest of the pack when he won a massive pot against Daniel Zucker to move to 1.7 million in chips. Zucker had check-raised all in on a
flop with the
and was snap-called by Lobato and his
. Lobato would hit the flush on the
turn and would avoid the full house outs Zucker had to send Zucker home in 17th place for $2,340.
Matt Schwartz started the day with just 10,500 in chips and would make it all the way to the final 10 before running into some bad luck as his short stack and pocket queens could not fade the
of Michael Baize when a king would hit the river.
The cheerful Schwartz left with a smile on his face and $3,426 for his survival skills.
The final table was hectic, with at one point four consecutive double ups occurring within 10 minutes of one another. With five players remaining, a different kind of bubble took place as the top four finishers would receive a $5,000 PPC Aruba World Championship package. It would be Parry Shaw who would be that "bubble boy" when he would lose a race to Mann. It wasn't all bad news for Shaw, however, as his fifth-place finish moved him into first place in the PPC Player of the Year race. The winner of that leader board gets a $5,000 PPC Aruba World Championship package.
Then, Lobato would take out two in one fell swoop when he flopped two pair to crack the aces of Baize and also bust Julio Orhuela.
That massive pot would give Lobato a 3-1 chip lead over Mann heading into heads-up play. That lead would change hands quickly when Mann pushed with the
and would double up when Lobato called with the
and was unable to improve. Then, it was soon all over.
The final hand saw Lobato get his chips in with the lead, but Mann had an open-ended straight draw and two overs that would hit to win the title.
"I'm in shock right now," Mann said immediately after the win. "I won't be able to sleep tonight."
The field that Mann emerged on top of included some tough names over the first four flights. Among them were PPC Team Pro's Alex Outhred and Chris Bolek. Other tough pros and regional poker heroes like Natasha Barbour, Robert Harwell, Rex Clinkscales, Eddie Kofler, John Pappas, and Michael Laake would all come up short in their quest.
Thank you for following along our coverage of the 2014 PPC North America Championship Event. Stay tuned to PokerNews for our coverage of the PPC Aruba World Championship in October where featured PPC Pro Joe Serock and others will be basking in the sun and at the poker tables.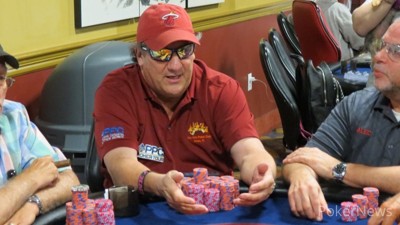 With the flop showing
, Danny Lobato led out for 500,000. Nicholas Mann made it 1,200,000 to go and Lobato didn't think long before moving all in.
"Oh Danny," sighed Mann, as he looked over the board one more time.
"I call," said Mann, turning over
for an open-ended straight draw. Lobato flipped over
for top pair. The turn was the
moving Mann into the lead with a pair of sevens. The river was the
and a frustrated Lobato let loose several expletives knowing that his chance at winning the PPC trophy was over.
"Ahhhh Nick," smiled Lobato finally. "Nice hit."
The two shook hands as Lobato was eliminated in second place for $27,658.
| | | | | | |
| --- | --- | --- | --- | --- | --- |
| Nicholas Mann | | | | 8,400,000 | 3,800,000 |
| Danny Lobato | | | | Busted | |
Nicholas Mann moved all in for just shy of 2.3 million and was called by Danny Lobato. Mann held
which was one notch better than the
that Lobato held.
The board ran out
and Mann doubled up into the chip lead with 4.6 million — a slight lead over the 3.8 million that Lobato held.
| | | | | | |
| --- | --- | --- | --- | --- | --- |
| Nicholas Mann | | | | 4,600,000 | 2,300,000 |
| Danny Lobato | | | | 3,800,000 | -2,300,000 |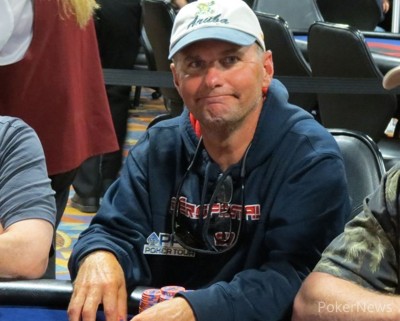 Michael Baize opened for a raise and Julio Orhuela called all in for less. Danny Lobato called from the big blind. The flop came
and Lobato checked to Baize who moved all in. Lobato snap called and tabled
for top two pair. A disgusted Baize turned over
. Orhuela was still drawing live with
.
The turn was the
and the river was the
and Lobato delivered the double knock out. Baize finished in third place as a result of having more chips than Orhuela who would be eliminated in fourth. Lobato will enter heads up play with a 3:1 chip lead on Nicholas Mann.
| | | | | | |
| --- | --- | --- | --- | --- | --- |
| Danny Lobato | | | | 3,550,000 | 1,450,000 |
| Nicholas Mann | | | | 2,500,000 | 400,000 |
| Michael Baize | | | | 2,250,000 | -50,000 |
| Julio Orhuela | | | | 150,000 | -1,750,000 |
Level:

27
Blinds:

80,000/160,000
Ante:

20,000
Julio Orhuela picked up kings at the right time and doubled up through Nicholas Mann who held deuces after the board ran dry —
.
| | | | | | |
| --- | --- | --- | --- | --- | --- |
| Nicholas Mann | | | | 2,100,000 | -1,100,000 |
| Julio Orhuela | | | | 1,900,000 | 1,150,000 |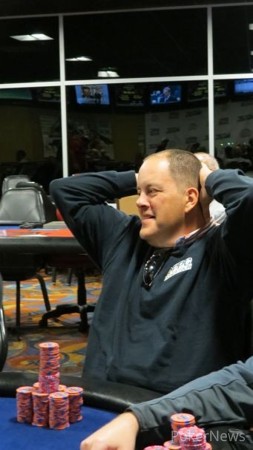 Parry Shaw moved all in first to act and was called by Nicholas Mann. Shaw had
and was racing against the
that Mann held.
The flop came
keeping the sevens in the lead. The turn was the
and the river was the
and Shaw was eliminated in fifth place. Not all was lost for Shaw, however, as he moved into first place in the PPC Player of the Year leaderboard.
"We're going to Aruba baby," Julio Orhuela said to his fiance.
| | | | | | |
| --- | --- | --- | --- | --- | --- |
| Nicholas Mann | | | | 3,200,000 | 1,700,000 |
| Parry Shaw | | | | Busted | |
Here are updated approximate chip counts:
| | | | | | |
| --- | --- | --- | --- | --- | --- |
| Michael Baize | | | | 2,800,000 | 600,000 |
| Danny Lobato | | | | 1,900,000 | -245,000 |
| Parry Shaw | | | | 1,500,000 | 225,000 |
| Nicholas Mann | | | | 1,500,000 | 100,000 |
| Julio Orhuela | | | | 750,000 | -800,000 |