Event Info
Level Info
| | |
| --- | --- |
| Level | 23 |
| Blinds | 20,000 / 40,000 |
| Ante | 40,000 |
HK$500,000 6-Max Event
Day 2 Completed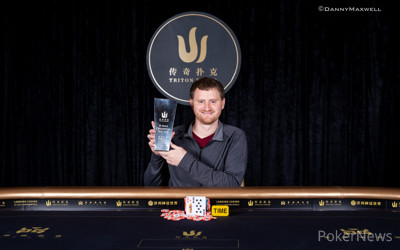 David Peters has been a regular at the Triton Super High Roller Series over the course of the last couple years, but he had yet to lock up a victory, that is until morning hours on Saturday, July 28th. Peters topped the field of 39 entries to take down the first place prize of HK$ 8,775,000, or just over USD $1,100,000. In October of 2017, Peters came 10th in the Macau series and he has another Triton cash as well, but now he can add a victory to that list after a dominating performance in this event.
"It was up and down quite a bit," Peters said about his road to victory. "Towards the bubble, I was getting a little short. The chip lead was getting back and forth when we were three-handed."
To lock up the win he had to overcome one of the toughest three-handed lineups in recent memory, by besting Stephen Chidwick and Steve O'Dwyer. O'Dwyer has had trouble best American players in these high rollers and his streak of being beaten by them continues in this event. Together, the three players had live earnings of nearly $65 million.
"You always have to adjust based on different playing styles," Peters said about the players he played with today. "There's a lot of different types of players in the tournaments like this. Some of them you're very used to, some of them you have to get more used to. Some are playing a lot more loser, playing a lot more pots. You have to know how to adjust versus those."
The day began with 14 players returning from Day 1 and Peters was near the top of the pack to start the day, but registration remained open for two levels and saw many more players join the field. Some of those who joined the fray included Nick Schulman, Ivan Leow, James Chen, Ying Jinghui, and Bryn Kenney who made it to the final table but eventually fell in seventh place, as one of the last players not to take home any prize.
Others to fall during the early levels of the day included Phil Ivey who got it in with queens against ace-nine and king-ten but both players ended up spiking their overs to send Ivey to the rail at the hands of JC Alvarado. Sam Greenwood started the day at the chip leader but he would fall as well after sending most of his chips to Alvarado in a coin flip with flush and straight draws against two pair. He fell a bit later when he shoved pocket threes into Steve O'Dwyers pocket nines and couldn't catch up.
For Peters, it was mostly smooth sailing. He came into the day with a big stack and had very few missteps. Steve O'Dwyer had the easiest path to heads-up play meanwhile, seeming to win every all-in and leaving a trail of bodies in his wake. For Peters, it wasn't until bubble play that he started amassing heaps of chips, shoving on the other players at every opportunity and never seeming to miss a beat with his three and four-bets.
"It makes it tougher, given the big min-cash but that also widens people's ranges, their opening ranges," Peters said about his shoves on the bubble. "And they gotta call tighter versus my shoves so I was happy with some of the shoves I made."
Peters would take the first hand down at the final table and he would also take down the last as well. But the first to fall at the final table was Kenney. Kenney flopped top pair and a flush draw against Chow Hing Yaung, but Yaung flopped two pair and it would hold up to cut the field down to six.
Peters then outraced Sergio Aido when Aido shoved the button with jack-ten suited and Peters called him down in the big blind with pocket sevens. That would boost Peters to almost 400,000 and it would be enough for him to ride that for a while as play reached a stalemate on the stone bubble.
It took nearly two levels of back and forth play but it would be Luc Greenwood who was the bubble boy of the tournament. He got his money all in against Steven Chidwick holding a flush draw with king-nine, but Chidwick flopped better with an ace-high flush draw. Both players made a flush on the river, but it would be Greenwood heading to the rail as his was inferior.
Steve O'Dwyer would then vault into a massive chip lead when he outrace Chow Hing Yaung with ace-queen against pocket nines. O'Dwyer would pair his ace to move over a million chips and to send Yaung to the rail in fourth place. O'Dwyer would eliminate Stephen Chidwick as well when Chidwick shoved holding ace-three and O'Dwyer called with pocket fours. Chidwick couldn't catch up and that would send him to the rail in third place.
O'Dwyer had the big lead heading into heads-up play, but Peters would quickly close that gap when he turned a flush against O'Dwyer's inferior flush. O'Dwyer would pay off a big river bet and that would give Peters the chip lead, which he didn't let go of.
Heads-up play went back and forth, for a while but O'Dwyer would never pull ahead. Eventually, in the final hand, Peters rivered a queen-high straight while O'Dwyer rivered top pair. Peters hit O'Dwyer with a sneaky check and O'Dwyer moved all in. Peters quickly called and that would close out the tournament, allowing Peters to take down the trophy and the first place prize of over a million dollars.
Final Table Results:
| Position | Player | Country | Prize (HKD) | Prize (USD) |
| --- | --- | --- | --- | --- |
| 1st | David Peters | United States | 8,775,000 | 1,118,058 |
| 2nd | Steve O'Dwyer | Ireland | 5,850,000 | 745,372 |
| 3rd | Stephen Chidwick | United Kingdom | 2,925,000 | 372,686 |
| 4th | Chow Hing Yaung | Malaysia | 1,950,000 | 248,457 |
On Saturday, the HK$1,000,000 Triton Hold'em (Short Deck) Ante-Only event will kick off and it is expected to draw the biggest crowd of this series so far. Peters doesn't plan to be a part of that crowd just yet.
"I've never played one hand of short deck," he explained. "If I got here early enough for the HKD 100k event, I probably would've played it. The one tomorrow is little too big for me. Hopefully, I can learn the game and maybe play it some other time in future."
Make sure to tune back in to PokerNews' coverage of the event as we'll be there from start to finish.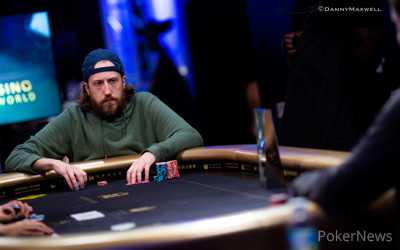 Steve O'Dwyer limped with
and David Peters raised to 170,000 with
. O'Dwyer called and then checked back on the
flop which brought two-way straight draws for each player.
Peters fired a delayed cbet on the
turn and O'Dwyer matched the 200,000-bid.
The river card was the
and Peters finished with a queen-high straight. He decided to set a trap and checked. O'Dwyer tanked for about a minute and then jammed his 565,000. Peters made an easy call to tackle his final opponent and scooped the whopping first place prize of over $1 million. O'Dwyer also took home a giant prize as he secured around $745,000 for his second-place finish.
David Peters limped in on the button with
and Steve O'Dwyer checked in the big blind holding
.
The flop was
and O'Dwyer checked, then called a bet of 50,000 from Peters.
The turn was the
and O'Dwyer checked again. Peters put out a bet of 90,000. O'Dwyer just called again.
On the
river O'Dwyer checked again. Peters put out a bet of 150,000. O'Dwyer called and that helped him to even out the stacks with his two pair.
Steve O'Dwyer limped in on the button and David Peters checked his option in the big blind.
After a check from Peters, O'Dwyer put out a bet of 40,000 on the flop of
and Peters called to see the
on the turn.
On the turn, Peters checked. O'Dwyer put out a bet of 70,000 and Peters called once more.
The river was the
and Peters tanked through a time bank before leading out with a bet of 225,000. O'Dwyer folded and Peters pulled even further away.
Level:

23
Blinds:

20,000/40,000
Ante:

40,000
David Peters limped in on the button and Steve O'Dwyer checked his option in the big blind.
The fop was
and O'Dwyer checked and Peters put out a bet of 30,000. O'Dwyer folded and Peters took down the pot.
Steve O'Dwyer raised to 65,000 on the button with
and David Peters called with
in the big blind.
The flop was
and Peters checked. O'Dwyer continued with a bet of 65,000 and Peters released his hand.
Steve O'Dwyer limped
and David Peters peeled
. He raised it up to 135,000 and O'Dwyer called to see the flop. It fell
, almost locking it up for Peters who fired 80,000 and scooped it as O'Dwyer completely bricked.
Level:

22
Blinds:

15,000/30,000
Ante:

30,000