Finnish poker superstar Patrik Antonius has returned to the live scene with a bang in 2018, following a few years of quiet time. Antonius is currently enjoying the best year of his professional career, and being as he has results dating back to 2003 on his poker resume, that is quite some achievement.
Finland's most successful tournament player has already made five final tables this year, all of them coming in big buy-in events, and Antonius has won over $4.5 million in 2018 already, and it's only May.
The former professional tennis player and coach is already the most successful player in the history of online poker, at least from a cash game perspective, up over $17-million in online cash games over 645,583 tracked hands (according to HighStakesDB). Antonius has over $6-million more than next closest rival Ben "Bttech86" Tollerene.
The Finn started the year like an Olympic sprinter coming out of the blocks, taking down the €25,500 PartyPoker Millions Super High Roller in Rozvadov in February, beating Brazil's Joao Simao heads-up to win his eighth title and claim the $520,610 first prize.
Antonius followed that up with a final table finish in the HK$400,000 Super High Roller APPT Macau, coming in 6th for $204,378. Two days later Antonius made the majority of his 2018 profits with a runner-up finish in the HK$2-million Super High Roller Bowl, also in Macau, narrowly losing out to Justin Bonomo and taking home $3.15-million.
A third-place finish in the €51,000 Party Poker Millions Super High Roller Barcelona was good for a further $491,117 a little over two weeks later in early April, which Antonius followed up with another 6th place finish, this time on home turf in the €5,300 APT Monte Carlo Main Event for $168,280.
That brings Antonius' total live tournament winnings up to over $11.3 million, which sees him reclaim the top spot on the Finland All Time Money List from Juha Helppi.
The Finn is making his Triton Super High Roller Series debut and will be looking to add to his already impressive tournament tally, but took some time to talk to PokerNews about his impressions of the Series, Short Deck Ante Only Poker and his plans for the upcoming WSOP.
"I would like to see more big events in Asia, that I would go and travel for it. Just for me, I would like to have a little bit bigger events, like a $10,000 buy-in is not big enough for me to travel that far, but I'm always happy to go to Macau or Manila or Korea or here [Montenegro] or just anywhere you know, for the big events. I enjoy traveling and playing in these events so I'm very happy and Triton is doing a good job from what I hear and from what I see," said Antonius when asked about the Triton Series.
Antonius missed the opening Short Deck Ante Only Event that Phil Ivey took down for his first tournament cash since 2016, but is keen to try out this exciting new poker variant.
"Things are always changing, there's always little adjustments to the rules and with the games," said Antonius.
"No Limit Hold'em has been the dominating game, and it's still my favorite tournament game, and I think that it's going to stay there, but I think that this game is here to stay."
I've never played one hand but I've watched on TV, it's a very interesting game and I think that it has big potential. I would like to play this game more, and I want to start playing now so I'm looking forward [to playing]."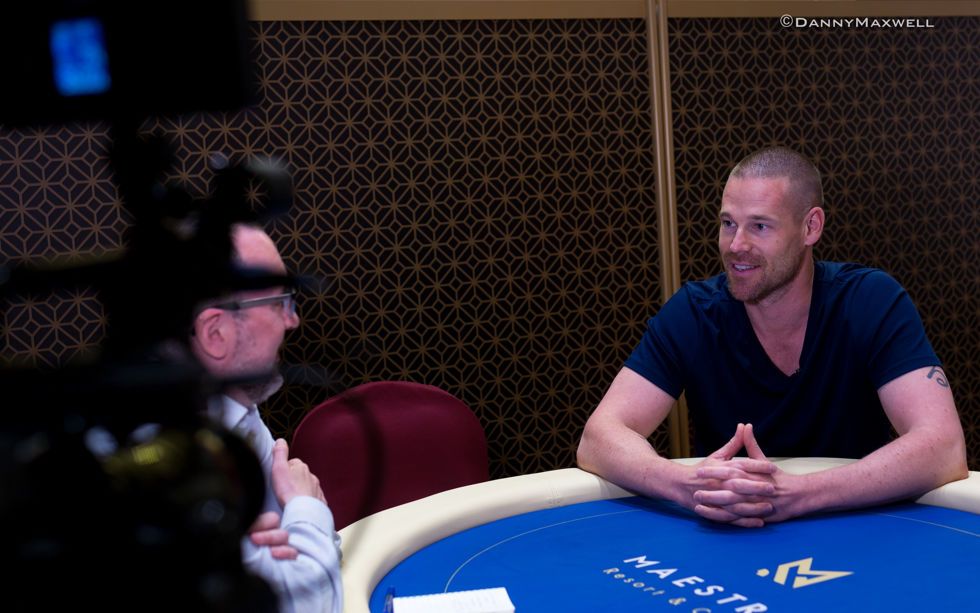 Antonius has been as successful as he has because he still has a keen interest in the game, and learns quickly when it comes to new games and strategies.
"Well, there are always people who have been inventing new games, a lot of different versions of different games; limit games, all kinds of pot limit games and so on. I think that this game has the most potential because it's like Hold'em, there are two cards and there's a lot of bluffing," said Antonius.
"I'm not a fan of those games where you can take it very far with just having a strong strategy. Like in certain limit games or draw games and so on you can only take it to certain levels… but this game there is going to be so many different boards and different variations."
"You play based on the player, how they are playing, you know you're going to be able to bluff with blockers no draws just to see a good opportunity to steal it."
So keen is Antonius' knowledge of this new variant, you'd never guess he has yet to play it.
"I haven't studied the game too much, I only watched it one time on TV, but I already have my opinions on it. The hand values seem to be closer so Aces are not so big a deal as in a full deck, you can crack them easier with nine-ten suited, and maybe the top set is not going to be such a massive deal in this game. So far I like this game so we'll see."
With the Triton Super High Roller Series concluding with a HKD 1-million buy-in Short Deck Ante Only tournament scheduled to start on 17 May, just as the Main Event is winding down, the Finn will have his chance at testing his skills at some of the game's best, quite a few of whom already have some experience at playing it.
Should it not work out for him, there's always the upcoming World Series, where a man running as hot as he is this year must fancy his chances.
"So far I don't have very big plans for the World Series, I'm a little bit busy in June when it comes to other work. I might play the Main Event, at least when it comes to tournaments, just don't expect to see me in other events than the Main Event because I still have a little issue with taxes when it comes to the States. I don't see it as so profitable in that sense so… but yeah, most likely I'll go for a couple of week," said Antonius when asked about his plans.