Welcome to Day 3 of the 2016 Unibet Open London Main Event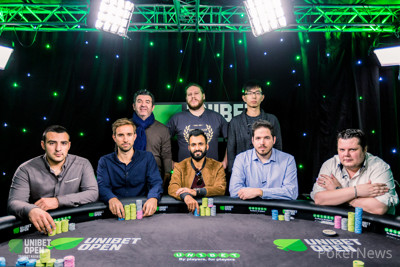 The final day of the 2016 Unibet Open London Main Event is about to kick off at the Victoria Casino in half an hour with the final nine players out of a total field of 418 entrants will be battling it out until a winner is declared.
The excitement at the Victoria Casino is growing to see who will have their name etched in poker history as the latest Main Event winner and bring home the top prize of £62,000 with all players already guaranteed a £6,300 payday.
France's Julien Rouxel kicks off the action on the final table in the lead heading with 2,785,000 in chips with two other players very close on his tail. Rouxel's fellow countrymate Nicolas Cardyn currently resides in second place with 2,424,000, while it is United Kingdom's David Shallow in third place with 2,384,000.
Play will resume on Sunday at 12 p.m. local time, however, the PokerNews Live Reporting team will begin coverage one hour later at 1 p.m. so we are not spoiling the action for those following the live stream. Blinds will resume at 12,000/24,000 with an ante of 4,000 for a few minutes before going up to 15,000/30,000 with an ante of 5,000.
| Seat | Name | Count | Chips | Big Blinds |
| --- | --- | --- | --- | --- |
| 1 | David Shallow | United Kingdom | 2,384,000 | 99 |
| 2 | Benjamin Lebor | United Kingdom | 581,000 | 24 |
| 3 | Akos Gergely | Hungary | 524,000 | 22 |
| 4 | Nicolas Cardyn | France | 2,424,000 | 101 |
| 5 | Bhavin Khatri | United Kingdom | 1,575,000 | 66 |
| 6 | Mate Mecs | Hungary | 568,000 | 24 |
| 7 | Julien Rouxel | France | 2,785,000 | 116 |
| 8 | Nicolas Ludwicki | France | 1,322,000 | 55 |
| 9 | Jin Hui | China | 389,000 | 16 |