Big Stacks Battle on the Feature Table

Level 10 : Blinds 1,000/1,500, 1,500 ante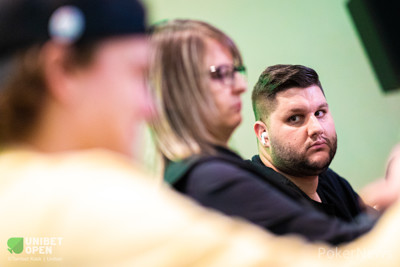 Dan Tolppanen was able to increase his stack significantly since moving to the feature table and yet he is one of four players with a large chip tower at their disposal.
Two of them just played out a three-bet pot with Domenico Gala opening to 3,000 and Mats Karlsson three-betting to 14,000. Gala stuck around to the
flop on which he faced a bet worth 15,000 by Karlsson and called. Karlsson bet another 25,000 on the
turn with his combo-draw and picked up a call by the Italian.
The Malta resident checked the
river after which Gala jammed all-in for 62,700.
Karlsson checked his cards again and then folded. Gala had a big grin on the face and other players remarked "it has to be a bluff when you smile that much." The Italian only flashed the nine while Karlsson mentioned he had turned a flush draw and gutshot.