"Football is a simple game. Twenty-two men chase a ball for 90 minutes and at the end, the Germans always win" —Gary Lineker
It is perhaps fitting that the largest six-max tournament of all time was won by a German. A nation of poker players famous for their aggression, tenacity and outstanding technical ability.
Tim Hartmann's name will be forever etched in poker history after winning the 2019 Winamax SISMIX Main Event, defeating Yves Sanchez heads-up to win €100,782 after a three-way deal.
| Place | Name | Country | Payout (EUR) | Payout (USD) |
| --- | --- | --- | --- | --- |
| 1 | Tim Hartmann | Germany | €100,782* | $112,875* |
| 2 | Yves Sanchez | France | €84,934* | $94,446* |
| 3 | Morgan Aceto | France | €80,782* | $90,746* |
| 4 | Hayg Badem | France | € 44,000 | $49,280 |
| 5 | Leandry Ainonkpo | France | € 32,000 | $35,840 |
| 6 | Jeffrey van den Heuvel | Netherlands | € 24,000 | $26,880 |
| 7 | Alexandre Fradin | France | € 17,990 | $20,149 |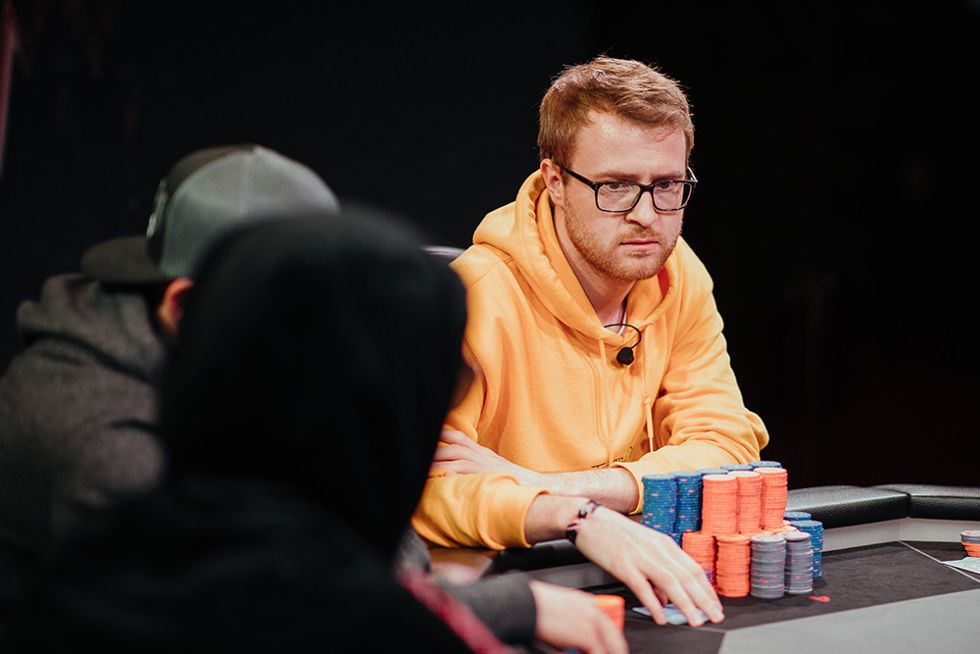 From Chip Leader to Champion
"I'm feeling great," said Hartmann who, despite coming into Day 3 as chip leader, admitted that the final day was a stressful one. "We were down to the final table super fast, and I didn't play any big pots until this point so I came into the final table with 20 million chips.
"But the final table was pretty rough. I didn't hit any boards. My bluffs went wrong. It was a rollercoaster."
While Hartmann came into the final day as chip leader, there were still plenty of short stacks including Winamax Team Pro and former SISMIX champion Bruno Lopes and Leandry Ainonkpo.
Ainonkpo would double once through Morgan Aceto and then again through Lopes, leaving Kool Shen with a couple of big blinds left. He was then eliminated in 16th place for €6,500 after his king-ten was cracked by the jack-ten of Aceto.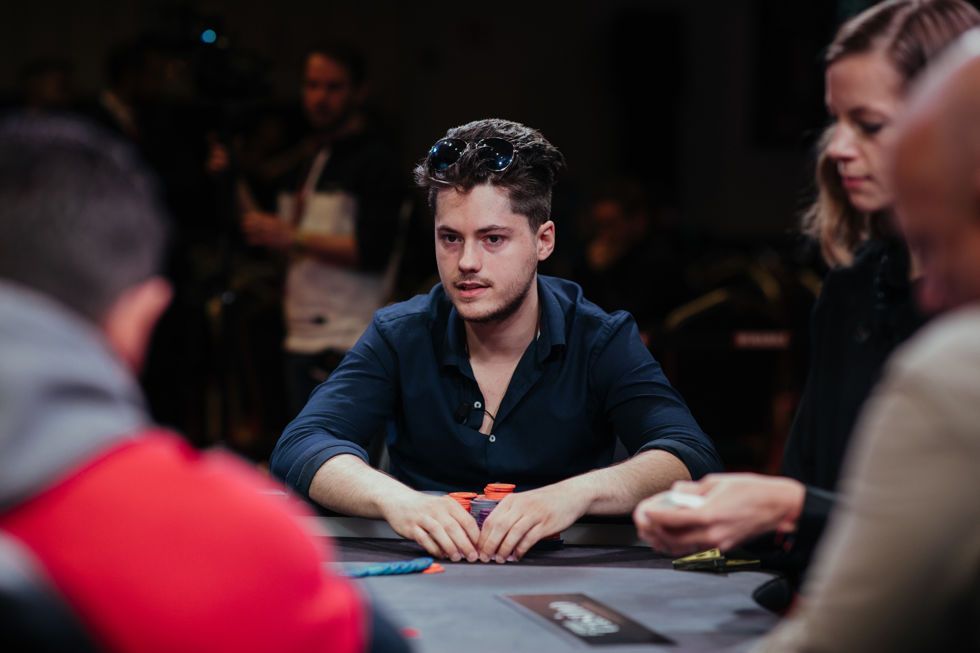 Great Start for Aceto
It's no exaggeration that Aceto was crushing the early stages, eliminating not only Lopes but Jimmy Bord as well to overtake Hartmann in the chip counts, flipping the standings from the start of the day once the tournament reached two tables.
There were fireworks almost immediately, as Hartmann missed out on a double elimination after a sensational chop, but the German soon sent Gregory Luttke-Grech to boost his chips.
But back came Aceto, who had briefly relinquished his grasp on his table's chip lead to Yves Sanchez. Aceto eliminated Raphael Assidon and Milos Babovic in a blistering seven minutes to regain the chip lead by the final table.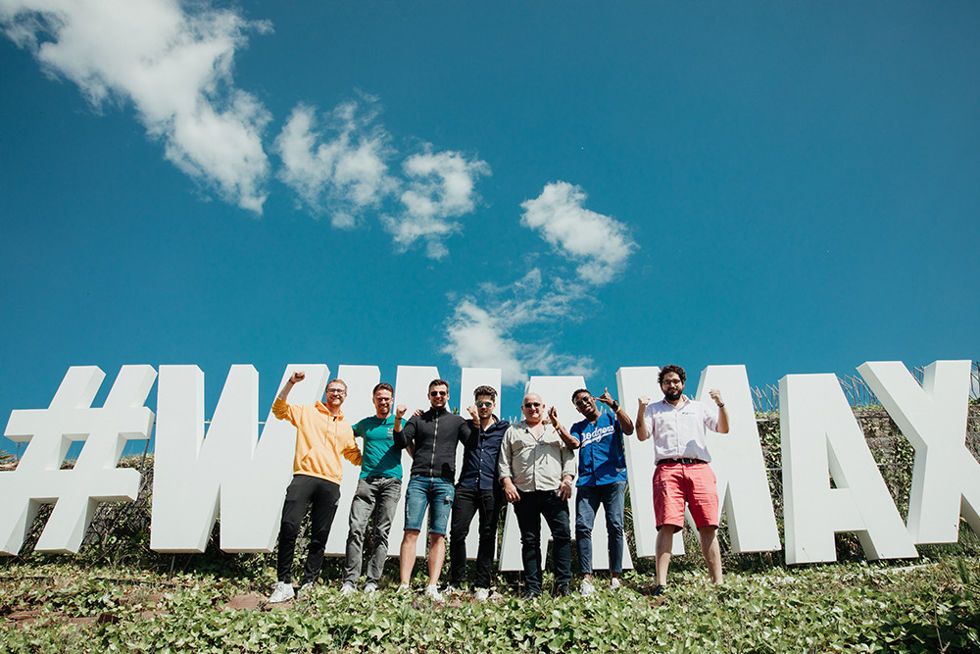 The Final Table
Aceto started strongly, but a double from Dutchman Jeffrey van den Heuvel through him, coupled with Sanchez eliminating Alexandre Fradin saw the chip lead slip from his grasp.
It seemed to refocus Aceto, quickly taking chips from both Hayg Badem and Hartmann to regain control. Hartmann meanwhile was slipping and needed help on a flop for his ace-queen to crack the pocket nines of Van den Heuvel.
Hartmann would finish off Van den Heuvel shortly thereafter, but the German still remain rooted to the bottom of the leaderboard.
While the German toiled, Aceto was taking off and soon had more than half the chips in play five-handed. Hartmann soon found himself all in again, with his jacks holding this time against the ace-queen of the charismatic Ainonkpo, who had done well to stay in contention. The 22-year-old was an online qualifier, turning €50 into over €30,000 when he was eliminated just after play resumed after the dinner break.
The final table had been an entertaining one, but it had been a grind. That was Hayg Badem lit the fuse on a firework of a hand, shoving blind on blind with ace-nine for twenty big blinds. Sanchez snap-called in the big blind with ace-king.
Although a 71% favourite pre-flop, Badem flopped a nine to send Sanchez all but out of the door. That was until a king hit on the river, with Sanchez hitting his three outer to stay alive. Badem's last two big blinds went the way of Hartmann and suddenly we were three-handed.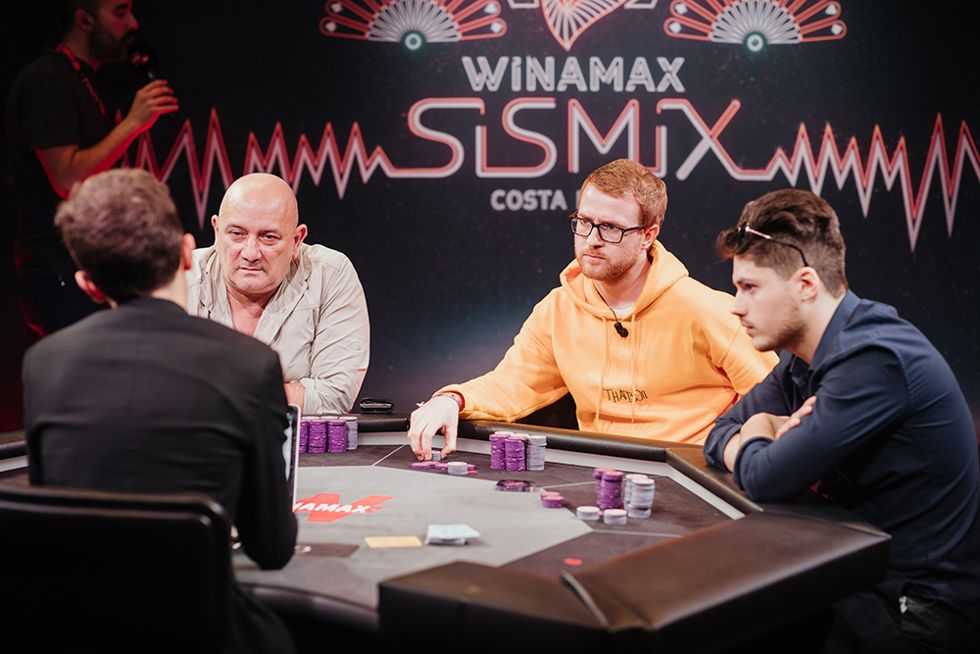 Agreeing to a Deal
It took half an hour of three-handed play for the prospect of a deal to come up. When it did so, Sanchez held a slight lead with both Hartmann and Aceto tied for second in chips. After some negotiations, a deal was confirmed that left €20,000 for the winner.
| Name | Chip Count | Payout |
| --- | --- | --- |
| Yves Sanches | 40,700,000 | € 84,934 |
| Tim Hartmann | 30,600,000 | € 80,782 |
| Morgan Aceto | 30,600,000 | € 80,782 |
Following the deal, things began to go wrong for Aceto. It started by check-calling all three streets against Sanchez, only for his opponent to have flopped the nut straight. Then after getting it in dominatingly ahead against the same opponent, this time Sanchez rivered a straight to eliminate Aceto in third.
If the final table was a rollercoaster, the heads-up battle at the end of it was more akin to an arm wrestle. With the blinds at 600,000/1,200,000, big leads were opened in the blink of an eye. The chip lead changed hands no less three times in half an hour as each player looked like they would take off into the sunset.
That player was Hartmann. He bided his time eventually held 80% of the chips in play, and shoved with pocket threes only for Sanchez to call with pocket sevens.
"Pre-flop I thought when I saw his hand, 'OK, we're even again,'" Hartmann told us afterwards. "But, I mean we're even, it's ok. When I saw the flop I just thought 'Let it be over now!'
Hartmann flopped a flush draw. Then turned an open-ended straight draw. Then, perhaps fittingly, the ace hit on the river, completing his straight and handing the 29-year-old victory.
"Normally I believe in too many outs," said Hartmann. "But luckily this time..." He trailed off. Perhaps thinking about the hand, or more likely the more than €100,000 in prize money.