Main event
Day 5 Completed

Welcome to a Theo-cracy!
Theo Jorgensen came into today as the big stack and was the favorite to take the title, but this meant a lot of pressure and after some clashes with Per Linde and Antoine Amourette, it looked as though he might not make it to the endgame. However a crucial pot was sent his way when he doubled through Amourette with Kings against Sevens and from then on it always looked as though Jorgensen would emerge from the tournament victorious. While the short stacks held on for dear life, Jorgensen continued to pound on the medium stacks and by the time we got four handed, it became simply a matter of 'when' and not 'if'.
It was a short heads-up battle but in truth, the work had been done beforehand.
Finally, it was fitting that the trophy given to Jorgensen was a globe. The man who has just won the world was given the world as a result.
Congratulations then to Theo Jorgensen, who now has both a WSOPE bracelet and a WPT title to his name, but also to all our finalists from today.
From the Pokernews Live Reporting Team, it's over and out!
Only three heads up hands were needed to decide the winner of this event. With a massive chip deficit (6 million vs. 600k) Antoine Amourette had little choice but to get it in and try to double back into contention. He moved in once with no call, but the second time his
was snapped off by Jorgensen's
. It looked like another reversal of fortune was about to keep the game going as the flop came
, but Amourette's joy was short lived as the
arrived on the turn.
"A six would be sick," commented Jorgensen, but no such six arrived, instead the harmless
propelled the rest of the chips in play in the whole tournament into Jorgensen's stack.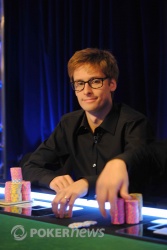 Literally moments afterwards (hand 143), the all-in action continued with Linde moving in preflop for the 415k he had left to him after that previous encounter. Theo Jorgensen called almost immediately, although he said, "I think I need to suck out," flipping
.
"Not necessarily:"
in Per Linde's hand needed to hit. But the flop brought an immediate straight for Jorgensen:
, and with him drawing dead on the
turn, Linde stood up and made his exit.
Hand #141: Theo Jorgensen raised all-in and the other two folded.
Hand #142: Antoine Amourette moved all-in preflop for his remaining 325,000. Per Linde wanted to ask, "If I move in and Theo calls, do I finish second?" The tournament director confirmed this was the case.
"This is such an odd spot," continued the Swede, "I'm not use to this situation!" He laughed nervously. Finally he pushed all-in and the onus was on Jorgensen.
"This is tempting!" admitted the Dane, "I can't do it..." and he folded.
Linde:

Amourette:
The board came
and then the crowd went "Oooh!" as the
came on the turn. But Amourette survived when the river was the
and the two short stacks swap places.
Amourette has about 700,000 and Linde has about 300,000 left.
Hands 137-139 inclusive saw Theo Jorgensen take down all the pots preflop (including one walk) but 140 saw Mikhael Guenni move in preflop (405k). Up to this point he'd been all-in several times with only one result (obviously), but his luck wasn't to hold as Theo Jorgensen called him with
which was dominating his
. The board ran out
and as Jorgensen stacks yet another pot, this time an Eliminator, play goes to threehanded.
Hand #133: Antoine Amourette pushed the small blind and Per Linde folded in the big.
Hand #134: Theo Jorgensen raised to 200,000 on Mickael Guenni's big blind again, the latter folded.
Hand #135: It was passed to Guenni in the small blind who counted out his remaining 240,000 or so chips, tanking for a couple of minutes.
"Time!" said Jorgensen and put a big stack of 25k chips out in front of himself, effectively telling Guenni to play for his stack or fold. The Frenchman did the latter and Jorgensen was given a warning for acting out of turn. Clearly he's still riled by Guenni's refusal to move at anything other than an ultra slow pace.
Hand #136: Guenni moved all-in from the button and both Jorgensen and Amourette called the 175,000 shove. The two players checked the
flop before Amourette moved in on the
turn. Jorgensen got out of the way and Amourette showed
for the nut flush, Guenni had
and somehow, someway, hit the
river.
His friends went ballistic celebrating and he's now moved up to the highest chip count he's had in hours at almost 600,000. The problem is that is only worth 7.5BB's at this point.
Hand #129: Theo Jorgensen raised to 200,000 and won the blinds.
Hand #130: Theo Jorgensen made it 200,000 again and it was passed over to Mickael Guenni who did his customary one minute dwell and then folded.
Hand #131: Per Linde moved all-in from the button and picked up the blinds.
Hand #132: Passed to Theo Jorgensen in the small blind who raised to 400,000 and won the pot.
The stacks are so shallow that no-one bar Jorgensen has any moves left.
Level: 27
Blinds: 40,000/80,000
Ante: 10,000
Hand #127: Antoine Amourette raised to 130,000 and Theo Jorgensen called in the big blind. The two checked the
board to the river where Jorgensen bet 200,000 on the river.
Amourette looked a little perplexed and said, "Is it a bluff or is it eight-six?"
He called. "It's
" said Jorgensen, showing the exact hand Amourette had called out.
Hand #128: Jorgensen limped in and Amourette checked his option in the big blind. Both checked the
flop and Jorgensen held out his hand with 100k's worth of chips to bet declaring he thought he had a ten. Jorgensen dropped in them in when the
came on the turn. Amourette made the call and they saw a
.
Jorgensen now bet 200,000 saying, "I'm going to make you fold your pair of deuces." After a couple of minutes, the chip leader also called the clock and said, "I really want the break!"
Finally Amourette folded and the players are now on a 10 minute break.