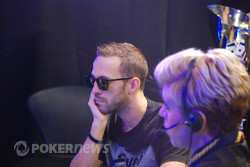 Jackson Genovesi opened the betting with his standard sized 42,000 raise from the button and he was the only caller when Yorane Kerignard three-bet to 99,000 from the small blind.
The
flop saw Keirgnard keep up the aggression and make it 87,000 to play and Genovesi had no problem in making the call. The
on the turn halted the run of red cards on the board and now Kerignard checked, but when Genovesi bet 182,000 Kerignard check-raised to 442,000. The dealer placed the
onto the river and Kerignard moved all in.
"Wow! Wow! You are the sickest," said Genovesi before adding, "This might take a while. You know I have a straight right? Of course you do, you are too good. Maybe you have the
for the flush? You re representing it well but that doesn't mean you have it."
Eventually Genovesi folded an showed
fr the straight. Kerignard simply mucked his hand and started to stack his chips.