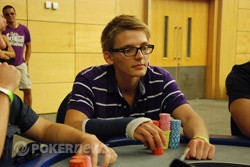 Sampo Ryynanen is our new chip leader after taking almost all of Alfonso Amendola's stack and all of Timothy Reilly's.
He claimed Reilly's chips for his own whilst holding
t Reilly's
on a
fop that had two diamonds on it, then almost scalped Amendola in a huge coinflip
versus
.
Amendola lost the rest of his stack with
against Ryynanen's
when the board ran out
.