Level 31 : 60,000-120,000, 0 ante
Main Event
Day 5 Completed

Level 31 : 60,000-120,000, 0 ante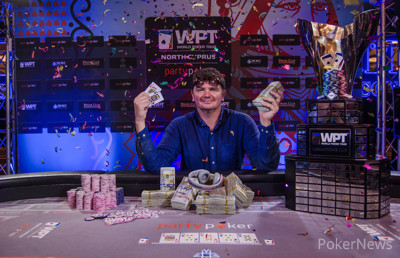 The 2014 partypoker World Poker Tour Merit North Cyprus Classic Main Event has its winner, and it's none other than Alexander Lakhov who won the WPT National event in this very Merit Crystal Cove poker room last june.
The day started with a final table of six, consisting of five well-rounded live tournament players and one experienced cash-game player. When it began, Nicolas Chouity had the chip lead with 4.39 million, and he was trailed by Lakhov with 3.13 million, Ori Miller with 2.27 million, Toby Lewis with 1.085 million, Dmitry Gromov with 815,000, and Igor Devkin with 435,000.
Devkin, the cash-game player who started out as the severe short stack, doubled in the first hand of play. He got it in with ace-six against Chouity's ace-nine, but was lucky enough to hit a flush on the river. The youngest of the three Russian finalists was still the first one to go, though. In the first of many cooler situations on the day, he found queens against a three-betting Chouity, who, for once, had a real hand with pocket kings. No luck for Devkin on the flop, turn, or river, and he departed in sixth place for $62,000.
British pro Lewis had a great start, winning several big pots quite early on. Chouity took some losses at Lewis' expense, as things headed the other direction for Israeli pro Ori Miller. Miller lost a big pot to Lakhov when he had to fold against on the turn against a check-raise shove, and he also doubled up Dmitry Gromov early on. Down to 15 big blinds, Miller shoved all in from the cutoff seat with king-jack. Chouity woke up with pocket aces on the button, and this time no suck out would occur. Miller finished in fifth, taking home $77,000.
Lewis had everything going for him, so it was kind of unexpected when he departed in fourth place. In a blind battle with Gromov, all the chips went to the middle all of the sudden. Lewis had pushed from the big blind with ace-ten to Gromov's small-blind raise, and his Russian opponent made the call after some thinking with ace-jack. The ace-jack held up, and it turned out Lewis and Gromov had exactly the same stack, eliminating Lewis in fourth for $102,820.
Three-handed play started with Chouity in the lead, just a bit ahead of Gromov. After a few pots in which Gromov worked his way into the lead, the biggest and most important pot of the tournament was played out.
Chouity opened to 200,000 on the button, and Gromov three-bet from the small blind to 550,000. Lakhov was quick to fold his big blind, and Chouity made the call in position. Gromov was first to act on the
flop and bet 620,000. Chouity didn't waste too much time calling, and they were of to see the
turn. Gromov checked, and Chouity bet out 950,000. Gromov check-raised all in for just over 3 million, and Chouity snap-called.
The players didn't open the cards immediately, as the floor rushed to announce that there was an all in and call. Chouity seemed very confident he had the best hand, something made even more clear by the look on Gromov's face.
Gromov turned over the
and Chouity said "Weeeeee!" while revealing his
for the top pair and flush draw.
Just the
could save Gromov from losing most of his chips — a card that would eliminate Chouity if it fell. If any other card would hit, Chouity would have a commanding chip lead and Gromov would be almost out.
Very slowly the dealer burned, then placed the
on the river!
The one out Gromov had left hit, and Chouity couldn't believe it. He laughed, clapped in his hands, and shouted, "One-outer!" twice to someone on the rail. If you weren't looking, you might have thought it was Chouity who had just hit his one-outer to double. He didn't look all that disappointed when he asked us if we had ever seen this before.
"You have never seen this before right?" he continued, "I made history then!"
Chouity departed in third place, making $140,000 doing so, and the tournament was down to the heads-up battle between Dmitry Gromov and Alexander Lakhov.
Gromov had a big lead over his countryman, and it could have been over minutes later when Lakhov got all of his chips in with ace-jack to Gromov's aces. With a jack on the flop and river, Lakhov stayed alive. Gromov didn't blink when the jack hit the river, probably realizing it wasn't his moment to complain about beats after having just sucked out on Chouity in such miraculous fashion minutes before.
With his double up, Lakhov started a rush. He won a lot of the pots, mostly without showdown, and really ground Gromov down. He got the best of it in showdown pots as well, being right with ace-high and king-high more than once.
Gromov was ground down to his last 15 big blinds when he found ace-deuce. He shoved over Lakhov's opening raise, but got quickly called. Lakhov had pocket jacks and no miracle came this time for Gromov, making him the runner up for $215,000.
Lakhov was handed the trophy, bricks of cash worth $310,000, and a ticket for the World Poker Tour World Championship at Borgata at the end of the season worth another $15,400.
| Position | Player | Country | Prize |
| --- | --- | --- | --- |
| 1 | Alexander Lakhov | Russia | $310,000 |
| 2 | Dmitry Gromov | Russia | $215,000 |
| 3 | Nicolas Chouity | Lebanon | $140,000 |
| 4 | Toby Lewis | United Kingdom | $102,820 |
| 5 | Ori Miller | Israel | $77,000 |
| 6 | Igor Devkin | Russia | $62,000 |
That concludes PokerNews' coverage of the 2014 partypoker World Poker Tour Merit North Cyprus Classic Main Event. Next up on our live reporting schedule is the 2014 Mid-States Poker Tour Running Aces Harness Park, beginning September 19.

Level 31 : 60,000-120,000, 0 ante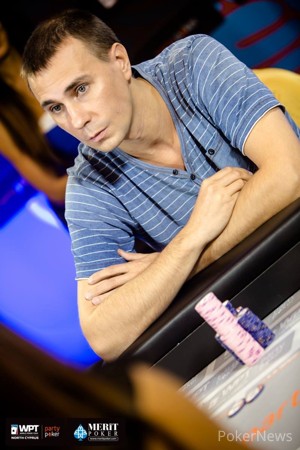 Dmitry Gromov was down to exactly 1,800,000 (15 big blinds) after that last hand, and needed to make a move soon. The next hand, he found a spot he liked. But it wouldn't turn out too well for him.
Alexander Lakhov opened the button, and Gromov shoved all in. Even before the circular "All In" button had hit his spot, Lakhov had already made the call by firmly placing a stack of 25,000 chips in the middle. Gromov must have known he was in trouble.
The cards opened soon enough, and Gromov was indeed trailing with his
as Lakhov tabled
.
Gromov had already come from way behind once today, eliminating Nicolas Chouity by hitting a one-outer, but wouldn't get as lucky twice today.
The
gave him some extra runner runner straight outs, but he was down to three outs once the
hit the turn. He needed an ace, and an ace only on the river to double up and make a comeback.
It wouldn't come, the
hit the river and Dmitry Gromov literally left the stage immediately after shaking hands with Lakhov.
"Thank you dealer" said a gentle Lakhov quietely when Gromov had long left. Gromov takes home $215,000 for his runner up finish.

Level 31 : 60,000-120,000, 0 ante
Dimitry Gromov opened a bit bigger than he used to, making it 300,000 from the button. Lakhov made the call.
Lakhov check called a bet of 200,000 on
, and another 545,000 on the
turn. The river was the
and both players checked.
Lakhov showed [KcJs}, Gromov mucked.

Level 31 : 60,000-120,000, 0 ante
Alexander Lakhov limped in from the button, Dmitry Gromov checked his big blind.
Both players checked the
flop, and the
came for free.
Gromov now bet 200,000, Lakhov made the call.
The river was the
and Gromov now bet a hefty 750,000. Lakhov thought about it for quite some time, but folded.

Level 31 : 60,000-120,000, 0 ante
The antes are done for, the WPT event does not have antes heads up. Levels have also been cut back to half an hour.
Level: 31
Blinds: 60,000/120,000
Ante: 0

Level 30 : 50,000-100,000, 15,000 ante
Gromov opened the button for 250,000, and Lakhov called.
Both players checked the
flop, and Lakhov checked again once the
hit the turn. Gromov bet 200,000, but folded to Lakhov's check raise to 700,000.

Level 30 : 50,000-100,000, 15,000 ante
Gromov opened with a min raise from the button, and Lakhov made the call from the big blind.
Lakhov check called a 250,000 bet on
, and 375,000 more on the
-turn. The river was the
and Lakhov bet out 800,000. Gromov made the call.
Lakhov showed
and Gromov angrily mucked his hand.