Main Event
Day 5 Completed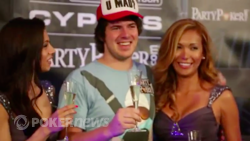 Ladies and gentlemen we have our winner here in Cyprus. Marvin Rettenmaier has made poker history by becoming the first-ever player to win back-to-back World Poker Tour titles after taking down the WPT Merit Cyprus Classic Main Event.
Rettenmaier went into the final table third in chips but still well within reach of the overall chip leader Ran Azor. The young German was full of confidence before the final table got underway as he had reached back-to-back WPT final tables, having won the WPT World Championship in May for a cool $1,196,858.
There was not a person in the Merit casino who did not believe Rettenmaier would not emerge victorious and he proved us all correct when he went on a one-man wrecking spree and eliminated each of his five opponents one after another.
First to go was Kiryl Radzivonau who ran
into the pocket queens of Rettenmaier and he was followed the rail some time later by Joseph El Khoury when El Khoury made a move with
and was snapped off by
.
From that point on Rettenmaier never looked back, the blinds were high and he had the most room to maneuver; something that is crucial in big blind play. Victor Paraschiv three-bet all-in over the top of a Rettenmaier raise with what turned out to be just
. Rettenmaier held a monster in
, which held, and left Rettenmaier with almost six times as many chips as the other two stacks!
These two stacks were soon his as Rettenmaier shoved with
and Azor made the call with pocket sevens. Rettenmaier flopped an open-ended straight draw but needed a queen on the river to bust out Azor.
This left Rettenmaier with a 4:1 chip advantage over Artur Voskanyan. Such a lead heads-up is huge and it only took two hands to press this advantage home. Rettenmaier held the button and put his opponent all-in. Voskanyan made the call with
and was up against
. Rettenmaier paired his nine on the flop and after the rest of the board ran out without drama Rettenmaier had done the impossible and won back-to-back WPT titles!
Rettenmaier is now heading straight to Parx to play Day 1b of the new WPT Park Open Poker Classic. He couldn't go back-to-back-to-back could he?
WPT Merit Cyprus Classic Final Table Results
| Position | Name | Prize (USD) |
| --- | --- | --- |
| 1 | Marvin Rettenmaier | $287,784 |
| 2 | Artur Voskanyan | $184,020 |
| 3 | Ran Azor | $118,360 |
| 4 | Victor Paraschiv | $87,610 |
| 5 | Joseph El Khoury | $65,770 |
| 6 | Kiryl Radzivonau | $52,590 |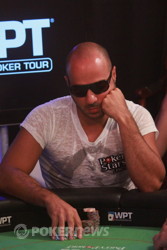 It took just two hands.
Having won the first, Rettenmaier was all in the button and Artur Voskanyan checked his cards then quickly called off his last 1.6 million chips.
Rettenmaier:

Voskanyan:
The flop came
and Rettenmaier took the lead, Voskanyan needing to hit one of his six outs. The
on the turn gave both players gutshot straight draws but changed nothing.
The river, drawn out ever so slowly, was flipped and it was the
.
Rettenmaier quietly asked, perhaps still in disbelief, "Is that it?"
Matt Savage replied, "That's it, congratulations."
Marvin Rettenmaier becomes the first ever winner of back-to-back WPT's, a truly incredible feat. But let's also save some praise for Artur Voskanyan who goes home in second place but with over $180,000 more than what he came with.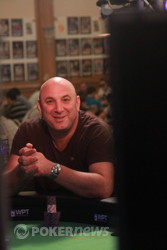 Marvin Rettenmaier had moved all in preflop, Artur Voskanyan got out of the way and Ran Azor made the call.
Rettenmaier:

Azor:
The flop came
, Azor was still ahead but now Rettenmaier had 14 outs twice, making him the favourite. The
on the turn changed nothing but the
on the river was greeted with a Rettenmaier fistpump.
He's now heads up with a 4:1 chip lead against Russian Poker Series Tournament Director Artur Voskanyan.
Level 31 : 60,000/120,000, 20,000 ante
Matt Savage is known as a world-class TD, but he also has one heck of a golf swing. Lynn on the other hand... Not so much.
Artur Voskanyan has doubled up through Marvin Rettemaier after catching an ace on the river.
The action folded to Rettenmaier who moved all-in with what turned out to be a pair of red tens. Voskanyan then paused for at least 20 seconds before calling off his 10 big blinds with
.
Rettenmaier stayed ahead right up to the river as the board ran out
but the
was the fifth and final card and we still have three players in this tournament.
The first few hands have seen three all-in bets and all three went uncalled.
First was Ran Azor, he moved all-in and when his opponents folded he showed
.
Then Marvin Rettenmaier shoved twice, the first time he showed
and the second he turned over
. Surely it will not be long before one of thise all-in bets is called.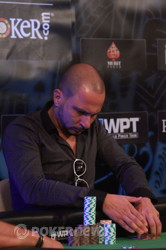 Marvin Rettenmaier raised to 240,000 preflop from UTG and it was folded around to Victor Paraschiv in the big blind. The latter checked his cards for a moment and thought before whispering, "All in."
The dealer looked back at Rettenmaier who said, surprised, "He's all in?" Rechecking his cards he then instantly called.
Rettenmaier:

Paraschiv:
The board offered only the mearest hint of danger to the German coming
.
Rettenmaier has a monster chip lead, nearly six times as much as the other two stacks.
Player
Chips
Progress

Marvin Rettenmaier

7,310,000

2,010,000

Ran Azor

1,375,000

-870,000

Artur Voskanyan

1,185,000

105,000
Level: 31
Blinds: 60,000/120,000
Ante: 20,000