Main Event
Day 1b Completed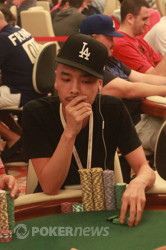 Day 1b of the WPT Merit Cyprus Classic Main Event has been completed after 10 one-hour levels were played out in the luxurious Merit Casino, Kyrenia, Cyprus.
By the time registration had closed at the end of Level 6 there were a total of 164 players who had exchanged $4,400 for 30,000 tournament chips and the chance to become a WPT champion. Just before 1:00 am local time renowned tournament director Matt Savage call time on proceedings and just 65 players had chips that needed bagging and tagging; the dream of WPT glory had ended for 99 of our starters.
The title of end of day chip leader is one that every poker tournament player want to lay claim to and it was a fiercely fought contest here on Day 1b. From the moment he sat down at the felt, Michael "The Grinder" Mizrachi terrorized his opponents and quickly found himself sat behind a pile of chips worth over 120,000. Mizrachi dropped off the pace towards the latter part of the day but he still finished with a respectable 54,300 stack.
The honor of being chip leader tonight goes to David "Chino" Rheem. Rheem is a well-known figure on the poker circuit having reached the final table of the 2008 World Series of Poker Main Event (he finished seventh), having won the WPT Doyle Brunson Five Diamond Poker Classic; also in 2008 and more recently winning the inaugural Main Event of the Epic Poker League. Rheem was his usual vocal self through the day but he was backing up his table talk with his poker skills; and he also ran amazingly well. At different points throughout the day he cracked pocket jacks with pocket tens, then cracked pocket aces, again with a pair of tens. Then on the last hand of the night he had a 6,000 turn bet and a 20,000 river bet called on a
board whilst holding
to put him well clear of the chasing pack.
Other notable players to safely navigate through to Monday's Day 2 include the man who reached the 2008 World Series of Poker Main Event Kelly Kim (92,200), Hüsnü Sincar (247,500), Giuseppe Pantaleo (191,300) and former WPT Amneville champion Sam El Sayed (214,300).
Rejoin us from 1:00PM local time for all the action from this amazing tournament. Until then check out this video with our overnight chip leader and Lynn Gilmartin.
Hüsnü Sincar is back on top after a interesting hand. According to Dominik Nitsche, he got into a raising war on the turn of a
board holding
against
.
Top pair held on a blank river and Sincar now has about 245,000 - he's just ahead of Chino Rheem who sits with roughly 220,000 at the moment.
Zimnan Ziyard is MIA, presumed busto.
Also just gone is Vitaliy Tolokonnikov who ran
into Mikko Koponen's
, the latter now up to 55,000.
| | | | | | |
| --- | --- | --- | --- | --- | --- |
| Vitaliy Tolokonnikov | | | | Busted | |
| Zimnan Ziyard | | | | Busted | |
Kelly Kim is on a tough table, sharing with the likes of Daniel Cates and Robert Mizrachi. Kim shares some advice on what to do when you find yourself in a similar situation.
Sherif Zacca has about 8,000 left and probably is feeling like he was mugged. He just lost a 100,000 chip pot with
against Konstantin Tolokno's
which hit running jacks for quads on a
board.
Dominik Nitsche opened to 2,000 UTG and Roman Matveychuk made it 4,500 in the seat next to him. It got passed back around to the young German who counted out a four-bet to 9,500 and pushed it forward, Matveychuk wasted little time in moving all in and Nitsche quickly folded.
We think that battle isn't over yet.
| | | | | | |
| --- | --- | --- | --- | --- | --- |
| Roman Matveychuk | | | | 100,000 | |
| Dominik Nitsche | | | | 50,000 | 17,550 |
Chino Rheem

240,000
50,000

Sam El Sayed

216,000
90,000

Giuseppe Pantaleo

190,000
134,700

Robert Mizrachi

125,000
-16,000

Michael Mizrachi

85,000
30,000

Kelly Kim

54,000
-4,000

Aubin Cazals

35,000
19,000

Nicolas Chouity

25,000
5,850

Gaelle Baumann

Winamax Team Pro

24,200
-12,100

Martin Finger

19,000
-26,000

Daniel Cates

Busted
Level:

10
Blinds:

500/1,000
Ante:

100