National Championship
Days: 2
National Championship
Day 2 Completed
Level 15 : 2,500-5,000, 500 ante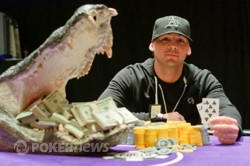 Day Two of the inaugural WSOP-Circuit National Championship has come to a close with ten players assured a piece of the $1,000,000 prizepool.
After the 100-player field was whittled down to just 35 yesterday, play today was expected to be intense – and boy it did not disappoint – as players fought hard for a spot on a final table amongst fellow gold-ring holders and WSOP-Circuit regulars.
Leading the field as play kicked off just after midday was two-time gold-ring holder La Sengphet, and as play was reduced to just three tables, she still held a spot amongst the leaders as majority day one chip leader Jonathan Poche sat atop after a strong showing during the first hour.
Unfortunately for two of the most successful players in WSOP-Circuit history, Kyle Cartwright and Dwyte Pilgrim were unable to add to their impressive trophy case that includes three gold-rings as they were both bundled out in 27th and 25th place respectively before Bernard Lee (19th) joined them on the rail.
With only a handful of eliminations between a close call and a potential six-figure payday, the aggressive and entertaining play that we had become accustomed too seized up as players looked for solid spots to get their chips into the pot. Following a few doubles and triples, players slowly began falling as Chris Klodnicki, Traci Brown, Allen Kessler, Stanley Quinn and eventual bubble boy Doug "Rico" Carli fell just shy of the money. With the televised final table being only nine-handed, play would continue until Huy Nguyen fell in 10th for a $27,500 payday as the final table of nine was formed.
Final Table Line-Up
| Seat | Player | Chip Count | BBs | Chip % |
| --- | --- | --- | --- | --- |
| 1 | Charles Moore | 65,500 | 13 | 3.3% |
| 2 | Adam Hui | 239,000 | 48 | 11.9% |
| 3 | Drazen Ilich | 118,000 | 24 | 5.9% |
| 4 | Jonathan Poche | 534,000 | 107 | 26.7% |
| 5 | Josh Evans | 222,500 | 45 | 11.1% |
| 6 | La Sengphet | 245,000 | 49 | 12.3% |
| 7 | Sam Barnhart | 166,000 | 33 | 8.3% |
| 8 | James Anderson | 235,000 | 47 | 11.8% |
| 9 | Matthew Lawrence | 140,000 | 28 | 7% |
Following the elimination of Nguyen, it is WSOP-Circuit New Orleans Main Event Champion Jonathan Poche holding a commanding chip lead over the final table with more then a quarter of the chips in play after amassing a 534,000-chip stack. La Sengphet still holds her place up high on the leaderboard as the remainder of the final table - that includes many a gold-ring holder and WSOP-Circuit veteran - will all have their eyes on the $300,000 first prize.
The PokerNews Live Reporting Team will again be on the floor of the Ceasars Palace Poker Room providing continuous live updates of all the final table action as we look to crown the WSOP-Circuit National Championships winner. So make sure to stay tuned right here from 12:00 pm PST for every sweat-tastic turn card, heart-beating river and lucky outdraw as the first gold bracelet of the 2011 summer is awarded!
Level 15 : 2,500-5,000, 500 ante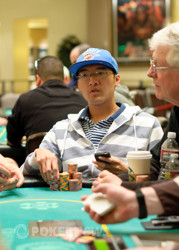 Adam Hui opened with a cutoff raise to 10,500 before Huy Nguyen moved all in for 111,500 from the small blind. With the action on Jonathan Poche in the big, he gave Nguyen action as Hui quickly mucked.
Nguyen:

Poche:
With Poche in commanding shape, the
flop would virtually seal the end of Nguyen's tournament, and as the
and
landed on the turn and river, Nguyen hit the rail in 10th place for a $27,500 payday as the final table was set.
Level: 15
Blinds: 2,500/5,000
Ante: 500
Before the break, two big hands developed.
In the first, Jonathan Poche raised to 9,500 from middle position and received a call from La Sengphet. Poche proceeded to bet 14,500 on the
flop and 27,500 on the
turn, both of which Senghet called. Both players then checked the
river and Poche showed
for a rivered pair of eights. It was good as Sengphet mucked, dropping to 260,000 in the process. Meanwhile, Poche is up to 460,000.
In the second big hand, the flop came down
and Drazen Ilich checked from the big blind to his sole opponent, Jim Anderson, who bet 13,500. Ilich responded with a check-raise to 31,000, Anderson called, and the
hit the river. Ilich thought for a bit before moving all in. Anderson snap-called for his remaining 74,500 and discovered he was ahead.
Anderson:

Ilich:
Anderson held trips but needed to dodge a king and heart on the river in order to double, which is what he did when the
peeled off. Ilich dropped to 120,000 on the hand while Anderson doubled to 235,000.
Players are now on a 15-minute break.
Josh Evans raised to 10,500 from middle position and received calls from Sam Barnhart on the cutoff and Charles "Woody" Moore in the big blind. The latter player checked the
flop as did Evans, inspiring Barnhart to bet 22,000. Moore got out of the way while Evans made the call. When the
hit the turn, Evans check-folded to Barnhart's 85,500 all-in bet.
Player
Chips
Progress

Josh Evans

220,000

-5,000

Sam Barnhart

170,000

40,000
Level 14 : 2,000-4,000, 500 ante
From the hi-jack Huy Nguyen entered the pot with a raise to 9,500 and was called by Sam Barnhart from the big blind to see a
flop.
Both players checked as the
rolled off on the turn and Nguyen fired a delayed continuation-bet of 8,000 which was check-called by Barnhart.
The river of the
was greeted by a check from Barnhart, and once Nguyen pushed out 20,000, he swiftly folded while slipping to 125,000 as Nguyen moved to 130,000 in chips.
Level 14 : 2,000-4,000, 500 ante
With the TV crew collecting their necessary information on the players in preparation for tomorrow's final table, the cards are back in the air with just over 22 minutes left on the clock.
Play will continue until we lose one more.
Level 14 : 2,000-4,000, 500 ante
With the final ten players all seated, they will play until they lose one more in preparation for the TV final table.
| Seat | Player | Chip Count | BBs | Chip % |
| --- | --- | --- | --- | --- |
| 1 | Charle Moore | 88,000 | 22 | 4.4% |
| 2 | Adam Hui | 275,000 | 69 | 13.75% |
| 3 | Drazen Ilich | 225,000 | 56 | 11.25% |
| 4 | Huy Nguyen | 100,000 | 25 | 5% |
| 5 | Jonathan Poche | 338,000 | 85 | 16.9% |
| 6 | Josh Evans | 225,000 | 56 | 11.25% |
| 7 | La Sengphet | 310,000 | 78 | 15.5% |
| 8 | Sam Barnhart | 140,000 | 35 | 7% |
| 9 | James Anderson | 125,000 | 31 | 6.25% |
| 10 | Matthew Lawrence | 130,000 | 33 | 6.5% |