Event Info
| | |
| --- | --- |
| Prize Pool | $798,795 |
| Players | 549 |
Level Info
| | |
| --- | --- |
| Level | 9 |
| Blinds | 400 / 800 |
| Ante | 100 |
Level:

7
Blinds:

200/400
Ante:

50
Level 6 has come to an end, and players are taking their last 10 minute break of the day. When they come back, they will play 3 more levels before bagging and tagging their chips.
It looks to be that we've got 234 entrants for the second flight but that is not counting Phil Hellmuth. We're still expecting the Poker Brat to show, but it looks more and more like he'll arrive tomorrow and have a 20 big blind stack to work with.
With 303 entrants in the early flight there are 537 entrants, but that is not official. Registration remains open until cards are in the air tomorrow on Day 2.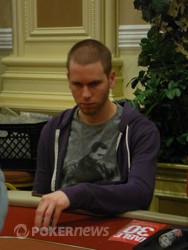 Jeff Madsen, Robert Cheung and one other player went to a flop of
. Madsen bet 550, Cheung raised to 1,150 and Madsen called. The turn brought the
and both players checked. The river was the
, Madsen checked and Cheung bet 1,250.
Madsen was confused by the bet and spent several moments shuffling and counting his large denomination chips. He finally chose to call and Cheung turned over
for quads. Madsen mucked with a sigh.
Local pro Frankie O'Dell is one of the most well known faces in the Los Angeles Poker world. He has two WSOP bracelets, a WPT runner up, and a slew of local tournament wins to his name. We have been keeping an eye on him throughout the night, and as many have grown accustomed to seeing, O'Dell is stacking up chips.
We just caught O'Dell taking down a nice pot that has boosted his stack to about 40,000. We came to the table as the flop read
. With about 4,500 already in the pot, O'Dell and another player checked to the cutoff, who fired out 3,525. O'Dell thought for about 15 seconds before throwing out two blue T5,000 chips, for a raise to 10,000. His first opponent folded, and the cutoff thought for about 10 seconds before going all in for about 14,000 total. O'Dell snapped called, and saw that he was well out in front.
O'Dell:

Cutoff:
O'Dell would need to dodge one of the two remaining aces to scoop the pot, and he did just that, as the turn and river came
. O'Dell now has double his starting stack, which is not somethng his table mates are happy about.
Alec Torelli is staying active and chipping up. We found him heads up on a flop of
and he eventually five-bet all in and earned a call.
Torelli:

Opponent:
The board finished
and Torelli is up to around 80,000.
Level:

6
Blinds:

150/300
Ante:

25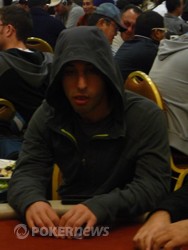 Alec Torelli was up against a lone opponent on the turn with the board showing
and he bet 2,400. His opponent said his hand was too good to fold and he tossed in a call. The river brought the
and Torelli tossed out 4,000. His opponent said, "I had you until the river. I know you have king queen."
As sure as he was, he didn't fold right away. He counted out a call, then counted out his remaining chips, then counted out what seemed to be a raise and then mixed them all together. He finally folded and told Torelli he was a good player.
Apparently Torelli's opponent is unaware of the Brunson 10 from a couple years ago.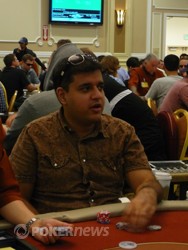 Owais Ahmed fell victim to a blind vs. blind catastrophe. We caught the hand on the turn with the board showing
. Stuart Marshak was the small blind and checked. Ahmed bet 2,500 and earned a call. The river came
and Marshak checked again. Ahmed bet 5,500 and Marshak moved all in after a couple moments.
Ahmed tanked for a good while and judging by his pained facial expressions he had a very difficult decision. Ahmed finally announced a call and Marshak tabled
. Ahmed looked stunned and remained motionless at the table for a few moments before collecting his belongings and leaving.
Level:

5
Blinds:

100/200
Ante:

25