Meet the Final Nine

Level 28 : 15,000/30,000, 5,000 ante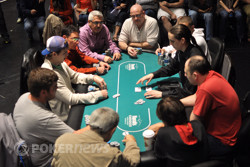 Here's some information about the eclectic group that makes up our final nine players...
John Bowman of Hickory, North Carolina works in roofing and lists this final table as his first major poker accomplishment. The 30-year-old is married and with a two-year-old son whom he loves to death.
Hugh Henderson of Greenville, South Carolina is a 30-year-old former executive recruiter who has been playing poker professionally for the last six year. Last summer Henderson finished third in Event No. 53 at the WSOP ($1,500 NLHE), a finish worth $322,866. Sporting a Clemson Tigers shirt, he's never missed a Tigers home game in 25 years.
Kory Kilpatrick of Athens, Georgia is a professional poker player who has won extensively online while also having begun racking up live scores at a rapid clip over the last two years. He cashed seven times at last summer's WSOP in Las Vegas, including in the Main Event. He also played basketball at Rhodes College.
James Kinney lives in Charlotte, North Carolina where he works as a performance coach. The 49-year-old has a few nice scores on his poker resume, including a second-place finish in a $580 NLHE event at the WSOP-C Tunica stop back in January that earned him $22,739. He's also a top-rated fencer.
Jerry Monroe was born in Germany and now resides in Columbus, Georgia where he works as a real estate investor. The 45-year-old is married with two kids, and describes himself as a "weekend warrior" poker-wise. That said, he's had quite an accomplished part-time career, and in fact has a WSOP Circuit Main Event title under his belt, having won the 2011-12 Biloxi ME and a cool $112,779 first prize.
Jonathan Moseley is a 29-year-old poker player with over $100,000 in tournament winnings including a first place in the Gulf Coast Poker Championship in Biloxi last summer for a $54,144 score. Originally from New York, the former college baseball player currently resides in Georgia.
Raymond Weaver is a 69-year-old retired train controller from McDonough, Georgia who has a few cashes over recent years, including a final table at the WSOP-C Main Event in Tunica back in February 2012 where he finished ninth. In addition to playing poker, he collects coins and sports cards.
Daniel Weinman of Atlanta, Georgia is poker pro who lists his former occupation as a lumberjack. His girlfriend finished 30th in the Ladies Event here at Harrah's Cherokee, and he lists his marital status as "probably married if I win this." Also under poker accomplishments, the 25-year-old notes "some guy gave me a rock yesterday when I busted him." Weinman additionally has over $360,000 in tourney winnings, including multiple cashes in both the WSOP and WSOPE last year.
George Zinaty, originally from Lebanon, now lives in Charlotte, North Carolina. The 54-year-old is a retired hair stylist who owned his own salon, thus giving him the nickname "Salon George." Under "interesting things about you" he lists his four children and one grand-daughter, having won gold awards, and that he is handsome.