Level Info
| | |
| --- | --- |
| Level | 29 |
| Blinds | 30,000 / 60,000 |
| Ante | 10,000 |
Players Info
Main Event
Day 4 Completed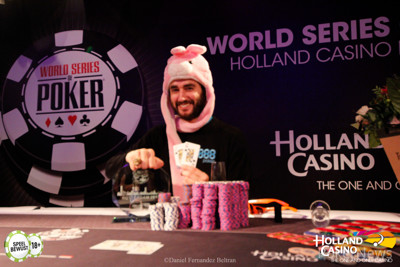 The Pink Bunny has done it! Ben Bensimhon, draped in his trusted bunny hood throughout the tournament, has become the first ever World Series of Poker International Circuit Main Event winner in Holland Casino Rotterdam! Bensimhon cashed an astonishing €94,349 for his first place prize. Runner-up was Jakob Miegel of Germany, who won €58,308. Belgian MTT-star Bart Lybaert finished in 3rd place for €42,308, Dutch high roller Govert Metaal ended up in 9th for €8,657.
Bensimhon held a commanding chip lead throughout the day and was responsible for six out of eight eliminations at the final table. After losing a 5:1 chip lead heads-up, Bensimhon fought back into it and eventually won it all. The 33-year old Swiss, country manager for 888poker in daily life, was all smiles after capturing the coveted WSOP Circuit ring.
"I never ever dreamed of it,"Bensimhon said after the biggest poker achievement of his career. "Three to four years ago, I started playing professionally a bit more, but this is something I've never even dreamed of.
"It's an amazing thing," a twinkly-eyed Bensimoud added. "It's not about the money, actually, it's about the title."
Bensimhon captured the attention with his inseparable, fluffy pink bunny hood. One would suspect a lost prop bet would've forced Bensimhon to wear such a headpiece but nothing could be farther from the truth. "It's custom for me to wear something like this. This is my lucky hat. I like having fun on the table, people are much more happy. And also, when people like you, it's to your advantage. But mostly, I like just bringing fun."
The good-spirited nature of Bensimhon clearly showed after the heads-up, when he hugged his opponent Jakob Miegel in consolidation. Shortly before, though, the Swiss nearly missed out on the biggest achievement of his poker career. Holding pocket jacks, he three-bet preflop, and Miegel just elected to flat-call with pocket kings. An ace on the flop killed much of the postflop action and saved Bensimhon from certain doom, escaping the setup with 30 big blinds left in his stack and able to continue the heads-up match.
"I got very lucky there," Bensimhon admitted afterward. "I was very lucky he didn't shove. I would've snap-called with pocket jacks." The story for Bensimhon didn't end there, and he was able to turn it around to capture €94,349 and the first ever WSOPC Main Event Circuit ring awarded on Dutch soil.
Final result
| Position | Player | Country | Prize in € | Prize in $ |
| --- | --- | --- | --- | --- |
| 1 | Ben Bensimhon | Switzerland | €94,349 | $111,916 |
| 2 | Jakob Miegel | Germany | €58,308 | $69,164 |
| 3 | Bart Lybaert | Belgium | €42,308 | $50,185 |
| 4 | Teun Mulder | Netherlands | €31,214 | $37,026 |
| 5 | Micha Hoedemaker | Netherlands | €23,410 | $27,769 |
| 6 | Lawrence Bayley | United Kingdom | €17,840 | $21,162 |
| 7 | Dwayne Sluis | Netherlands | €13,806 | $16,375 |
| 8 | Paul Gresel | Netherlands | €10,850 | $12,869 |
| 9 | Govert Metaal | Netherlands | €8,657 | $10,268 |
Nine players returned for the final table at 2 p.m. local time to contest for WSOP Circuit glory. Perhaps the most crucial hand at the final table happened in the early stages, when Bensimhon cracked Lybaert's pocket aces with pocket nines. Bensimhon grabbed a big chip lead while one of his strongest opponents tumbled down the leaderboard. The Swiss maintained the chip lead for nearly the entirety of the final table, eliminating six out of eight of his opponents on his way to the eventual victory.
Bensimhon scored his first elimination of the day by sending Govert Metaal to the rail in 9th place (€8,657). Metaal got it in with pocket fours against Bensimhon's ace-nine, and the latter made a four-flush with the nine to win. Paul Gresel (8th - €10,850) was the next to go. Gresel got it in with pocket queens against Bensimhon's pocket aces to become the Swiss's second victim.
A short stacked Dwayne Sluis finished in 7th place (€13,806) after losing ace-seven against Teun Mulder's ace-ten. Lawrence Bayley ended in 6th place (€17,840) shortly after, when he lost pocket nines against Bensimhon's queen-eight. A queen on the river ended it for the last Brit in the tournament.
After Bayley's elimination, Bensimhon went on a rampage and knocked out Micha Hoedemaker (5th - €23,410) and Teun Mulder (4th - €31,214) in quick succession. It was a blink-and-you'll-miss-it phase, as Bart Lybaert (3rd - €42,308) busted in the hand after Mulder. This time, it was Jakob Miegel who was responsible, sending the Belgian star home with pocket tens against ace-six.
Bensimhon started the heads-up with a five-to-one chip lead over his German adversary. However, the German grinded quickly back to even stacks and grabbed the chip lead at one point. Holding pocket kings, Miegel called a three-bet from Bensimhon, who turned out to have pocket jacks. An ace on the flop killed any subsequent action, where if Miegel would've four-bet shoved, he would've won it all, as Bensimhon said afterwards he would've called in a heartbeat.
Instead, Bensimhon was left with 30 big blinds, and he turned it around in two big hands. In the first hand, Bensimhon won with ace-jack against pocket sixes when he spiked an ace. Then, all the money went in again with Bensimhon's queen-jack against Miegel's ace-seven. Bensimhon improved to Broadway on the river to win it all and become the first ever WSOPC International Main Event winner on Dutch soil.
That's all from PokerNews at the beautiful Holland Casino Rotterdam, where an exciting nine-day poker festival came to an end with Ben Bensimhon crowned as a brand new WSOP Circuit winner.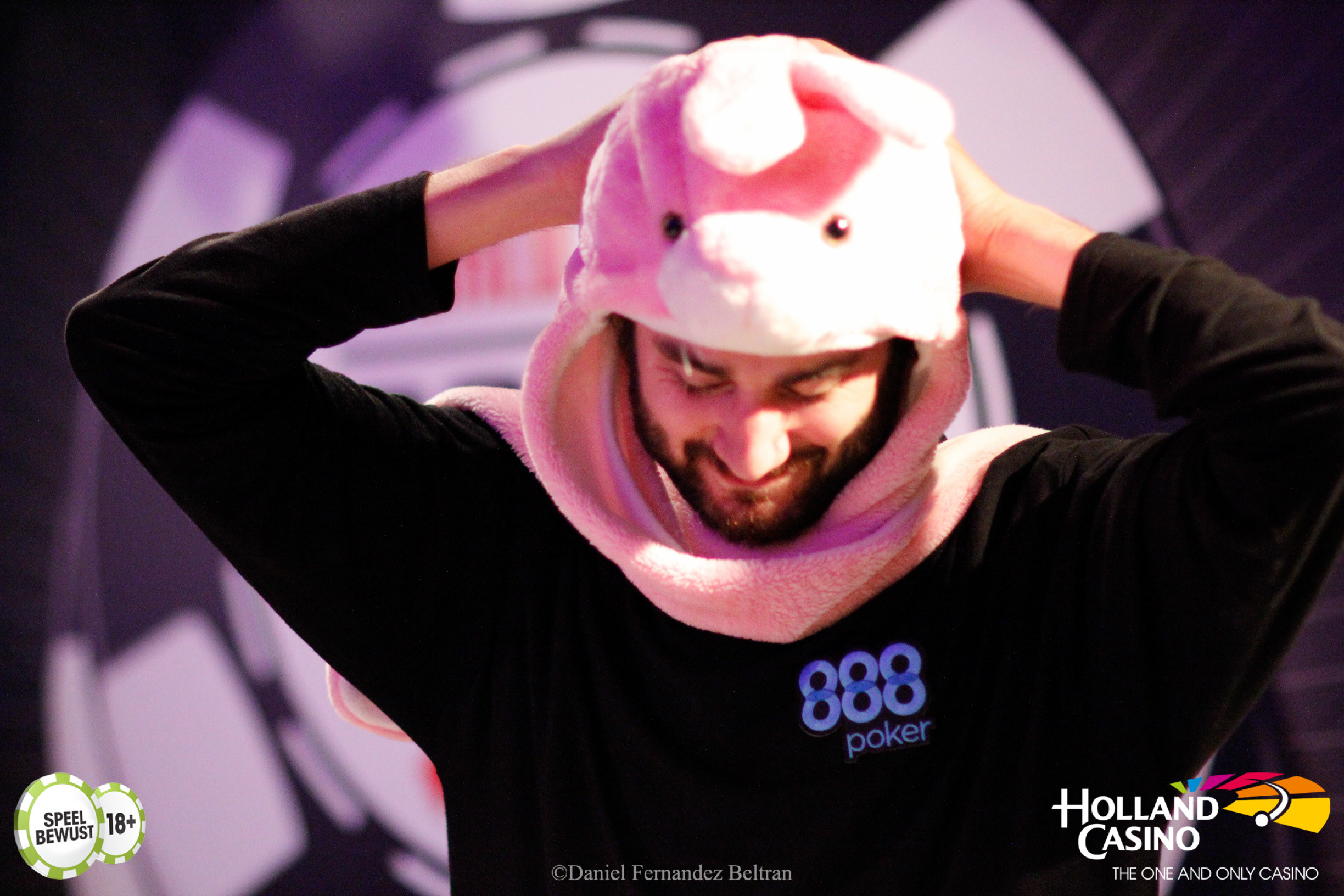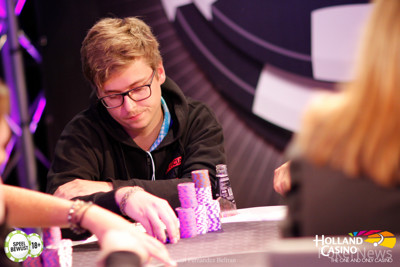 Jakob Miegel limped in on the button, Ben Bensimhon raised to 200,000, Miegel shoved for 1,300,000, and Bensimhon instantly called.
Jakob Miegel:

Ben Bensimhon:
Bensimhon flopped an open-ended straight draw to go with his live cards on a
flop. The turn brought the
and put Bensimhon in a substantial lead. Miegel could now only win with one of the three remaining queens in the deck.
The river was the
and Bensimhon hit Broadway to win it all. He pumped his fists, walked over to Miegel to give him a hug, then raised his hands high in the air in celebration. Miegel's deep run came to an end in second place, which resulted in a €58,308 payday.
Ben Bensimhon has become the first ever WSOP International Circuit Main Event winner on Dutch soil!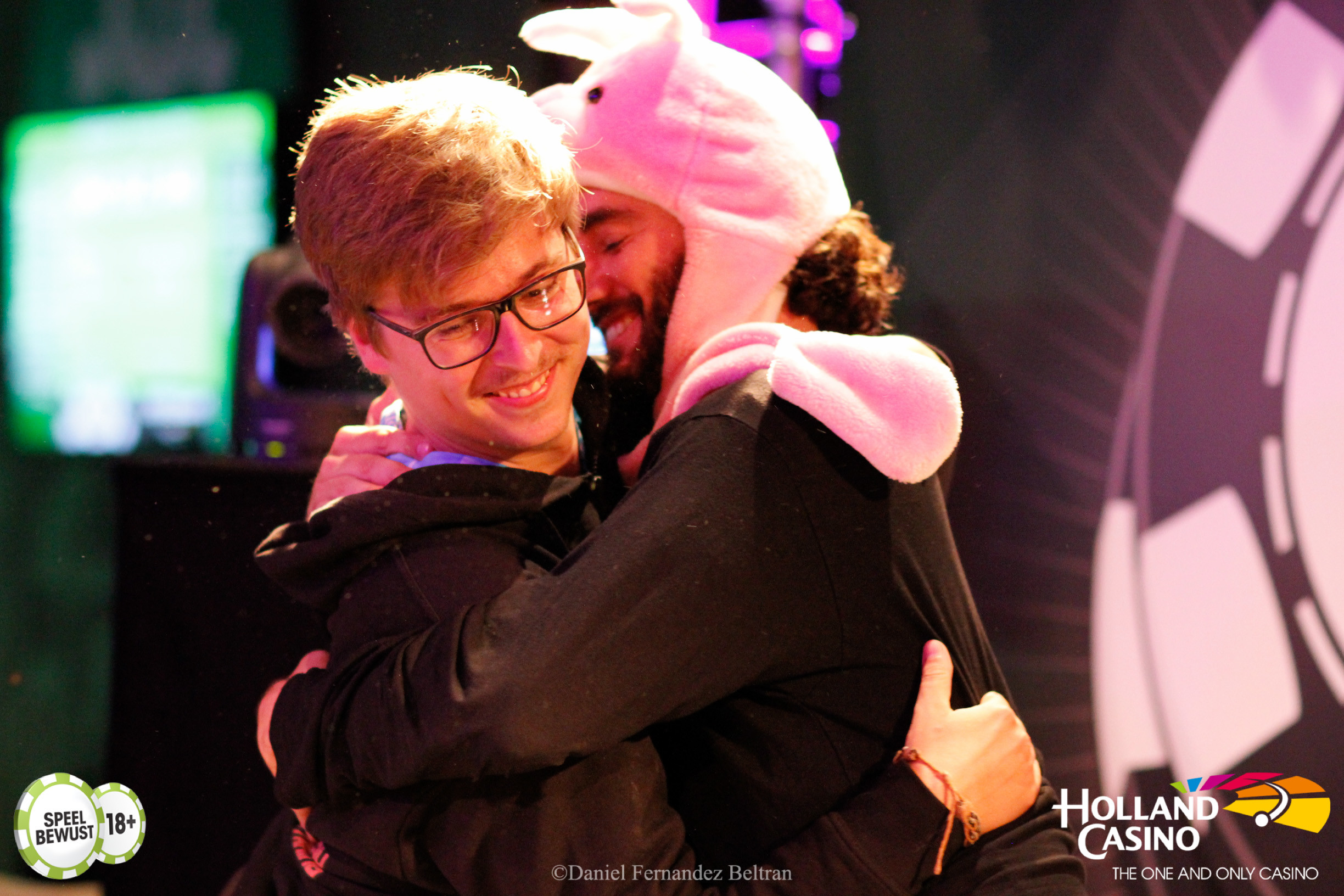 Level:

29
Blinds:

30,000/60,000
Ante:

10,000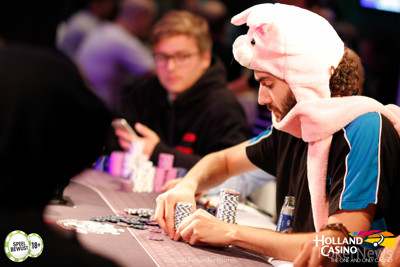 Jakob Miegel opened to 130,000, Ben Bensimhon three-bet to 375,000, Miegel four-bet shoved all in, and Bensimhon called all in for 2,900,000.
Jakob Miegel:

Ben Bensimhon:
Just like that, a gigantic pot of more than 80% of the chips in play would be decided on a coin flip. The
flop put Bensimhon in a commanding lead, and he doubled up after the
turn and
river.
Ben Bensimhon opened to 125,000 and Jakob Miegel called. On a
board, Miegel check-called bets of 125,000 and 200,000.
Miegel checked the
river to Bensimhon, who shoved for 1,700,000 without much hesitation. Miegel smiled and thought about it, then folded his hand.
In a hand that could've very well ended up as a preflop all-in, Ben Bensimhon had
and was up against Jakob Miegel's
. After Bensimhon had three-bet to 400,000, Miegel opted to just call with his kings.
An ace hit the flop to kill almost all of the postflop action, except for a small flop bet, and Bensimhon remained with 30 big blinds.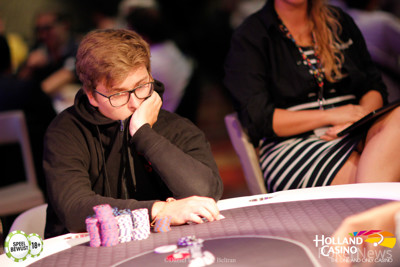 Jakob Miegel raised to 130,000 and Ben Bensimhon defended. The flop was
and Bensimhon check-called 95,000. On the
turn, Bensimhon checked, Miegel bet 320,000, and Bensimhon called again.
The river brought the fourth club with the
and Bensimhon checked a third time. This time, Miegel opted for a third barrel worth 580,000. Bensimhon gave it ample thought before calling that bet as well.
Miegel showed
for the runner-runner second nut flush and Bensimhon mucked.
Jakob Miegel opened to 130,000 and Ben Bensimhon three-bet to 390,000. Miegel simply four-bet jammed for 3,700,000, putting Bensimhon to the test for his remaining 2,900,000.
The Swiss gave it two minutes of thought, smiled, then folded his hand.
Level:

28
Blinds:

25,000/50,000
Ante:

5,000