The 2019/20 World Series of Poker Circuit has now crowned a new champion at Planet Hollywood in the $1,700 Main Event as Michael Trivett emerged victorious, claiming his first WSOP Circuit ring and the top prize of $215,943.
A total of 778 entries came together for the WSOPC Planet Hollywood Main Event but only 16 of them made it to Day 3.
Trivett started the final day third in chips and he took off early as he scored a double knockout within the first level of the day, taking over the chip lead. While he suffered a couple of small setbacks, he was always at, or near the top of the leaderboard. This win marks his first recorded tournament victory, and his biggest cash to date.
"It feels amazing. I've been dreaming of winning one of these for a while. I don't even think I know what's going on right now. My first win, my first six-figure score also. Everything just feels amazing. I'm just overwhelmed with emotions right now," Trivett said after his victory.
The 36-year old poker professional used to play mixed games mostly and only started focusing on No-Limit Hold'em a couple of years ago.
"The first part of my career, I was basically a mixed games player and over the last year or two I've really dugged deep into No-Limit Hold'em. I've used a lot of the skills that I had in mixed games when I moved over to No-Limit Hold'em. I will always continue to play mixed games, I love mixed games, that's where my heart is."
Trivett has been working on his game and today his efforts paid off. He gave credit to poker professional Ryan Laplante who've helped him improve his game and get better.
"I've had coaching from a good friend of mine, Ryan Laplante, over the last couple of years, and just being friends with him, he's taught me a lot. I've just been studying spots and going over spots, any hands that I have questions, I just always bring them up and I seem to always get the right answer."
After achieving his goal of winning a Circuit ring, Trivett plans on continuing to get better at the game.
"I don't really have monetary goals or anything like that. Obviously I would love to win a bracelet, but I just want to keep playing tournaments, keep playing poker, that's my main focus right now, and just continue to get better."
Final Table Results
| Place | Player | Country | Prize |
| --- | --- | --- | --- |
| 1 | Michael Trivett | United States | $215,943 |
| 2 | Jim Petzing | United States | $133,462 |
| 3 | Tzu Huang | Canada | $98,912 |
| 4 | Zachary Donovan | United States | $74,098 |
| 5 | Casey Stewart | United States | $56,116 |
| 6 | Jorge Arriola | United States | $42,967 |
| 7 | Ryan Leng | United States | $33,266 |
| 8 | Rubin Chappell | United States | $26,046 |
| 9 | Ben Palmer | United States | $20,626 |
Final Table Action
The final table was reached during the second Level of the day and Ben Palmer was the first elimination. He three-bet shoved for his last twenty-four big blinds with tens and Tzu Huang made the call with ace-king suited. The flop gave Huang the lead with a pair of kings and a flush draw and the river improved Huang's hand to a flush while Palmer took an exit in ninth.
Shortly after, Rubin Chappell three-bet jammed with king-queen from the button and Trivett reshoved with aces from the big blind. The board was of no help to Chappell and he was sent to the payout desk in eighth place.
Ryan Leng was the next casualty of the final table. Jim Petzing raised with queen-jack from the button. and Leng called with ten-nine from the big blind. The flop fell jack-nine-four giving a pair of nines to Leng but a pair of jacks to Petzing and Leng fell victim to Petzing when he check-called an all in bet from Petzing on the flop. Petzing held on to the pot, ending Leng's run in seventh place.
Jorge Arriola was the next short stack to make a move when he jammed with nines for his last eleven big blinds only to get snap-called by Tzu Haung who held queens in the big blind. The flop gave Arriola an open-ended straight but the turn and river bricked and he was sent to the exit in sixth.
Arriola was followed to the rail by Casey Stewart. Stewart needed to find a spot to double up and he three-bet shoved with ten-nine suited but saw Trivett instantly call with king-queen suited. Trivett made kings full of jacks and Stewart had to settle for fifth place.
Zachary Donovan was the next elimination. Michael Trivett raised from the cutoff and Jim Petzing three-bet shoved with ace-deuce from the small blind. Donovan called for less from the big blind with queens and Trivett let it go. Donovan was comfortably ahead but the flop brought an ace giving Petzing the lead and that was it for Donovan's run that ended in fourth place.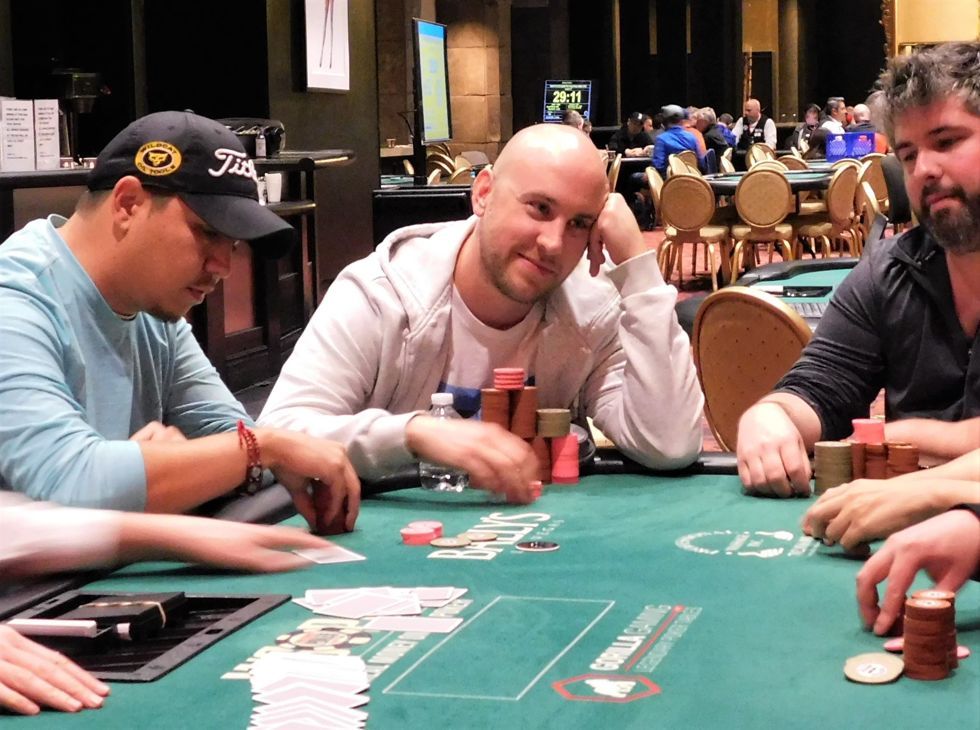 Three-handed play didn't last long as a tournament cooler took place. Tzu Huang raised from the button and Petzing three-bet jammed for about seventeen big blinds. Trivett reshoved from the big blind and Huang called for less. Huang showed ace-king suited, and Trivett revealed jacks, but both players were behind as Petzing tabled aces. The board ran safe for Petzing and he tripled up while Trivett raked in the side pot eliminating Huang from the Main Event.
When the heads-up portion of play started, Trivett had a slight lead but he didn't waste time and quickly started applying pressure, raking in pot after pot. Although Jim Petzing put up a strong fight, he was eventually down to twelve big blinds and after a limp from Trivett with nines, he shoved with threes and got instantly called. Petzing couldn't find any help to stay alive and he was eliminated in second place.
Here's a look at all those who captured gold rings at the WSOPC Planet Hollywood stop:
| Tournament | Entries | Prize Pool | Winner | Prize |
| --- | --- | --- | --- | --- |
| Event #1: $250 NLH | 684 | $136,800 | Tom Tran | $25,431 |
| Event #2: $400 NLH | 359 | $118,370 | Jeffrey Stephens | $25,348 |
| Event #3: $400 Bounty NLH | 169 | $38,870 | Bryce Cox | $9,967 |
| Event #4: $400 NLH | 230 | $75,900 | Luis Pauyac Martinez | $17,965 |
| Event #5: $400 Pot-Limit Omaha | 136 | $44,880 | Antonello Perrini | $11,891 |
| Event #6: $400 NLH 6-Handed | 230 | $75,900 | Tal Avivi | $17,968 |
| Event #7: $250 Tag Team | 174 | $17,400 | Dylan Ecret and Dustin Brown | $2,582 |
| Event #8: $400 NLH Double Stack | 426 | $140.580 | Gino Levrini | $29,164 |
| Event #9: $400 Monster Stack | 617 | $203,610 | Jeffrey Gotts | $38,228 |
| Event #10: $250 Seniors | 249 | $49,800 | James Clark | $11,527 |
| Event #11: $250 NLH Turbo | 267 | $53,400 | Carlos Restrepo | $12,454 |
| Event #12: $1,700 Main Event | 778 | $1,178,670 | Michael Trivett | $215,943 |
| Event #13: $400 NLH | 63 | $25,000 | Jeff Turton | $8,151 |
| Event #14: $400 NLH | 115 | $37,950 | Scott Cunningham | $10,489 |
| Event #15: $2,200 High Roller | 115 | $230,000 | Bruce Russell | $63,580 |
That wraps it up for the PokerNews live coverage of the WSOPC Planet Hollywood $1,700 Main Event but stay tuned to PokerNews as a winner will be crowned soon in the $2,200 WSOPC Planet Hollywood High Roller.