$1,700 Main Event
Day 3 Completed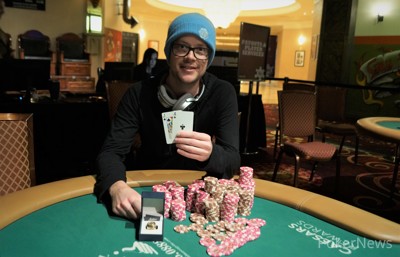 The World Series of Poker Circuit Rio $1,700 Main Event, a tournament that drew 747 entries, is over after a scintillating Day 3 that started with 17 players ended with Bradley Pinson emerging as the winner of the gold ring, the $209,216 grand prize and the seat in the Global Casino Champioship.
The small-town North Carolina native, who now calls Los Angeles home, was very loquacious in his post-victory interview and he discussed at length what winning his first ring meant to him.
"I have always wanted to win one. I just don't usually play that many tournaments. Fifteen years ago when I started playing, I always considered it a bucket list thing for me to win."
He continued to discuss how grateful he was to win: "I am from the middle of nowhere North Carolina, I want to thank my family, my friends, and God. My family has always been super supportive. I feel like most people where I am from wouldn't have that level of support for playing poker, so it means a lot to me. My parents are awake right now on the east coast (3:30 am eastern time) waiting for me to tell them how I did."
Prior to this cash, Hinson's best live result was cashing the WSOP Main Event last year in 730th place for $20,200. This result blows that one out of the water in terms of money and it was clearly a very impactful moment for Hinson as he concluded,
"I almost cried a second ago thinking about just how cool it is."
When asked how he will change his plans with the new winnings, Hinson talked about how he decided to play more tournaments this year even before this victory, and that he will definitely play the upcoming WSOP Circuit stops in Los Angeles and at Cherokee.
WSOPC Rio Main Event Final Table Results
| | | | |
| --- | --- | --- | --- |
| Place | Player | Hometown | Prize Money |
| 1 | Bradley Hinson | Charlotte,NC | $209,216 |
| 2 | Trung Pham | Temple,TX | $129,305 |
| 3 | Michael Stein | Augusta,GA | $95,654 |
| 4 | James Duke | Houston,TX | $71,540 |
| 5 | Adam Hendrix | Anchoarge,AK | $54,101 |
| 6 | Louise Francoeur | Las Vegas,NV | $41,375 |
| 7 | Faisal Siddiqui | Annandale,VA | $32,003 |
| 8 | Mark Ioli | Bayside,NY | $25,039 |
| 9 | Joseph Marchal | Appleton,WI | $19,819 |
| 10 | Jordan Cristos | Las Vegas,NV | $15,872 |
Road to the Ring
Hinson began second in chips out of the final 17 and would remain toward the top for most of the day, never really taking a big hit.
"My goal was to stay present and play my best," he said. "The pay jumps were not a factor for me early so I was looking to go deep."
He gathered a nice boost when Longsheng Tan ran his pocket jacks into the pocket aces of Hinson not long before the final table.
When it came to the final table, Hinson discussed why he was successful: "I felt like I had a good idea of how everyone was playing and I adjusted accordingly. I don't think I played any hand that I regret, so that's always good. Some of my opponents were going at it a bit too hard early and I knew with my stack I should get top five or top four so I waited around a bit and then opened up my game later".
Action of the Day
Play began with 17 players and was very quickly whittled down to the final table after seven rapid eliminations occurred before the first break of the day.
Adam Hendrix started the final table just as he started the day, as chip leader. Jordan Cristos was the first player ousted from the final table in tenth place. Joseph Marchal next hit the deck in ninth after a wild hand that saw James Duke fill up on the river to come out on top. Mark Ioli then went out in eight place and Faisal Siddiqui quickly followed him out the door in seventh.
Play would then hit a snag six-handed as the players bogged down and became more protective of their chips as play slowed considerably. The six-handed war of attrition would continue for close to 90 minutes before Louise Francoeur became the next player to go finishing in sixth place.
Hendrix's run would stall out in fifth place after getting low on chips after having a big stack most of the day prior to five-handed play.
Duke would be the next to exit in fourth place after he lost a big flip against Michael Stein when his ace-king could not overcome the pocket tens.
Three-handed play would be an up and down affair as Stein entered with a big lead after having taken out Duke. But the chip counts would fluctuate greatly as all three players had highs and lows. Eventually it was Stein who would take the next path to a payout as he went down in third place in what was his first-ever live poker cash.
Heads up, Hinson had the 2:1 chip lead on Day 1 chip leader and three-time Circuit Ring winner Trung Pham. Pham won a few pots early to draw the two players level but Hinson dug in and won some pots to extend the lead again and eventually make the gap even wider before the final hand.
WSOPC Rio Ring Winners & Casino Champ
James Duke won the Rio Las Vegas Casino Championship, with his three cashes, including a fourth-place finish in the $1,700 Main Event. That means he too earned a seat into the 2020 Global Casino Championship.
| Tournament | Entries | Prize Pool | Winner | Prize |
| --- | --- | --- | --- | --- |
| Event #1: $250 NLH | 470 | $94,000 | Kevin McCarthy | $17,508 |
| Event #2: $400 NLH | 292 | $96,360 | Kyle Draucker | $20,449 |
| Event #3: $600 NLH | 264 | $87,120 | Brandon Rios | $29,694 |
| Event #4: $250 Seniors | 298 | $59,600 | Richard Munro | $12,868 |
| Event #5: $400 NLH 8-Handed | 151 | $49,830 | Peter Morris | $13,214 |
| Event #6: $400 NLH Double Stack Turbo | 238 | $78,540 | Gregory Hughes | $18,015 |
| Event #7: $400 NLH/PLO Mix 8-Handed | 103 | $33,900 | Ryan Leng | $9,722 |
| Event #8: $600 NLH Black Chip Bounty | 168 | $86,520 | Russell Serion | $17,517 |
| Event #9: $600 HORSE | 148 | $76,220 | Faith Klimczak | $20,201 |
| Event #10: $400 NLH Double Stack | 339 | $111,870 | Ian Steinman | $24,635 |
| Event #11: $400 Monster Stack | 601 | $198,330 | Matthew Thrun | $37,610 |
| Event #12: $1,700 Main Event | 747 | 1,131,705 | Bradley Hinson | $209,216 |
| Event #13: $250 NLH Turbo | 210 | $42,000 | Bobby Sanoubane | $9,968 |
| Event #14: $2,200 High Roller | 179 | $358,000 | Martin Zamani | $89,143 |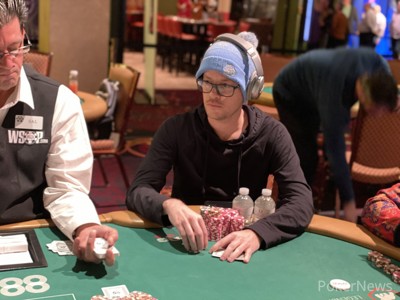 Bradley Hinson has won the WSOP Circuit Rio Main Event. Winner's story and recap to come shortly.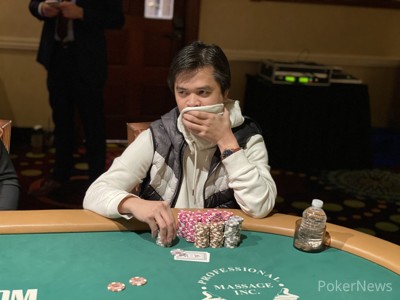 Bradley Hinson raised and Trung Pham moved all in for 7,925,000 which Hinson called quickly.
Trung Pham

Bradley Hinson
The flop came
. The turn was the
and the river came the
to eliminate Pham and give Hinson the ring.
The flop read
. Trung Pham led out with a bet of 675,000 which Bradley Hinson called.
The turn was the
. Both players checked it. The river came the
. Pham checked and Hinson bet 1,000,000 which Pham called quickly,
Hinson showed the
for a rivered boat and took down the pot.
On the flop of
. Trung Pham bet 500,000 in position and Bradley Hinson called.
The turn was the
. Pham bet 650,000 when it was checked over to him, Hinson called.
The
came on the river. Hinson led jammed and Pham quickly folded his hand.
Action was on the turn as the board read
. Bradley Hinson bet 750,000. Trung Pham called.
The river was the
. Hinson made a bet of 900,000. Pham thought for a few seconds before he called.
Hinson showed the
which was beaten by the
of Pham.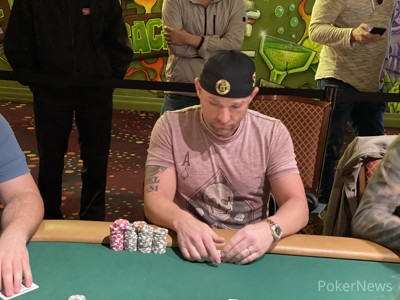 From the small blind Michael Stein three-bet over the raise from Bradley Hinson from the button. Hinson then jammed all in and Stein snap called.
Michael Stein

Bradley Hinson
The flop came
to give Hinson the set. The turn was the
and the river came the
and Stein's run was over in third place, making his first ever recorded live cash a big one.
From the big blind, Michael Stein jammed all in over the raise from Bradley Hinson in the small blind.
Hinson checked his cards and thought for about 20 seconds before folding with hesitation.
Stein tossed the
onto the table.
"Welcome to the jungle boys" Stein said as he collected the chips.
Level: 34
Blinds: 125,000/250,000
Ante: 250,000