Switzerland's Samiyel Duzgun bested a field of 625 entrants to win the 2020 World Series of Poker Circuit 15,000 MAD (€1,400) Main Event at the luxurious Casino de Marrakech, located in the heart of the Es Saadi Resort.
In addition to winning a massive 1,600,000 MAD (€150,400/$166,747) top prize, Duzgun also claimed his first WSOP Circuit gold ring and won a free seat to the 2020 WSOP Global Championship in North Carolina in August.
Duzgun typically plays cash games but has found some recent success in the last two events he has played. In December, Duzgun finished in seventh place in the Golden Poker Million Cyprus Main Event for €19,900 ($22,031). Coincidentally, the Golden Poker will be visiting the Casino de Marrakech for another fantastic series on March 13-22.
As one can imagine, Duzgun was on top of the world after the victory.
"I am very tired, but I am very happy," Duzgun shared with PokerNews after his win. "I enjoyed myself so much. Not just the tournament but the people and staff are so nice. I would return to Marrakech even if I didn't win this event."
2020 WSOP Circuit Marrakech Main Event Final Table Results
| Place | Player | Country | Prize (MAD) | Prize (Euro) | Prize (USD) |
| --- | --- | --- | --- | --- | --- |
| 1 | Samiyel Duzgun | Switzerland | 1,600,000 MAD | €150,400 | $166,747 |
| 2 | Ayman Jarrar | Israel | 1,060,000 MAD | €99,640 | $110,470 |
| 3 | Edouard Piquet | France | 700,000 MAD | €65,800 | $72,952 |
| 4 | TMV | Spain | 500,000 MAD | €47,000 | $52,109 |
| 5 | Igna Poker | Spain | 380,000 MAD | €35,720 | $39,602 |
| 6 | Marc Poustis | France | 300,000 MAD | €28,200 | $31,265 |
| 7 | Rui Bouquet | Portugal | 240,000 MAD | €22,560 | $25,012 |
| 8 | Imad Derwiche | France | 200,000 MAD | €18,800 | $20,843 |
| 9 | Grolo Grolovic | Switzerland | 170,000 MAD | €15,980 | $17,717 |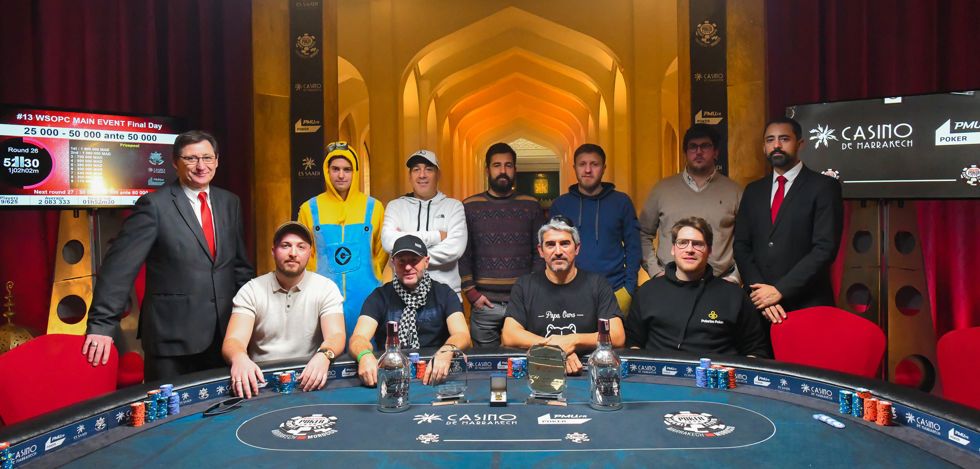 WSOP Circuit Marrakech Main Event Recap
This was the seventh time the WSOP Circuit has visited the Casino de Marrakech. This time around a new attendance record was established for the Main Event with the 625 entrants crushing the previous record of 544 in January 2019 when Sonny Franco found the winner's circle.
A total of 79 players were guaranteed a min-cash of at least 28,000 MAD (€2,632/$2,918) with 16 of those players advancing to the final day.
Among the players to miss the cut on the final day but to make the money included American globetrotter Corbin White (21st - 53,000 MAD/€4,982/$5,524), defending champion Phillip Huxley (27th - 46,000 MAD/€4,324/$4,794), Frederic Delval (37th - 40,000 MAD/€3,760/$4,169), PMU.fr Ambassador Joffrey Lhote (44th - 35,000 MAD/€3,290/$3,648), and Day 1b chip leader Marius Conan (73rd - 28,000/€2,632/$2,918).
The final day began with all 16 returning players each guaranteed to go home with at least 68,000 MAD (€6,392/$7,087). A Spanish player with the nickname Igna Poker began the day in the chip lead.
Ivaylo Panev, Frederic Ayadi, Andrew Hills, Christophe Panetti, Laurent Benhayoun, Ugo Faggioli, Mohamed Bouzgarrou, Gael Dirig, and a Spanish player with the nickname Willy Wonka all advanced to the final day but missed the cut to make the final table.
Igna Poker still had the lead when the final table began but Duzgun was only one big blind behind.
A Swiss player with the nickname Grolo Grolovic entered the final table with the lowest stack of just three big blinds seemingly found a good spot to get them into the pot when on the very first hand of the final table, he called off with nines against a raise from Imad Derwiche with ace-king suited. Derwiche won the flip and Grolo Grolovic was eliminated in ninth place for 170,000 MAD (€15,980/$17,717).
Duzgun then took his first lead of the final table before the next elimination took place.
Derwiche got short on chips and ran his king-four suited into the pocket fours held by Igna Poker to finish in eighth place for 200,000 MAD (€18,800/$20,843).
Igna Poker was able to regain the lead before Israel's Ayman Jarrar eliminated Portugal's Rui Bouquet in seventh place for 300,000 MAD (€28,200/$31,265) when his queens held strong against his opponent's nine.
Duzgun regained the chip lead before passing it over to Jarrar.
Shortly after, Duzgun jammed from the small blind with ten-five suited and France's Marc Poustis called off his short stack from the big blind with ace-five. Poustis was eliminated in sixth place for 300,000 MAD (€28,200/$31,265) after two tens hit the board and Duzgun once again regained the chip lead.
Igna Poker hit the rail in fifth place for 380,000 MAD (€35,720/$39,602) the very first hand after the dinner break. He committed his stack after he flopped top pair with ten-nine and ran into a straight held by Edouard Piquet holding seven-six on a nine-eight-five flop.
A few minutes later, a Spanish player with the nickname TMV hit the showers in fourth place for 500,000 MAD (€47,000/$52,109) after his ace-four didn't hold against Duzgun's queen-ten.
Jarrar regained the chip lead shortly after three-handed play began and amassed more than half the chips in play before the next elimination took place.
Edouard Piquet got his chips in the middle with tens on a jack-nine-seven flop only to run into a set held by Duzgun with sevens. He was awarded a healthy sum of 700,000 MAD (€65,800.$72,952) with his podium third-place finish.
Jarrar and Duzgun took a break before heads-up play began. When the action resumed, Jarrar had a small chip advantage against Duzgun.
This didn't last long as Duzgun quickly took the lead again. Jarrar was down to crumbs when he called off with seven-three suited and didn't get there against Duzgun's jack-eight. The tournament director awarded Jarrar a runners-up trophy which came with a huge second-place prize of 1,060,000 MAD (€99,640/$110,470).
Jarrar shared this was his first international event and he was thrilled with his result.
"I made some mistakes," shared Jarrar. "But I am happy with my result."
The coverage of the WSOP Circuit Main Event is now a wrap. Stay tuned as PokerNews brings you coverage of many big poker events around the world including at the Casino de Marrakech.