Pickett Eliminates Peters; Wins Rincon Circuit Championship!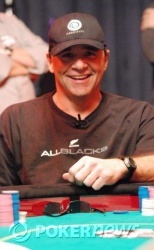 23-year-old Michael "Mickey" Pickett has just eliminated David Peters from the tournament, earning $229,002 in prize money, a gold circuit championship ring and a $10,000 buy-in to this summer's WSOP main event. Here's how the hand went down:

Peters called the extra 10,000 it cost to complete the big blind and Pickett knuckled the table opting to see a free flop, which came:
. Pickett opened with a 20,000 feeler bet and Peters made the call. The turn brought the
and Pickett fired again - this time for 60,000; once again, Peters made the call.

The last card off the deck was the
and it turned out to be the biggest action card possible, as it gave Peters, who held
two pair, and Pickett, sitting with
, the title-winning straight. On the river, Mickey fired a 200,000 bet and Peters moved all in over the top for a total of 410,000. Pickett made the call and that was all she wrote.

Congratulations to David Peters, our tournament runner-up. Peters will take home $120,156 in prize money for his second-place finish.