$5,000 Circuit Championship Event
Day: 3
$5,000 Circuit Championship Event
Day 3 Completed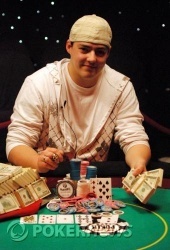 And just like that Michael "Mickey" Pickett is the new WSOP-C Rincon Champion, having bested a very tough field of 148 players en route to the biggest victory of his young tournament career.

Congratulations to all of the finalists and money winners on a job well done.

Final Standings:

1st: Michael Pickett ($229,002)
2nd: David Peters ($120,156)
3rd: Edward Sabat ($70,680)
4th: Kenny Bedoya ($56,544)
5th: Cristian Avendano ($42,408)
6th: Gavin Smith ($35,340)
7th: Lee Watkinson ($28,272)
8th: Damien Oborne (21,204)
9th: Jon Eaton ($14,136)

Until next time, good night from Rincon!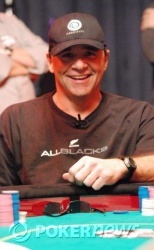 23-year-old Michael "Mickey" Pickett has just eliminated David Peters from the tournament, earning $229,002 in prize money, a gold circuit championship ring and a $10,000 buy-in to this summer's WSOP main event. Here's how the hand went down:

Peters called the extra 10,000 it cost to complete the big blind and Pickett knuckled the table opting to see a free flop, which came:
. Pickett opened with a 20,000 feeler bet and Peters made the call. The turn brought the
and Pickett fired again - this time for 60,000; once again, Peters made the call.

The last card off the deck was the
and it turned out to be the biggest action card possible, as it gave Peters, who held
two pair, and Pickett, sitting with
, the title-winning straight. On the river, Mickey fired a 200,000 bet and Peters moved all in over the top for a total of 410,000. Pickett made the call and that was all she wrote.

Congratulations to David Peters, our tournament runner-up. Peters will take home $120,156 in prize money for his second-place finish.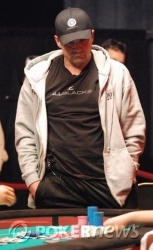 Pre-flop, Michael Pickett completed the big blind and David Peters knuckled the table, opting to see a free flop:




Peters then led out with a 40,000 bet and Pickett made the call. The turn brought the
and Peters led out again, this time for 100,000; Pickett called again. Before the river was dealt, Peters announced that he was all in in the dark for a total of 180,000. Pickett tanked for quite some time, but eventually made the call and upon hearing the news, Peters excitedly flipped over his
, announcing, "Two pair!" Pickett mucked his hand.

The double up improved Peters to 650,000 in chips while Pickett dropped to just over 2,300,000.
Level: 20
Blinds: 10,000/20,000
Ante: 2,000
Over the last few hands, David Peters and Michael Pickett have been stealing each other's blinds with standard pre-flop raises, rarely seeing the flop.
The players have returned to the table and the cards are back in the air. There are 12 minutes remaining in the current blind level.
The tournament clock has been paused while the Bluff Media crew works out a technical issue. We'll be back momentarily.

The current chip counts are as follows:

Michael Pickett: 2,609,000
David Peters: 340,000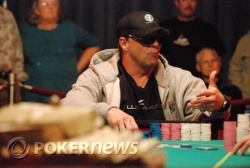 Over the last ten minutes, the dealer has accidentally pushed two small pots to Michael Pickett that should've gone to David Peters. "That's enough!" said Peters with a smile, reaching across the table to take back what's rightfully his.
Michael "Mickey" Pickett has begun using his monstrous chip lead to start pushing David Peters around. On this particular hand, Pickett limped into the pot and Peters opted to raise it up another 66,000; Pickett called.

The flop came
and David led out with a 70,000 bet, which was met by an all-in re-raise from Pickett. David, as he has done quite often today, insta-folded.